Colonel Jan Mazal: Development of robotic systems has dramatically accelerated
The Department of Military Robotics at the University of Defence in Brno is a centre of educational, research and expert activities for the Czech Army. It supports implementation processes and prepares technical and managerial specialists in disciplines such as technical cybernetics, applied robotics and autonomous/automated systems (2AS) control. It also focuses on the knowledge, expert and simulation base in the field of autonomous and robotic systems. It focuses on monitoring development trends, collecting and analyzing information on robotic and autonomous systems and their technologies. It also focuses on the development of cyber and robotics, particularly unmanned aerial vehicles (UAVs), unmanned ground vehicles (UGVs) and their cooperation, and the development of capabilities to eliminate adversary cyber and robotic assets. The head of this department is Colonel of the General Staff Assoc. Ing. Jan Mazal, Ph.D. Similar to the department's focus, Col. Mazal's own resume is varied. He previously served at the NATO Centre of Excellence for Modelling and Simulation (NATO M&S COE) as Head of the Doctrine, Education and Training Department. He has authored and co-authored more than 80 technical publications, has been the principal investigator of more than 20 scientific projects, has authored a number of functional samples, application software and has been an invited member and author of many talks on military robotics at international workshops and symposia. Colonel Mazal is also an organizer of international conferences affecting autonomous systems, robotics, modeling and simulation. In the past, he has also served in foreign missions EUFOR (Bosnia and Herzegovina 2006) and ISAF (Afghanistan 2010). Colonel Mazal was another guest on our discussion show CZ DIALOGY, in which we talked not only about the robotization of today's and future battlefield.
Video: Interview with Colonel Jan Mazal, Head of the Department of Military Robotics at the University of Defence in Brno / CZ DEFENCE
Although the introduction of robotization into the structures of the military seems like a relative novelty, according to Colonel Mazal, this concept has been established in the military for more than 100 years. "It is not new and is no longer on the doorstep. This means that the technology and capabilities that can make a significant impact on warfare and the taking over of not only routine but also more advanced tasks by robotic systems are here," says Colonel Jan Mazal, adding that some military activities are very well automated, such as guiding smart missiles, conducting reconnaissance, using drones and so on. Some activities are still awaiting more advanced automation. "It's not that they haven't been solved in theory, but they haven't been sufficiently operationally tested. Since armies, especially European ones, have not used them for many years, there has been a lack of feedback with these activities, with their success rate, of course," Colonel Mazal adds.
The Department of Robotics at the University of Defence is creating conditions for the introduction of robotics and robotics into the Czech Armed Forces, so we were interested to know how this process works in practice. "We have such an advisory voice within various organisations, conferences, assemblies that we participate in. I myself am the chairman of the Council for Artificial Intelligence and Robotics under the Ministry of Defence for Science and Research. Even from that position, we are able to promote some projects, inform and highlight. Of course, we also have an influence on the concept of the construction of the Czech Army. The army as such, of course, has inertia. It is quite aware of what it should do, but these processes take some time to settle in the right direction," says Colonel Mazal, who also believes that it is necessary to perceive the fact that the development of robotic systems has accelerated dramatically, especially in recent years. "We see this primarily in the civilian sector, but the military is also starting to respond. The 2018 NATO summit established robotics, automation, artificial intelligence and data analytics as one of the main backbone directions it should take to respond to security threats. We have seen the conflict in Ukraine, which has had a major impact on increasing budgets," says the head of the robotics department. In Ukraine, for example, we can see the use of unmanned aerial vehicles live, and this particular war has seen a rapid deployment of these assets. "If we look at automation in other domains, for example, they are of course using weapons that have already been solved by then. However, if we look at, say, the domain of unmanned ground assets, those are not involved to a wider extent. However, even here we can see that at the theoretical level the processes are solved and it is only necessary to fine-tune them operationally and invest sufficiently significant development efforts to be able to reach milestones so that these systems are reliable," Colonel Mazal says in connection with the war in Ukraine, adding that automation as such is no surprise in this case and future conflicts will be mainly about these systems. On the Ukrainian battlefield, it is also evident that neither the Russian nor the Ukrainian side were prepared for the so-called new-generation conflict, which is why there is a lot of improvisation.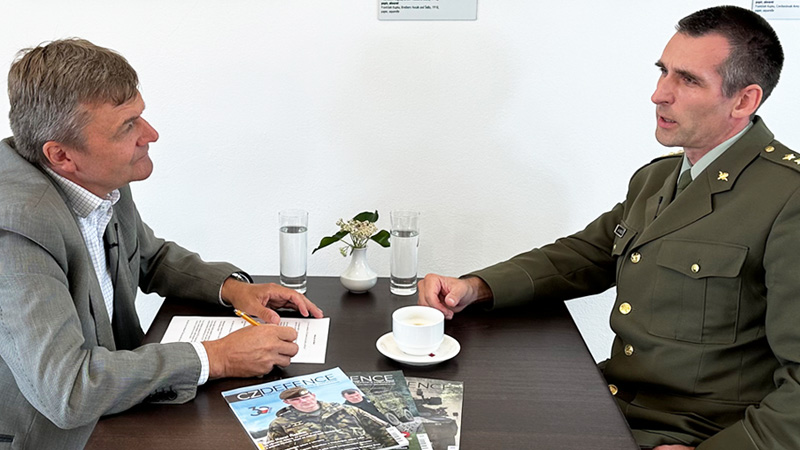 Picture: In this episode of our discussion show CZ DIALOGY, we talked to the head of the Department of Military Robotics at the University of Defence in Brno, Colonel Jan Mazal | Michal Pivoňka / CZ DEFENCE
In the context of the war in Ukraine and its course, the question also arises as to whether the robotization of the battlefield or the use of robotics and artificial intelligence on the battlefield primarily saves lives or helps individual soldiers to perform their tasks on the battlefield more effectively. According to Colonel Mazal, it is actually both. "Until recently, robotization primarily saved lives, or was used for safety reasons, even though robots were not able to achieve the same efficiency as soldiers themselves. But that is changing. At this point, we can already imagine processes where it will no longer make sense to deploy soldiers in some actions because robots will do it much more efficiently, faster, more reliably and, most importantly, cheaper. This era, when all the advantages will be on the side of robots, is yet to come," Colonel Mazal outlines the situation. "The loss of human life is then perceived by Western societies much more sensitively than material losses as such. This speaks for itself," adds Jan Mazal.
We asked whether the development of robotics in the military has any overlap with the civilian sector. According to Colonel Mazal, yes. "Army or military robotics uses a variety of civilian components, approaches, hardware and so on, but of course it deals with its own segment, which is not so developed in civilian life. That is, security is an area of warfare, but there are of course segments, such as logistics, supply delivery and others, usually in different conditions than what civilian robotics is prepared for. Similarly, we can show this on robotic lines, where you can customise a lot of things, whereas in an operational environment you can't," replies Colonel Mazal.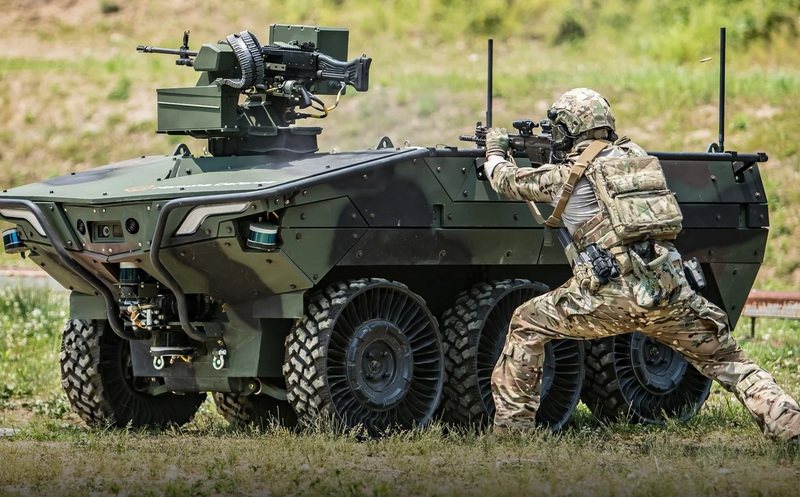 Picture: According to Colonel Mazal, the development of robotic systems has accelerated dramatically (illustration photo) | Hanwha
Colonel Mazal is very positive about the results of the work of the Department of Military Robotics at the University of Defence. "We were at the birth of military robotics within the Czech Army and NATO. We have participated in several activities that have, let's say, made these areas more active. We have been involved in robotics since 2004, when our initiating investments in the area of unmanned systems, I think, led to the fact that at the moment we have several unmanned systems in place in the Czech Armed Forces and this area is developing intensively. I think we have also contributed to the popularisation of this area. We participate in a number of meetings, conferences - we say what is needed, we inform about the possibilities and we try to link the military sphere with the civilian and academic sphere. We show what is possible, point out the capabilities of the civilian sector to solve this or that area that could already be used in the military with relatively little effort, and so on. Rapid development in this area is yet to come," says Colonel Mazal, who sees the link with production as the key moment for the effective use of research. "Of course, we are very intensively connected to our state-owned enterprises in particular, but we also cooperate with a number of purely commercial companies in various projects, we do a lot of consulting and so on. So I think we are very intensively connected and we know the key players in the field of robotics in the Czech Republic, but of course also in the world," adds Colonel Mazal.
Currently, the Department of Robotics at UNOB boasts two projects related to unmanned systems. "One is for the logistics sector and the other system is for the mine clearance sector. The projects are ongoing, so I can't be too specific, but I think we have achieved a number of successes in terms of solving key algorithmic approaches or opening up new avenues that still need to be fine-tuned to make these systems effective and able to succeed in complex environments. Here I would estimate that this area is not fully mature globally and we anticipate that its full resolution may come in five to ten years or so. Evidence that this is really not yet ready for operational use comes from, for example, the DARPA (Defense Advanced Research Projects Agency) competition - the so-called RACER competition, which was to validate these concepts in the off-road environment. It turns out that the results are not yet so advanced that it would be possible to deploy these systems in an operational environment with a high degree of reliability at this time," says Colonel Jan Mazal, head of the Department of Military Robotics at the University of Defence in Brno.
In this episode, Colonel Mazal and I also talked about the impact of investing 2% of GDP in robotics and AI research, whether the deployment of robotics on the battlefield will prevail in the next 20 years, or whether we should be worried that the increasingly dominant robotics on the battlefield using AI could eventually threaten the existence of humans themselves. To learn more, listen to the full interview at the top of this article.