Colonel Jiří Líbal: Our Army needs a quick reaction element in case of an attack
Colonel Jiří Líbal has been the commander of the 43rd Airborne Regiment in Chrudim since 1st November last year. His primary task is to complete the construction of the regiment by 2026. He has experience from foreign missions, he had command experience in the 41st or 42nd Mechanised Battalion. We invited the colonel to the CZ DIALOGY programme, in which we discussed, among other things, what is still missing to complete the regiment, how the regiment stands in terms of personnel and what lessons the war in Ukraine has brought with it in the use of airborne units.
Video: Interview with Colonel Jiří Líbal, Commander of the 43rd Airborne Regiment / CZ DEFENCE
The Chrudim Regiment is currently capable of conducting basic operations at the level of a battalion airborne task force. New recruits are arriving and intensive training is underway. Colonel Líbal is the author of a manual on mechanised unit deployment tactics, known among soldiers as Líbal 1.1. "There is a so-called Chrudim manual up to the squad, platoon level. It has been a while and may need to be updated. I was just thinking about it yesterday," says Colonel Líbal.
Recently, an advertisement in the media promoting the recruitment of members to the paratroop regiment, where paratroopers are referred to as the elite of the army, has caught the attention. According to Colonel Líbal, every army has an elite part. "If there are additional selections to any unit of the Army – whether it is special forces or paratroopers, for example – beyond recruitment, it is, let's say, the first step to making them elite," explains Jiri Líbal. According to him, the view of an elite unit is different, sometimes defined by the type of unit. "For us, we could say that apart from elite paratroopers we have elite engineers because we have only one unit. It's similar with artillerymen," Colonel Líbal explains, adding that the demands on paratroopers, whether in terms of physical fitness or deployment, are simply greater, so why not call them an elite unit.
According to Líbal, there is interest in serving in the paratroopers, although it is not an easy path. After joining the army and completing basic training comes the selection process in Chrudim. If the candidate succeeds, intensive training follows and everything culminates in a basic paratroop course. "After completing this triad, the candidates become our members," says the commander of the 43rd Airborne Regiment. Those interested in this service do not only come from other services, but also from civilian backgrounds, just on the basis of recruitment campaigns. The higher interest in the service is understandable in this case, he said. "There has always been more interest because people probably see some romance in it," Colonel Líbal said, citing the example of 44 applicants a week. In addition, a "Paratrooper on Trial" project is being prepared, in which those interested will be able to try out what serving in the 43rd Airborne Regiment entails. "This is one of the projects we are preparing," confirms the regimental commander.
In connection with the end of foreign missions in Afghanistan and Mali, we asked about the Army's territorial defence capabilities and the importance of airborne units. According to Colonel Líbal, the Czech Army declares that it is capable of fighting in all areas. "To do this it has or will have a heavy brigade, a medium brigade, but it also needs a light element, and this light element of the land forces is the airborne regiment," he said. The airborne regiment has its importance, of course, although it has been suggested in the past that it was created somewhat unsystematically, over and above or outside the remit of NATO forces. Since our military needs a light element to perform its tasks within its setup, the capabilities it is building, which were set by the ground forces commander, are consistent with that. "For example, it's about fighting in a mountainous environment; our borders are mountains. You're hardly going to operate there with a tank," says Col. Another area is built-up areas in cities, where there is a massive need for infantry in addition to armoured vehicles. "Those are the two most important areas. And, of course, these days we are not going to wait years for a possible attack, so we need some kind of immediate response element that can be deployed anytime and anywhere at short notice," explains Líbal.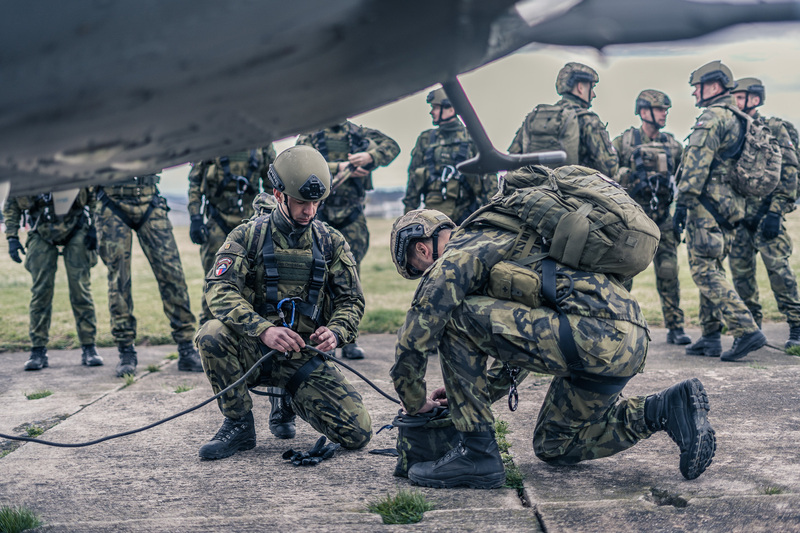 Picture: Nowadays, we will not wait for years for a possible attack, so we need an immediate response element that can be deployed anywhere and anytime at short notice. | 43rd Airborne Regiment
The experience of fighting in Ukraine is a great asset for the training and preparation of the airborne regiment. "Where the army is used in a different style than what it is actually trained for, the training naturally moves on. I'm not saying that it's changing in any fundamental way, but there are certainly new things to prepare for – whether it's drone protection or some other things," says Líbal. A particular chapter is the way Russian airborne troops (VDV) have been deployed in the war in Ukraine, which has not been entirely successful. "When one looked at the issue, the operations were against all the principles we are all taught. The operation takes place at night, the operational distances must be determined so that some support is possible and the ground troops are able to reach their destination in time and so on. And there (in Ukraine, editor's note) none of this has taken place. So the lesson is simple - you need to follow the principles," Colonel Líbal said. Members of the 43rd Airborne Regiment also participate in military exercises at home and abroad. These include in particular the foreign exercises SWIFT RESPONSE 23 and our CZECH LION 23.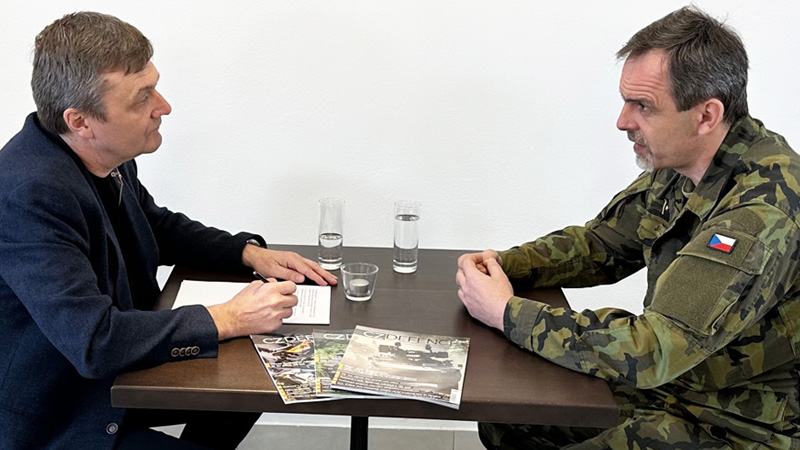 Picture: In this episode of our discussion show CZ DIALOGY, we talked to the commander of the 43rd Airborne Regiment, Colonel Jiri Líbal | Michal Pivoňka / CZ DEFENCE
As part of building up the regiment and its full operational capability, the acquisition of light assault vehicles is currently important. And in order to purchase the right type of vehicle, paratroopers' representatives must be there. "For every tender, whether it is a strategic or a particularly important project, there is also a so-called implementation team, which includes our members. They have a major influence on how a given specification will look like," explains Colonel Líbal, who, among other things, served as the head of this team. Personal experience or references from alliance colleagues can also be an important guide to the right selection. "We don't want to invent a path, a Czech path. There are several versions of light attack vehicles in the world that are used, they are proven and we based our approach on those. We don't need something super special just for us," Líbal said.
The 43rd Airborne Regiment is to be completed within three years. We asked, is this goal realistic? "At the moment I would say it is still realistic. It depends on when the vehicles will be delivered, because that is one of the most important prerequisites, but we are not able to influence that. The equipment and material is about sixty percent complete and everything is being added gradually. In addition to the light assault vehicles, it is also a question of personnel. This is another prerequisite for full operational capability. There we are slightly below or behind schedule because recruitment funding was cut last year, by about a hundred people. However, if recruitment continues successfully, we will be able to meet this task as well," believes Colonel Líbal.
During the interview with the commander of the 43rd Airborne Regiment, Colonel Jiří Líbal, we also discussed, for example, the experience of the 43rd Airborne Regiment members with Toyota Hilux vehicles, the need to acquire standby ammunition, the need to use aviation equipment, including transport aircraft, the aging of paratroopers' equipment, etc.
If you are interested in our full interview with Colonel Jiri Líbal, please watch the video at the beginning of this article.