CSG holding companies operate the most advanced helicopter pilot training center in the Central Europe
Among the companies that presented themselves at NATO and Czech Air Force Days 2019 was European Air Services company, which belongs to the Aerospace Division of the Czechoslovak Group (CSG). At the airport in Ostrava – Mošnov during NATO Days event, the company introduced several helicopters, which it uses to train military and civilian pilots.
As announced on August 22, the Czech Army will buy eight US multi-purpose helicopters UH-1Y Venom and four AH-1Z Vipers attack helicopters. This decision defeated a competing alternative of buying twelve medium-size, multipurpose UH-60M Black Hawk machines. Nevertheless it is very likely that the Black Hawks will become a part of the Czech Air Force fleet in the future as a replacement for the Mi-17/171 helicopters.
In any case, the Czech Republic will join the users of the US military helicopters, which inevitably raises questions about how to effectively manage this highly demanding transition to brand new technologies. One of the key issues is linked to the pilots and ground personnel training.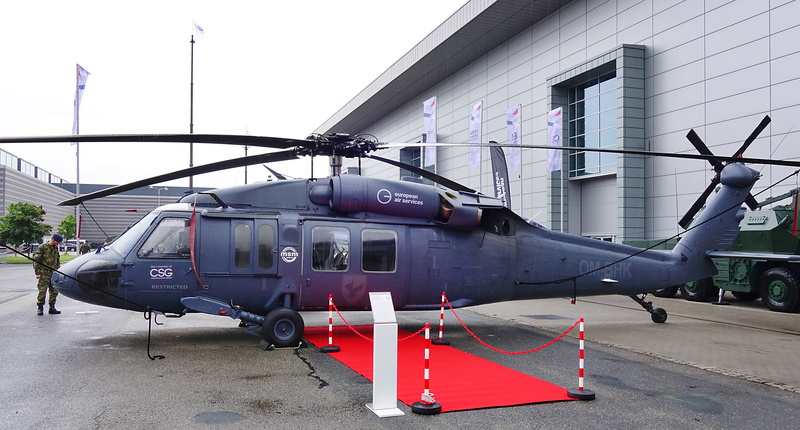 Foto: Víceúčelový vrtulník Sikorsky UH-60 Black Hawk | STA
New trends in flight training
Although it might not be known to the public, many important changes have recently taken place in flight trainings. On top of the boom in new generation simulators (accounting for much more realistic trainings than before), many air forces have de facto given up on some of the "organic" training capacities: nowadays, they have a significantly lower number of training machines, and they don´t provide for some training parts at all.
The reason is, among other things, an effort to save on the operational costs, since training machines have a limited use outside the training courses. However, the air forces still need to keep them fully functional.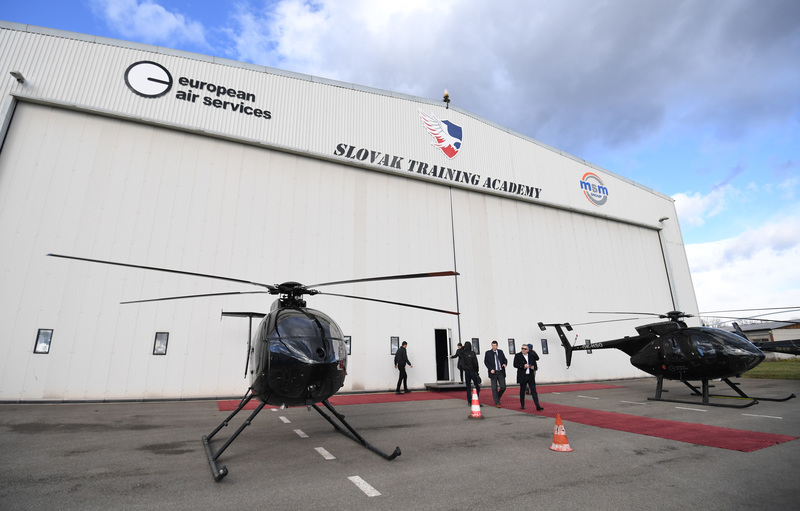 Foto: Slovak Training Academy | STA
One of the popular solutions is to hand over at least a part of the flight trainings to entities operating outside the armed forces. In a number of countries, part of the training is handled by private companies which operate various types of aircraft or helicopters, and for which former military pilots usually work as instructors.
Yet another option is to move trainings to other state-owned companies, a solution that the Czech Army opted for. Since 2004, the complete Czech army pilot trainings are being provided by the Centrum leteckého výcviku (CLV - Center of Aviation Training), which belongs to the state-owned company LOM Praha. In addition to the aforementioned cost savings, other benefits can also be mentioned, such as an option to provide international paid pilot trainings, which is also the case with the Czech company CLV.
New training capacities in Slovakia
In case of its military helicopter crews, Slovakia decided for the first mentioned option, which is a contracted private entity. For years, pilot trainings were provided by the Heli Company. Since 2004, Heli Company trained about 150 pilots for Mi-8/17 and Mi-24 helicopters, originally Soviet machines, which gradually ceased to meet modern operational requirements. In early 2015, reports that Slovakia considered buying new US UH-60M Black Hawk helicopters from the Sikorsky Aircraft Corporation emerged. In March 2015, the U.S. Department of State approved of selling nine machines with two spare engines and instrumentation, and on April 30, 2015, the Secretary of Defense officially confirmed that Slovakia would become a user of Black Hawks. Though debates on the rightfulness of this decision followed later, it is indisputable that only few types of helicopters are as proven as Black Hawks.
Black Hawks first flew in 1974. Since then, dozens of their versions were designed, and over 4 000 pieces were produced in the US and with licensed suppliers. The "Hawks" are also run by civilian customers under the name S-70, which was originally the internal name in the Sikorsky corporation. The latest version of the UH-60M machine transports a maximum of fifteen people (two pilots, two gunners and eleven passengers), or up to a ton of cargo, or it can lift a maximum of four tons of an external cargo. The first two UH-60M serial examples for the Slovak Air Force were handed over in June 2017.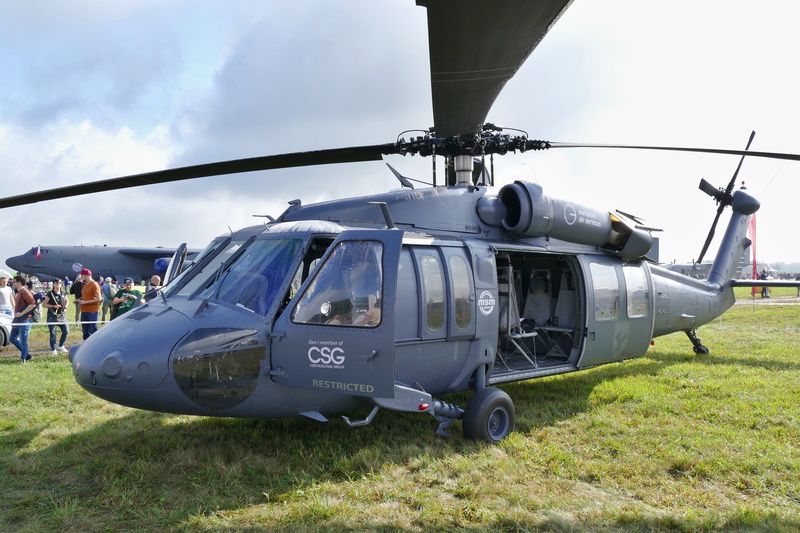 Foto: Víceúčelový vrtulník Sikorsky UH-60 Black Hawk | STA
However, a transition to a completely new US technology meant that the Slovak Air Force had to address also the important issue of pilot trainings. Given the good work experience with the Heli Company, the first option considered was to continue cooperation with the private company. However, Heli Company didn´t have a capacity to provide for the trainings. But soon, an attractive offer from the Czechoslovak Group (CSG), which brings together several famous Czech and Slovak brands in the special and engineering industry, and provides a wide range of services, emerged.
CSG Aerospace division, incorporated in the CSG structure, consists of a number of companies including European Air Services (EAS) specialized in aviation technology, aviation services and trainings. European Air Services was established in 2012: the company does business in helicopters sales and maintenance, and it also provides for pilot trainings. In 2013, Slovak Training Academy was founded thanks to the cooperation between EAS and the MSM Group, also a CSG group company. In November 2017, Slovak Training Academy (STA) launched a modern training center located at the Košice International Airport. Last year, STA acquired a dominant stake in the aforementioned Heli Company, and as a result, it became a de facto trainings supplier for the Slovak helicopter air force.
Slovak Training Academy and famous Black Hawk
In the past, the Heli Company trained pilots at the military airport in Prešov, but much bigger city of Košice was chosen as a location for the Slovak Training Academy due to larger facilities and lower population density important for the expected rise in helicopter use. Proximity of the Faculty of Aeronautics of the Technical University of Košice, where future pilots of the Slovak Air Force study, is also important. Today, the Košice airport has an impressive helicopter fleet under the EAS, and it has been expanding since.
The biggest share is made by light machines: six Schweizer S-300 CBI helicopters, three MD Helicopters MD-500E, one MD-530F, two Bell 206 and two Aérospatiale AS-355N Ecureuil 2. During this autumn, two more S-300 CBI helicopters will be added and the second MD-530F should arrive in December at the latest, and one non-flight MD-530 will be delivered for mechanic training. In the field of medium-purpose multipurpose helicopters, the EAS has leased two Mi-8MTVs. But undoubtedly, the Black Hawks attract most attention.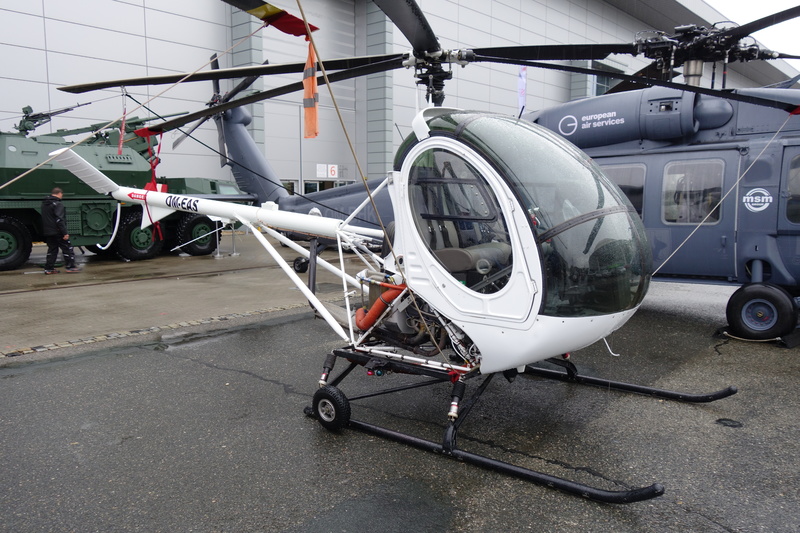 Foto: Schweizer S-300 CBI | STA
As described above, the famous UH-60 machines are used by armies, air forces, navies, police forces and other security forces in dozens of countries. In addition to this, some civilian customers buy them - with the most majority of non-government users being in the USA. EAS is an exception, and it is now the only European company that operates the Black Hawks (UH-60A version). Despite the UH-60A designation corresponding to the first serial variant produced for the US Army long time ago, all helicopters operated by EAS are modified machines, which have undergone all modifications for civilian operation in Europe. Furthermore, all of them are equipped with a cockpit adapted to operate at night with pilots wearing night vision goggles.
Until recently, the EAS owned only one UH-60A, but in the summer of 2019 arrived the second helicopter and this autumn should add two more examples. In addition to this, two non-flight units for mechanic training should be delivered later this year. Furthermore, the EAS fleet also consists of one light Tecnam P90 aircraft since it is important for EAS to maintain licenses for fixed wing planes. There is also a set of simulators in Košice, namely four flight machines for UH-60A, Bell 206, AS-350 and Mi-8MTV and one for ground personnel training (UH-60 mechanics).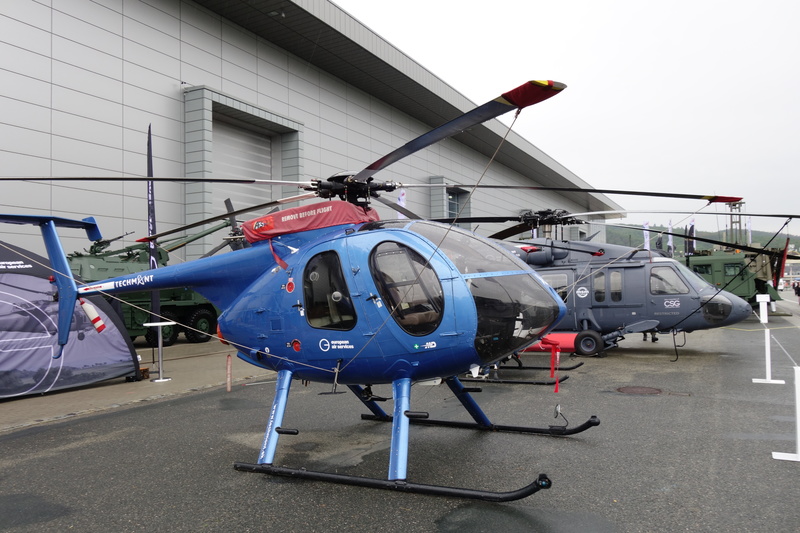 Foto: MD Helicopters MD-500 | STA
The widest possibilities of helicopter pilots and technicians training in the Central Europe
Since the beginning, EAS via STA provides for basic helicopter crew training and a specific training designed for the use of the above-mentioned machines. The training can be tailored for the needs of civilians and military, police and other security forces. The training is always tailored to the customer's requirements, and it is usually made up of different modules, which include theory (mainly English aviation terminology), basic training (different license levels), advanced training (flying at night or in high altitude areas), task training (activities in the mountains, search and rescue operations, rope techniques, etc.), and finally combat training (combat maneuvers, formation flight or reconnaissance flights). In addition, separate specialized courses are also available to improve pilot qualifications, such as search and rescue operations, night activities with vision goggles use, activities in an urban areas or firefighting interventions. STA also offers trainings for mechanics or ground staff (basic and special trainings) that can be adapted according to the client's requirements.
However, STA´s main activity is to provide trainings for the Slovak Air Force. Since it closely cooperates with the US government, the academy also trains the personnel of other allied armed forces within the framework of the U.S. military help to allies. Last year, pilots from Afghanistan already began training in Košice, since Afghan Air Force would also switch from Mi-8/17 helicopters to the UH-60. Each year, STA can provide basic training for approximately 50 to 75 pilots, including basic English, ICAO aviation English, theoretical ground training, ground simulator flying, and finally practical helicopter training.
Every year, another 50 pilots also take part in a special training for the Mi-8MTV and UH-60 helicopters. Adepts first learn theory followed by a ground preparation on a simulator with the last phase being flight trainings in the air. In any case, it can be expected that the number of clients will increase, and thus the STA project by EAS will continue to expand. It is expected the current number of about 350 employees can double within 15 months. To finalize, EAS also provides a variety of aviation work, helicopter sales and maintenance and component supplies, depending on the specific needs of each customer.
The STA training facility in Košice is a truly remarkable project built for about $ 25 million, which is solely an investment of CSG (the facility was not subsidized from the public finances). CSG Holding decided to take a very important step in the field of flight trainings privatization, a trend that inspires a number of armed forces not only in the NATO and European Union states.
STA has a large and a growing helicopter fleet (including the powerful UH-60 Black Hawks) and excellent experienced pilots. It has also established cooperation with many foreign partners, including the USA. EAS has already declared that it is ready to cooperate with the Army of the Czech Republic to ensure pilot trainings for new helicopters. The potential, skills and experience of the STA clearly show that it can be a suitable partner, capable of delivering truly first-class training services, and it can also contribute to a better cooperation in the Central Europe.