Czechoslovak Group – an industrial-technological holding of more than a hundred companies based in many countries of the world
16. 08. 2023
category: Topic
Czechoslovak Group (CSG) is a holding company that continues the tradition of Czechoslovak industry. It supports the development of traditional Czech, Slovak and foreign companies engaged in defence and civil industrial production and trade. Over 10,000 employees work in the companies included in the CSG holding. The companies in the CSG holding generated revenues worth CZK 25 billion in 2022.
Within the holding there are primarily manufacturing, development and trading companies. They are located in the Czech Republic, Italy, Slovakia, Spain, Great Britain, the USA and other countries. According to Forbes Magazine, it is one of the largest family-owned companies in the Czech Republic. CSG's strategy is to develop companies that are part of the group in the long term and that belong to sectors that CSG considers to be key (aerospace, automotive, defence and rail industry). CSG Group is ready to invest and make new acquisitions, especially in the segment of larger and significant companies, or family companies without a successor, which have an interesting product and a capable team of employees. CSG's growing strength and ambition is illustrated by the acquisition of Fiocchi, the world's leading manufacturer of small calibre ammunition, in 2022.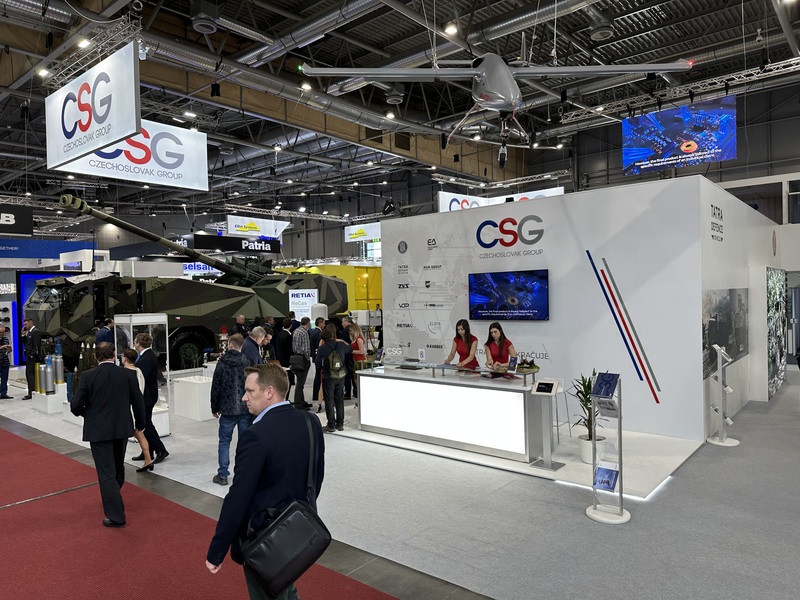 Picture: Czechoslovak Group (CSG) is a holding company that continues the tradition of Czechoslovak industry. | Michal Pivoňka / CZ DEFENCE
CSG places great emphasis on developing its export potential. To this end, CSG operates several specialist trading agencies with a global reach, such as Excalibur International, which has won and is executing major contracts in the South East Asia region involving a number of other members of the holding company. Another export tool is partnerships with leading European and global players in their respective fields, such as GDELS and Nexter Systems in the production of special vehicles, or IAI and Rafael in the field of radars and air defence systems. CSG is placing increasing emphasis on ESG activities. For example, TATRA TRUCKS is developing several variants of alternative drives for heavy off-road vehicles. CSG and other CSG Group companies are involved in supporting culture, sports, education and healthcare.
One important example is the support for research into drugs for acute leukaemia at the Institute of Haematology and Blood Transfusion in Prague, a top Czech hospital and research institution at the same time. Energy saving and waste reduction measures are gradually being implemented in all companies. Over 10,000 employees work in CSG Group companies as well as in joint ventures and associated companies in the Czech Republic, Slovakia and other European countries, developing and manufacturing high added value products. In addition, a number of companies in the supply chain are linked to the CSG Group. EY's analysis of a case study of a contract in the specialty vehicle industry showed that one crown invested in a project within CSG multiplies threefold for suppliers; similarly, for every one job in CSG, there are two jobs in suppliers.
Activities in the aerospace industry include:
Development of air traffic control systems, in which CS SOFT and ATRAK are engaged.
Development and production of primary and secondary air traffic control radars, air defence radars and command and control systems, carried out by ELDIS and RETIA.
Repair and maintenance of Boeing 737 and Airbus A320 family transport aircraft, carried out by JOB AIR Technic.
Training of flight and ground personnel for helicopters, provided by SLOVAK TRAINING ACADEMY.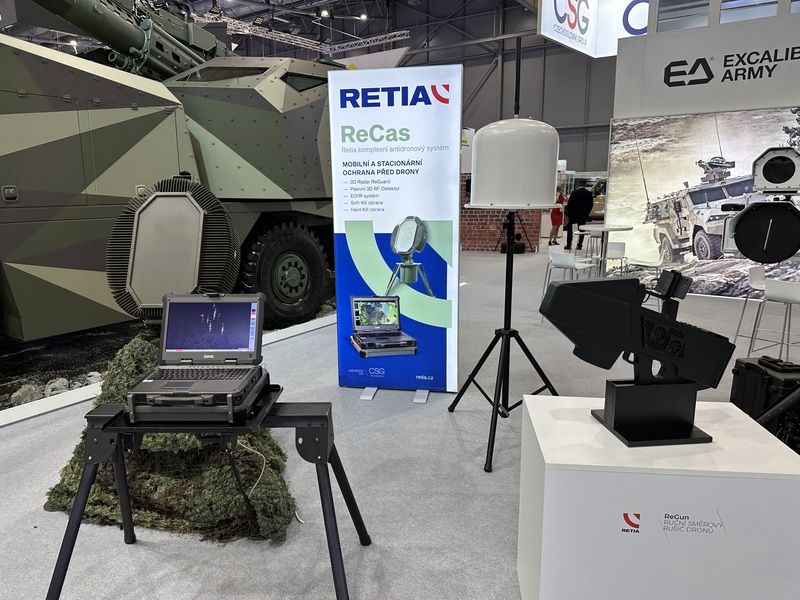 Picture: Complex antidrone system ReCas | Michal Pivoňka / CZ DEFENCE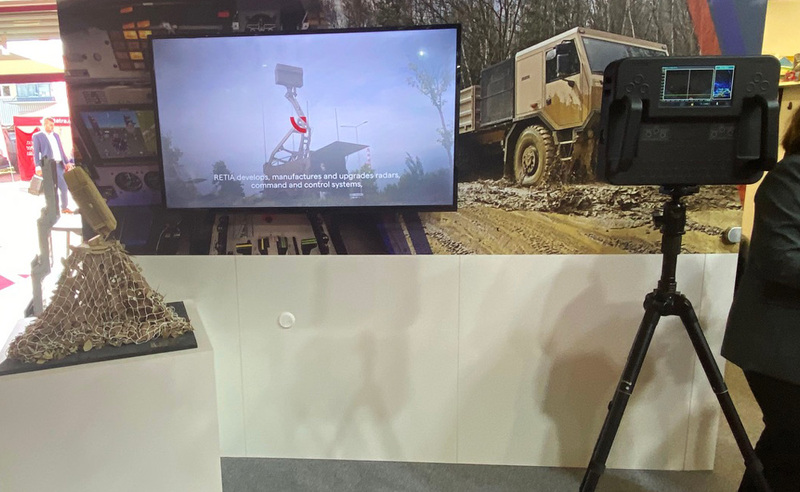 Picture: Model of the ReGuard multi-purpose 3D radar and ReTwis 5 portable radar | Michal Pivoňka / CZ DEFENCE
Activities in the field of special ground equipment, which are mainly carried out by EXCALIBUR ARMY and TATRA DEFENCE VEHICLE, include:
Repair, maintenance, conversion and modernisation of special wheeled and tracked vehicles for the army, firefighters and rescue services.
Development and production of new special wheeled and tracked vehicles, such as the Pandur II 8x8 CZ wheeled armoured vehicle under licence from General Dynamics European Land Systems (GDELS for short), TITUS wheeled vehicle with 6x6 axle markings developed in cooperation with the French state enterprise NEXTER SYSTEMS, MORANA 155mm self-propelled howitzer, Patriot 4x4 armored vehicle etc.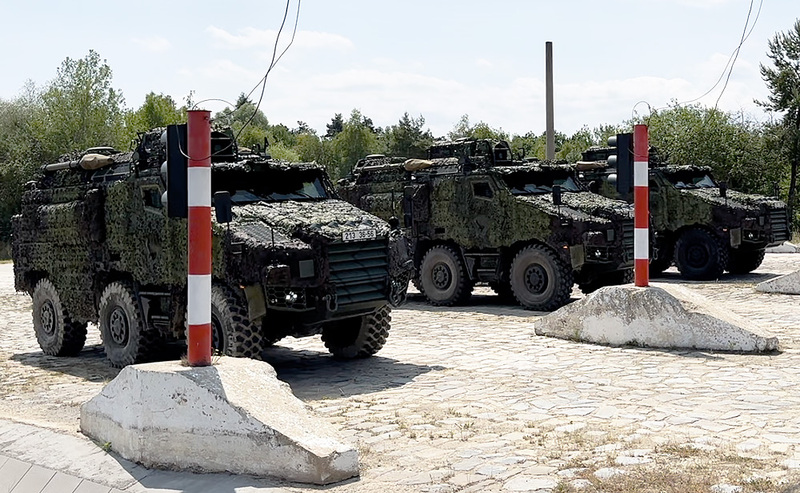 Picture: The TITUS 6x6 armoured vehicles of the KOVS and MKPP are ready to go to the training polygon | Michal Pivoňka / CZ DEFENCE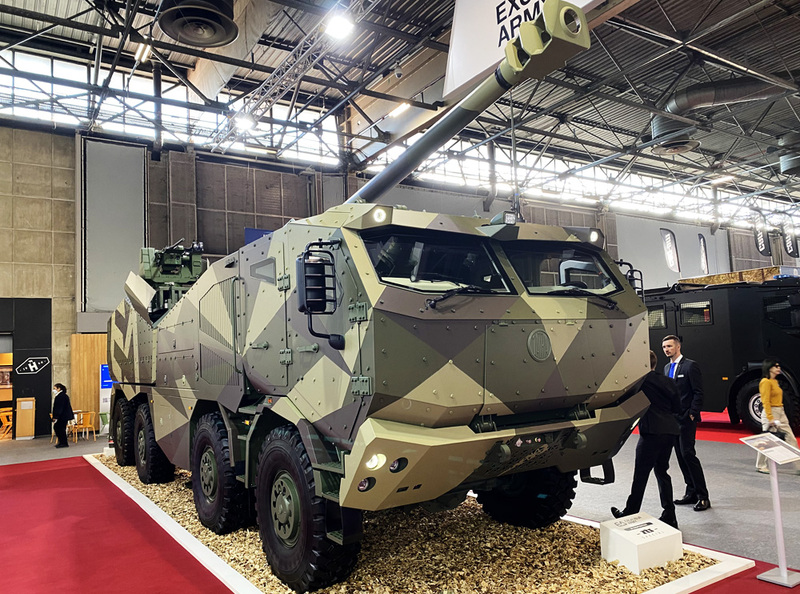 Foto: MORANA 155mm self-propelled howitzer | Michal Pivoňka / CZ DEFENCE | Michal Pivoňka / CZ DEFENCE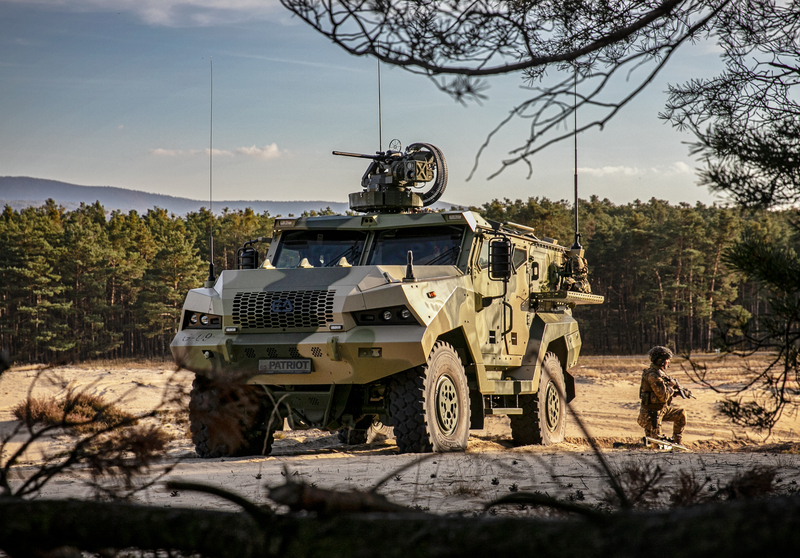 Picture: Patriot 4x4 armored vehicle | Excalibur Army
Activities in the automotive industry are mainly carried out by TATRA TRUCKS, which specialises in the development and production of Tatra heavy commercial off-road vehicles.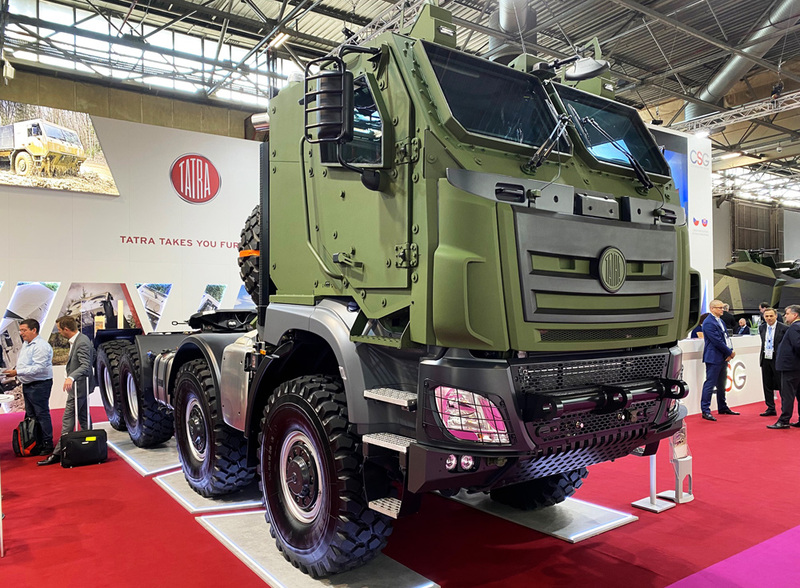 Foto: Tatra Phoenix 8x8 with armoured cab | Michal Pivoňka | CZ DEFENCE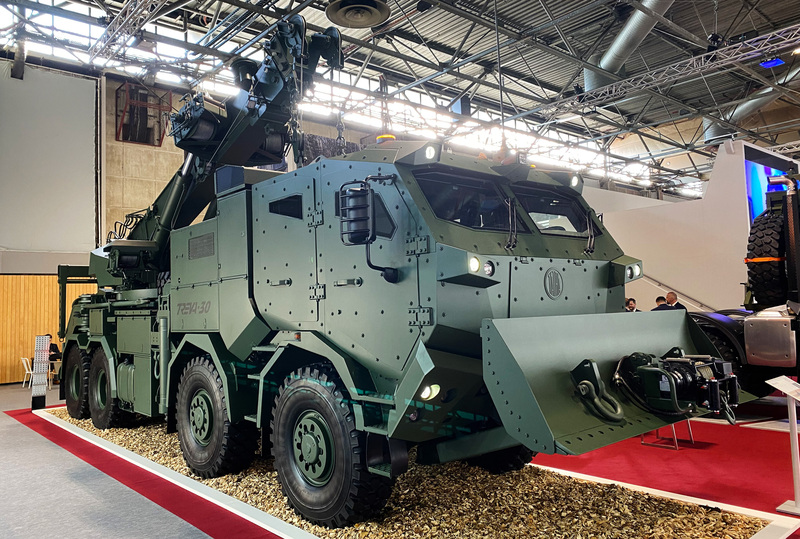 Picture: Czech recovery and evacuation vehicle TREVA-30 on Tatra Force 8x8 chassis | Michal Pivoňka | CZ DEFENCE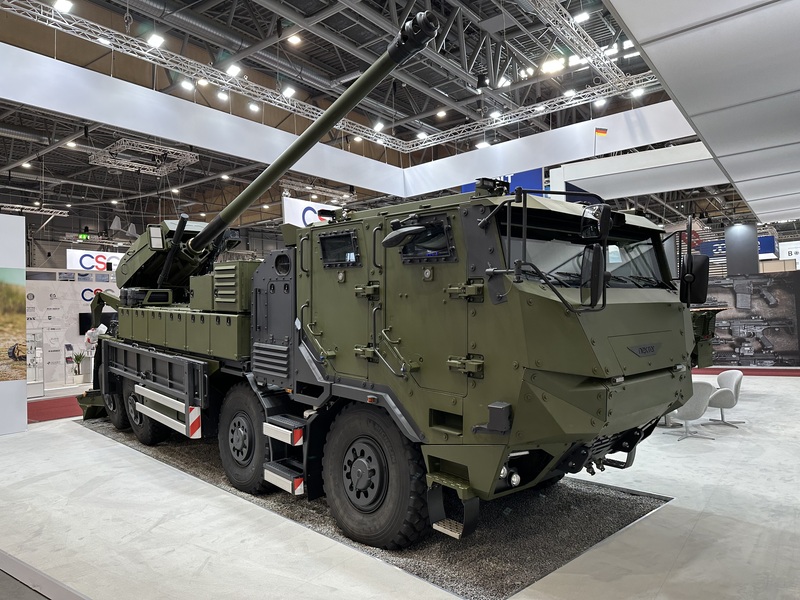 Picture: 155mm self-propelled howitzer Caesar on Tatra 8x8 chassis | Michal Pivoňka / CZ DEFENCE
Activities in the railway industry are mainly represented by DAKO-CZ, a developer and manufacturer of braking systems for rail vehicles.
Activities in the munitions industry include mainly the development and production of medium and large calibre ammunition, including the standard NATO 155 mm calibre. The munitions industry is the domain of the Slovak MSM Group. In 2020, CSG, through MSM Group, acquired the Spanish ammunition manufacturer FMG (Fábrica de Municiones de Granada) from GDELS. CSG's business falls mainly into the B2B and B2G categories. CSG hardly operates in the B2C category. An exception is the manufacturer of PRIM watches, the Czech company ELTON watches.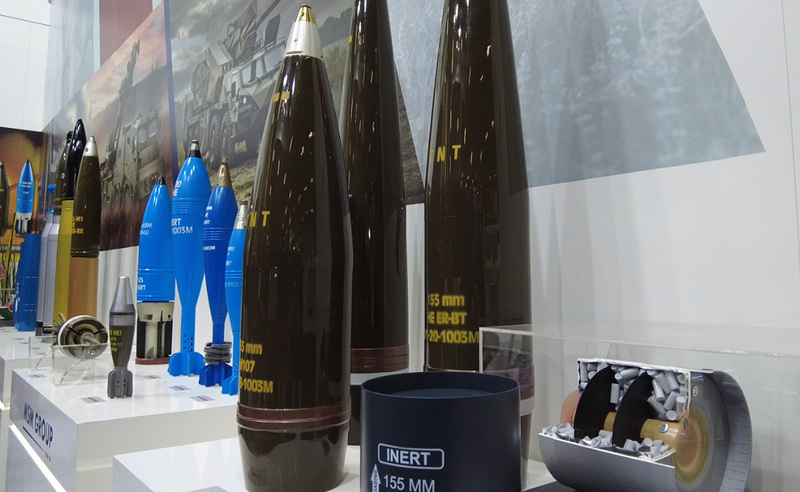 Picture: MSM Group's large calibre ammunition range | Michal Pivoňka / CZ DEFENCE
CSG Foreign Partnerships
From General Dynamics European Land Systems (GDELS), a part of the US General Dynamics corporation, CSG has obtained an exclusive licence for the production and servicing of the Pandur II 8x8 CZ wheeled armoured personnel carrier, which is in the armament of the Czech Army. Another US partner of CSG is the Raytheon corporation, for which the Slovak holding company SLOVAK TRAINING ACADEMY supplies helicopter training services. In cooperation with the French state armaments company Nexter Systems, it has developed a six-wheeled TITUS armoured personnel carrier on a Tatra chassis. CSG also cooperates with Israeli companies. Radar manufacturer RETIA, a member of the group, is the main industrial partner of Israeli state-owned ELTA Systems in the supply of MADR air defence radars for the Czech Army.
History of the Group
The history of the CSG Group began in 1995, when EXCALIBUR ARMY spol. s r.o. (ltd.) was established, focusing on trading in unwanted equipment and material that were scrapped and sold in competitions of the Czech Army and other NATO armies. The founder and owner of the company was a Czech businessman Jaroslav Strnad. In order to be able to repair and recover the acquired equipment, he decided to invest in providing his own production, including servicing. To this end, in 2005 he bought the premises of a defunct military repair company in Přelouč.
In 2008, he also started doing business in Slovakia, where he entered MSM Martin as a shareholder and gradually acquired several state-owned enterprises in this country on long-term lease from the Ministry of Defence of the Slovak Republic. He was able to fill all his companies with orders, thus contributing to the maintenance of strategic production capabilities and skilled jobs. Another field of Jaroslav Strnad's business became the iron industry. In 2010, he therefore bought out the shares of the shareholder group of DAKO CZ in Třemošnice, East Bohemia, which is a globally important manufacturer of braking systems and components for rolling stock.
A decisive step in the Group's development was the acquisition of a majority stake in the Tatra automotive company, which the group acquired together with minority shareholder René Matera in 2013. The traditional Czech manufacturer of heavy off-road chassis was in a dismal state, but already during 2013 it managed to resume production, win orders and bring the company into profit. Another important acquisition this year was the purchase of a military repair facility in Šternberk, for which the state had no use. In this case too, export orders were won and the number of employees was gradually increased. Today, the Šternberk plant represents a key production facility of EXCALIBUR ARMY and one of the most important manufacturers of special ground equipment in the Czech Republic.
In 2014, the holding structure of the Group began to be established. It was initially called EXCALIBUR GROUP, renamed to CZECHOSLOVAK GROUP in 2016. The new name better described the territorial dimension of the group and at the same time symbolized the continuity with the MADE IN CZECHOSLOVAKIA brand on export markets.
At the same time, in 2016, the son of the founder Jaroslav Strnad, Michal, took over as Chairman of the Board of Directors. He has been gaining experience in managing various parts of the Group for several years. Under Michal Strnad's leadership, 2016 was a period of the greatest expansion. CZECHOSLOVAK GROUP became the most active investor in the Czech Republic thanks to the acquisitions of JOB AIR Technic, a radar manufacturer RETIA, and ELTON watchmaking company, which manufactures PRIM watches.
In addition to investments in existing companies, CSG established the greenfield company TATRA DEFENCE VEHICLE, which manufactures TITUS and Pandur wheeled armoured vehicles in Kopřivnice, in the vicinity of the Tatra car factory. New members were also added to the CSG group in 2017, when it expanded to include air traffic control systems developer CS SOFT and radar manufacturer ELDIS Pardubice. In 2018, there was a generational change of ownership. Jaroslav Strnad transferred CZECHOSLOVAK GROUP to his son Michal and embarked on a project to build a new industrial group, CE Industries, focused on the energy, food, recycling and rail industries.
Another important event was the establishment of CSG Aerospace, a subholding that brought together companies focused on aerospace. Its members include radar companies ELDIS and RETIA, air traffic control system developers CS SOFT and ATRAK, and aircraft repair shop JOB AIR Technic, among others. In 2019, companies outside CSG's core industries made profitable acquisitions: the Hyundai and Mazda car dealership group and the aviation logistics company Skyport were acquired. Another acquisition came in 2020, when CSG acquired its first company in Western Europe – Spanish munitions manufacturer FMG, which was acquired from General Dynamics European Land Systems with the approval of the local government. There were also divisions, namely the sale of Skyport in 2020 and the sale of the car dealership group in 2021.
On the other hand, CSG expanded in 2021 with a new member operating outside its traditional pillars – the Prague Fertility Center reproductive clinic. In 2022, CSG completed its most significant investment project to date when it acquired Fiocchi, one of the world's leading producers of small arms ammunition, from Italian investment group Charme Capital Partners, with production in Italy, the UK and the US. This acquisition strengthens the global nature of CSG and, as Fiocchi is consolidated into CSG's results as early as 2022, has a positive impact on reported revenue and EBITDA.
CZECHOSLOVAK GROUP has grown over 28 years from a small trading company to a widely diversified industrial holding company that develops new products and successfully markets them worldwide. It is also a strategic supplier and manufacturer for the Czech Army. As a Czech industrial partner, it is also actively involved in armament contracts of foreign suppliers and creates added value in the Czech economy. Under the leadership of Michal Strnad, CSG is improving its corporate governance and aims to become one of the most important European industrial corporations.