Even a woman can be an aircraft mechanic
She came in overalls, straight from a hall full of helicopters to be repaired. She is not afraid to get her hands dirty and prefers technical bulletins to "romantic" reading. For the interview I invited Sabina Nováková, who joined LOM PRAHA s.p. six years ago. She has two children and currently works at the Kbel Aircraft Plant (ZLD) as an aircraft mechanic for a kite engine.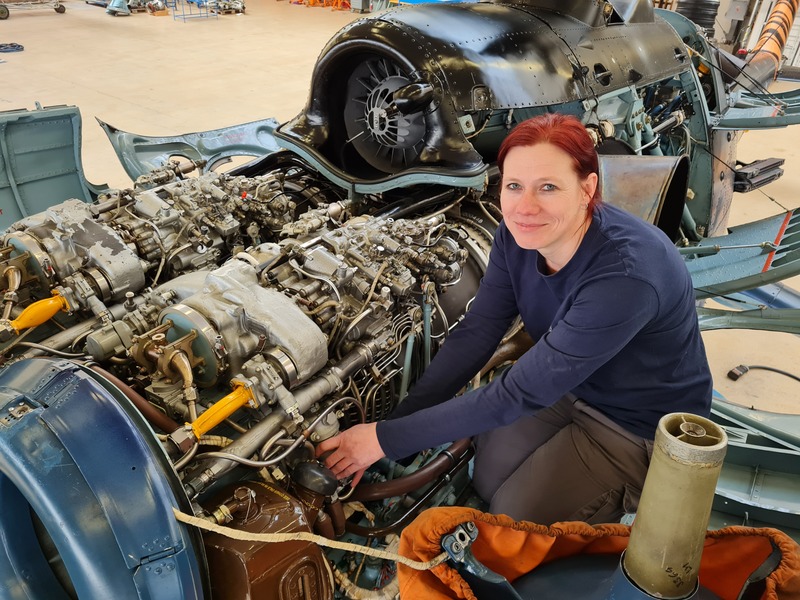 Picture: Even a woman can be an aircraft mechanic | Jitka Šuláková
What did you study and how did you get to LOM PRAHA?
I originally graduated from hairdressing school, so I had nothing to do with this technical field at all. A few years ago, I started at LOM with preparatory work on helicopters and after about a year they offered me to try to learn the profession of an aircraft mechanic. And so I did. Everything I know and know how to do, I learned here. Helicopters have been the obvious choice for me for four years now.
And what did you expect when you accepted this offer? Did it meet your expectations?
I didn't have any expectations as I had no idea what I was getting into. I was very scared at the beginning because I didn't know if I could do it. But everyone was very supportive of my decision. My boyfriend, my family and my colleagues at work.
What are you currently working on and what is the most interesting thing you have worked on so far?
Currently, my colleague and I are engineering the main reducer for the Mi-171. And honestly, I find every job here interesting, every type of helicopter. I'm also preparing for type tests on Mi-17 and Mi-171. Once I pass them, I'll finally have everything in black and white. I want to prove, especially to myself, that I have what it takes.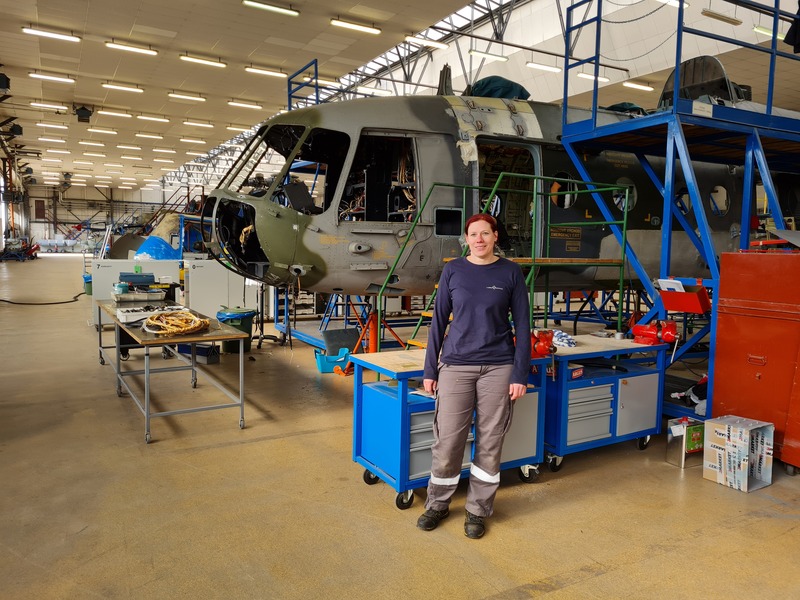 Picture: Sabina Nováková joined LOM PRAHA s.p. six years ago | Jitka Šuláková
How do you like it at LOM and what does your everyday work day look like?
I am very happy here and I enjoy my work very much. I can't imagine doing anything else.
I do what I am assigned to do. Either I continue with the repair work I've been allocated, or my supervisor Lukáš Syrový assigns me a new job. No stereotype.
So what do you do in particular? What kind of work practices do you use?
It depends on what repairs or prescribed work the helicopter is brought to our aircraft plant in Kbely. First, it's dismantled, so to speak. This is followed by preparatory work and then the actual assembly of the various aggregates and other specified work tasks. I work exactly according to the technological procedure and use mostly standard hand tools. I usually work in pairs with one of my colleagues.
Do you travel as part of your job?
Yes, I was with my colleagues in Burkina Faso, where we took two Mi-17s for overhaul. And then I was also in Ghana, where we will be returning again soon.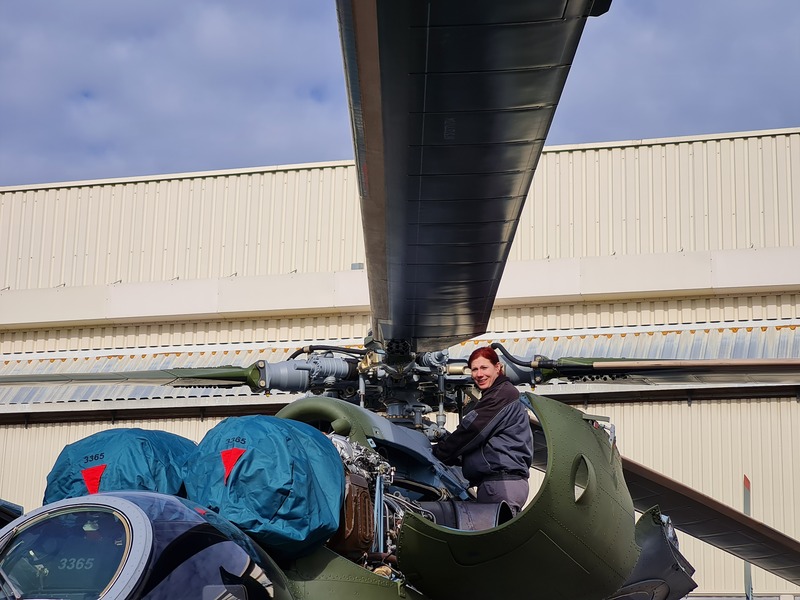 Picture: Sabina enjoys her work, her favourites are both combat and multi-purpose transport helicopters | Jitka Šuláková
What do you enjoy about your work and do you have a favourite among the aircraft?
I really enjoy everything. I don't like paperwork very much, but fortunately I don't get to do that very often. My favorites are both combat and multi-purpose transport helicopters. I have ridden in both and it was a great experience.
How do you spend your free time?
I spend time with my children and I like to play sports.
What would you say to girls who are considering the same career as you?
To not be afraid of it, it's really worth it. I don't regret my decision. My work is also my hobby.
Currently, the issue of re-equipping the Czech Army with American Viper and Venom helicopters is very topical. Can this be a working challenge for you too?
Personally, I have not considered this possibility because of my current level of English. Also, the location of the future workplace is a big obstacle for me. The helicopter base in Namesti nad Oslavou is quite out of reach from Prague. Unfortunately, I haven't had the opportunity to see these American transport and combat machines live, but hopefully I will soon.
What work is waiting for you in the near future?
I am going to work on a Mi-171 transport helicopter for the Czech Air Force.
Is there anything else you would like to add at the end?
I am very grateful to the state enterprise LOM PRAHA for giving me this interesting opportunity. And I would also like to greet all my colleagues from the Kbel aircraft plant.