Gen. Karel Řehka: In Ukraine we see that the army alone is not enough to defend. The whole society must be involved
On 1 January 1993, not only the independent Czech Republic was established, but also its army. In the thirty years of its existence, our army has trained thousands of soldiers, gained prestige in our country and in the world and gained self-confidence. Czech soldiers have been deployed in a total of 67 operations in Europe, Asia and Africa. They have also commanded several missions. From 1 January 2005, the Czech Armed Forces became a fully professional army. Recently, our soldiers have played a significant role during their deployment in natural disasters (floods, fires), covid, etc. However, the primary task of the Army of the Czech Republic is the defence of our homeland against external attack and the performance of tasks based on international treaty obligations related to joint defence or peacekeeping and security operations. To fulfil these tasks, our army needs to be well equipped, both in terms of personnel and modern equipment and armaments. Within the framework of 30 years of the modern Czech Army, we asked the Chief of the General Staff of the Czech Army, Gen. Karel Řehka for an interview.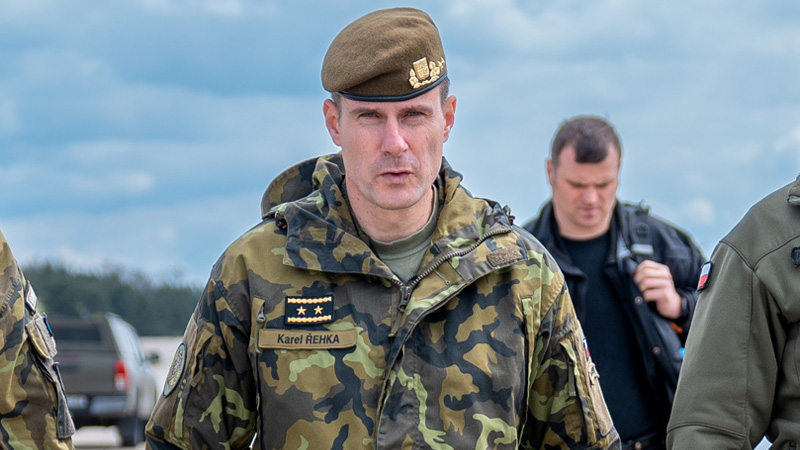 Picture: Chief of the General Staff of the Czech Armed Forces Gen. Karel Řehka | Petr Dohnal
Thirty years into the modern history of the Army, a general question arises: What is the state of the army today and what is it lacking to be in an optimal state?
The state of the army reflects the approach to its needs in the past decades. The prevailing belief was that there was no threat of a major conflict, we did not need to do anything and we would start preparing only at the moment of a crisis. Frankly, that is not the case and never has been the case. This approach has logically been reflected in the internal deficit of the army that has accumulated over the years. We are not just talking about modernising equipment, weapons systems and technology. This is just the tip of the iceberg. It goes hand in hand with recruitment, infrastructure, social facilities, building the required capabilities, changing doctrines, operational manuals, regulations, adjusting training, and all these areas are interlinked. We are filling in the terrible gaps of the past to bring the Army up to what it should be. The building process must be continuous. We may know today what it should look like in the medium and long term, but the army does not operate in a bubble. On the contrary, it is part of this dynamic and turbulent world and must constantly respond to this progress in the environment. In the same breath, however, I must add that no army is likely to be in an optimal state, i.e. in the state it would like to be in. This applies even to the most advanced countries. There is always a need to find a political and social consensus, and the army provides input and recommendations in this sense, but in effect it is fulfilling a political brief. It is also important to realise that, basically, the army's only job is to fight, and if it is not fighting, its job is to prepare for the fight. This, of course, comes at a cost and has not been a cheap affair since antiquity. Like other armies, the Czech army is ready to fight with what it has and to the best of its ability. Of course, we have to move, and move fast enough. We have an important role to play in NATO. We also live in a time of rapid technological development, which logically translates into modern warfare. And the public should also know that we are certainly not preparing for the current conflict. We must prepare for the ones that may await us in five, ten or fifteen years' time. That is why my main task is to increase the readiness of the army effectively and, if possible, briskly.
Is the Army to remain an all-arms army, or is it possible to imagine that, prospectively, within a decade, we will be able to concentrate on the deeper development of certain capabilities, at the expense of abandoning others, thanks to our links with neighbouring allied countries?
The army is definitely to remain all-arms. While our defence is based on the common defence of all NATO member countries, that famous Article 5 of the Washington Convention, Article 3 also refers to the development of national capabilities. These should therefore be directed towards meeting our commitments to our allies in the Alliance and towards the capabilities of our own military. We must be prepared to defend our territory independently for a certain period of time, because the help of the allies will not be immediate and we will have to hold out for weeks with what we have. In the context of the deployment of our troops in recent years, it may seem that we are more of an expeditionary army, but this is not the case. The Army was and still is a all-arms force; we have just had to curtail some capabilities. This has put us, for example, in an air defence deficit, while we are within range of Russian missiles. However, on the other hand, we have managed to maintain these capabilities, albeit much reduced. It has long been proven, and even the simple logic of the matter shows, that strengthening an existing capability is always many times easier, faster and cheaper than building something we have cancelled on a greenfield site. Today, when it is clear that a major conventional conflict in Europe is not so unrealistic, it is clear that this was a good decision.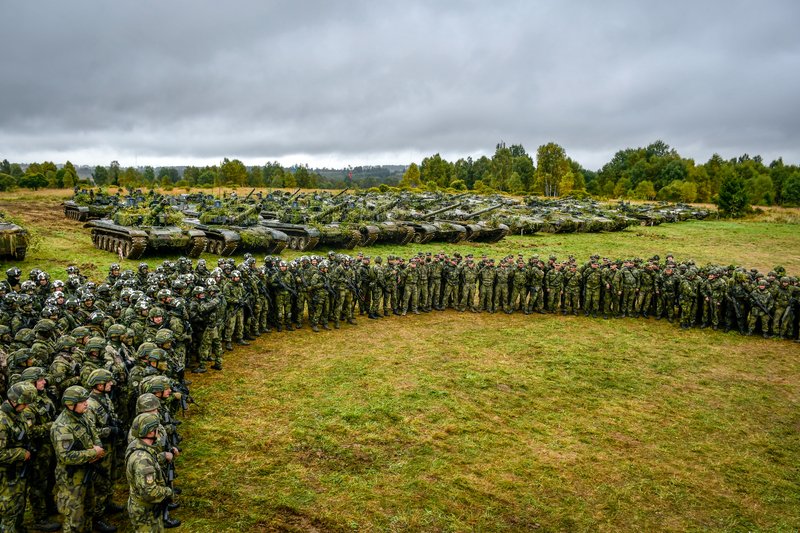 Picture: According to Gen. Řehka should definitely remain all-arms (illustration photo) | mjr. Ladislav Kabát
Can we see this in the example of Poland?
Exactly. The Poles are vehemently building up an all-arms army to be able to fight in all domains. That has its advantages. In a modern army, the different types of troops function as closely interrelated and integrated systems, complementing and supporting each other, and their effect on the battlefield is naturally greater.
There is a conflict going on in Ukraine that we could not have imagined until recently. At the same time, there are debates about recruiting soldiers into the ranks of the Armed Forces, strengthening the active reserve and conscription. And also about compulsory full-time military service. I have two questions in this regard. Firstly, do you have the impression that the prevailing impression in the Czech Republic is that we are in the lee, so to speak? That our involvement in NATO structures brings a sense of security that paradoxically blunts our readiness and willingness to defend ourselves if necessary?
As I have said several times, we have become accustomed to living in an unprecedented period of peace, tranquillity, prosperity and well-being. What we have experienced in recent decades has not been the norm in Europe. The migratory wave and the war in Ukraine show this. Unfortunately, it also seems to me that we are not morally prepared for these changes. Western European society is taking it, as it is doing well today, absolutely for granted. But that is not the case at all. And then there is a wake-up call from Ukraine and everyone wonders if there is any obligation to defend one's own country. After all, this should go without saying! Our great-grandfathers and their ancestors had it that way. It is to them that we owe what we have here today. So it is not primarily NATO, but our values and attitudes that are the factors that influence our eventual willingness to defend the homeland. But the truth is that NATO provides us with a high degree of security and defence, and I remind you that it is at a much lower cost and effort than if we had to rely on ourselves alone.
Secondly, is compulsory full-time military service still not on the agenda? In Ukraine, we see that in a conventional symmetrical conflict, everyone finds a place in the armed forces; and some basic training would undoubtedly make it easier for them to perform today's tasks.
I think of the conscript army as a thing of the past. There is no social consensus in this country to introduce compulsory war. It would be difficult and expensive, and would not have the desired effect. Imagine, for example, that the army today works with systems that are highly sophisticated and constantly evolving. The people who work with them are real experts who become specialists through continuous training. You simply cannot do that in half a year or a year of basic service, let alone continuing professional development. I consider the concept of a core professional army and active reserve to be appropriate to our country, its ambitions and our tasks. We must invest time, energy, effort and money in building a professional army. What we should address, however, and preferably in all areas of society, is preparation for conscription.
The mission in Mali has ended, and this was more for political reasons that were beyond our country's control. In your opinion, what did the participation of our soldiers in Mali bring, what specific results did their deployment have? And what did the mission bring to our deployed soldiers?
The EU-led mission in Mali was a training mission, and you are right that, on the basis of the political developments in the country, cooperation with the armed forces there was reduced. Our instructors were there for 10 years and during that time they trained over 20 000 Malian soldiers and 300 instructors. Understand how the army works: it is given a task and it completes it. The political solution is beyond us; it is not for us to comment on it. From that point of view, our soldiers did a great job there, and we even commanded the whole mission twice. They stood up there not only as professionals but also as people, and they were very popular among the locals. Of course, every mission and operational deployment brings new experiences and skills. You learn to navigate in a new environment, experience a new culture, improve your language, deepen your professional competencies, and reinforce many of the things you learned in training. In general terms, our time in Mali has certainly brought prestige to the Army and has repeatedly shown our partners that we are professionals they can rely on.
In NATO, we work with all allies at some level. However, there is one army that is as 'old' as the Czech Army and is closest to us – the Slovak army. Is the cooperation between our armies, compared to other allies, something special or specific?
Certainly not in practical matters. Within the Alliance, each of us has set tasks to perform and set capabilities to achieve. Of course, on a cultural and social level, we are certainly the closest. Common history, close language, mentality. Some of today's commanders still served in the joint Czechoslovak army. All this brings us closer together, of course, and can facilitate the joint performance of tasks. Otherwise, both armies are staffed by professionals who know what to do. Despite the proximity, which is certainly there, it is an ally like any other. For example, if you are referring to the fact that today we are commanding a task force in Slovakia or our Gripens are protecting Slovak airspace, we would perform those tasks exactly the same in any allied territory and for any ally.
During the 30 years of the Czech Army's existence, probably the most significant change has been its professionalisation. Was the Czech Army inspired by other armies in the world in the process of professionalisation, or did it have to "invent and implement" the whole process on its own?
The Republic never had an army as we know it today before. It has always been more of a conscript-type army run by a professional corps of officers and warrant officers. The army had a vision and a concept based on the assessments and experiences of other countries. It is not sensible to reinvent something that is functional elsewhere and applicable in our conditions. On the other hand, it is also not possible to blindly adopt everything. NATO membership has helped us a lot in the concept of building a modern type of army.
What do you consider to be other significant milestones in the modern history?
I consider the peaceful division of the army in 1993, our entry into the Alliance in 1999 and full professionalisation in 2005 to be key.
What would you wish for our army in the future?
I certainly wish it to continue to retain the high level of community support it now enjoys. I would wish it a stable budget, at least at the level of what we have committed to in NATO. And I would wish her the best people. I am confident that we will build a modern, ready and committed army.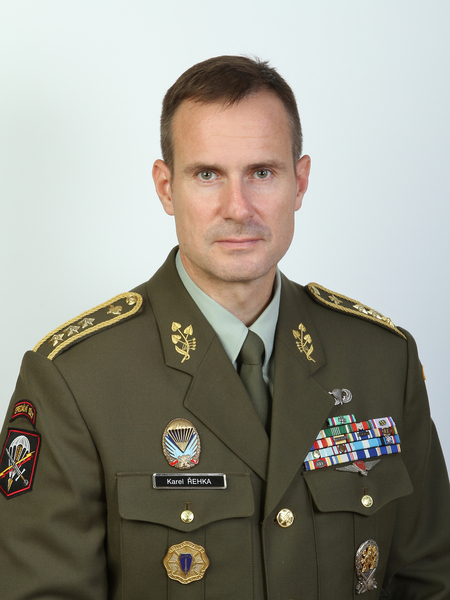 Picture: Lt. Gen. Karel Řehka | Ministry of Defence of the Czech Republic