Slovak companies showcased at the SIAF 2023 International Aviation Days
The military airport in Kuchyně, which is home to the 46th Wing of the Air Force of the Armed Forces of the Slovak Republic (VzS OS SR), recently hosted the International Air Days SIAF 2023. In addition to static and dynamic demonstrations of aviation equipment, the public had the opportunity to see the ground equipment introduced in the armament of the Slovak army. The event also featured a self-propelled howitzer Zuzana 2 of Slovak manufacture, which in dynamic demonstrations used training ammunition from the workshop of the leading Slovak manufacturer of training artillery ammunition, the company VOP Nováky from the MSM Group holding.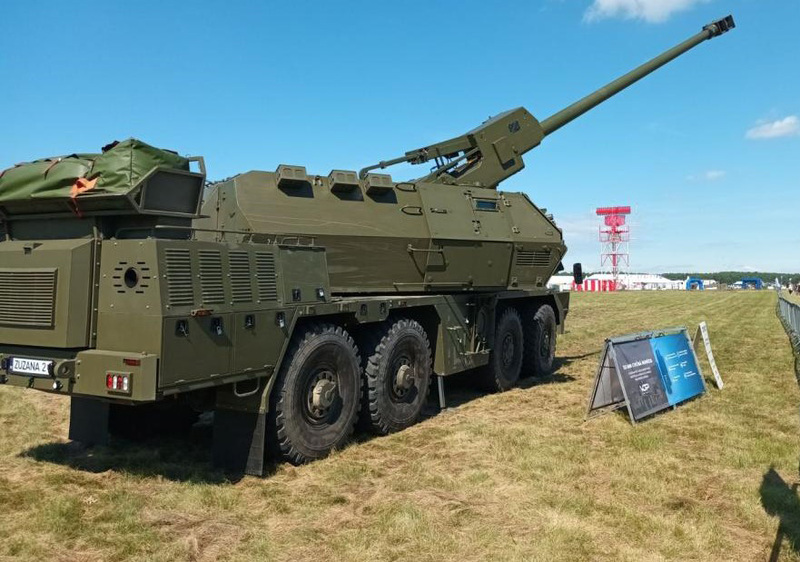 This year's novelty of the SIAF International Aviation Days was the Dynamic Polygon project, through which visitors had the opportunity to see in action, in addition to aviation equipment, also ground weapon systems from the armament of the Slovak Armed Forces. The polygon also included a presentation of the Zuzana 2 self-propelled howitzer, which used artillery ammunition from VOP Nováky.
The 155 mm ECv artillery ammunition from the portfolio of VOP Nováky is suitable for all 155 mm howitzers with barrel lengths of 39, 45 or 52 calibre. This type of projectiles is used in tactical military exercises, ceremonial salvos or in places where it is not possible to perform live firing or to use projectile ammunition. The 155 mm ECv ammunition consists of a special empty plug that replaces the projectile and two modular ECv cartridges. In addition to the production of artillery training ammunition, VOP Nováky also focuses on the production of artillery ammunition from 122 mm to 152 mm, mortar ammunition from 60 mm to 120 mm, and also specialises in the technical extension of ammunition service life.
VOP Nováky is part of the MSM Group, which is part of the Czechoslovak Group (CSG) holding. MSM Group brings together mainly Slovak companies for the production of various types of medium and large calibre ammunition and ranks among the European leaders in the production of ammunition. MSM Group regularly invests millions of euros in the technical and technological background of its companies, and VOP Nováky is no exception. Thanks to continuous investments in automation, robotization and production capacities, VOP Nováky ranks among the most modern European companies in its field, making it an increasingly important employer in the Upper Nitra region. Over the last year, the Nováky ammunition manufacturer has grown by almost 200 employees and the plant produces more than 150,000 pieces of ammunition annually.