Special and support vehicles - an indispensable part of ground forces
18. 11. 2023
category: Topic
Discussions about the supply of equipment to the defending Ukraine are usually dominated by media-attractive types of weaponry such as tanks, missile systems, drones and combat aircraft. Experts point out, however, that at least equal attention should be paid to less visible but no less important categories. These are technologies that, although they are rarely seen in combat footage, enable combat operations to take place. English terminology therefore uses the difficult-to-translate word "enabler" for this technique. Generally speaking, these are specialised vehicles that are responsible for overcoming (or, conversely, creating) obstacles on the battlefield and providing technical support to other vehicles. This includes, for example, bridge laying vehicles, earthmoving vehicles, recovery and crane vehicles and some other specific categories of equipment. The Czech defence industry has a long tradition in the development and production of such support vehicles.
In the context of Ukraine, support vehicles are mentioned, among other things, because Ukraine has already acquired Western tanks and infantry fighting vehicles, which are usually much heavier than armoured vehicles of the Soviet design school. This logically imposes higher requirements on support equipment, e.g. the carrying capacity of military bridges or the towing capacity of recovery vehicles. Of course, this year's counter-offensive must take into account losses of armoured fighting vehicles, which may be caused by enemy activity as well as various accidents or malfunctions, and in addition, there will undoubtedly be opportunities to acquire enemy loot equipment. This means the deployment of recovery and crane vehicles to take care of the withdrawal to the rear. The offensive also implies the necessity of overcoming various natural and artificial obstacles, such as crossing watercourses or anti-tank roadblocks, for which various bridgehead and engineer vehicles are required. To some extent, it can be said that the Czech army has to deal with similar problems, as the new Leopard 2A4 tanks and CV90 infantry fighting vehicles are also significantly heavier than the Soviet-origin equipment still in service.
The Czech Republic has committed to building a heavy mechanised brigade by 2026, which will mean in practice a virtually complete rearmament of the 7th Mechanised Brigade, which today uses tanks of T-72 design (especially the modernised T-72M4 CZ) and BMP-2 tracked infantry fighting vehicles and various specialised derivatives thereof. It is precisely in order to replace this obsolete and nowadays obviously inadequate equipment that Leopard 2 tanks and tracked vehicles on the CV90 platform are being acquired, which meet NATO standards as they are among the most widely used types in Europe in their category. However, their aforementioned greater weight compared to the Soviet design school types, which, after all, logically follows from their significantly higher armour resistance, also logically implies the need to renew the fleet in the field of support vehicles. In short, the Czech Army urgently needs new bridge laying, engineer and recovery vehicles to provide support for the new armoured platforms of the mechanised brigade.
The Army of the Czech Republic is still using AM-50 bridge laying vehicles, which were undoubtedly among the world's best at the time. The bridge deck with a scissor construction measures 13.5 m, offers a load capacity of 50 tonnes and can be connected to a larger number of bridge decks, so that a bridge of over 100 m in length can be created. However, the AM-50 is built on the now obsolete Tatra 813 chassis and cannot meet contemporary requirements in some other respects.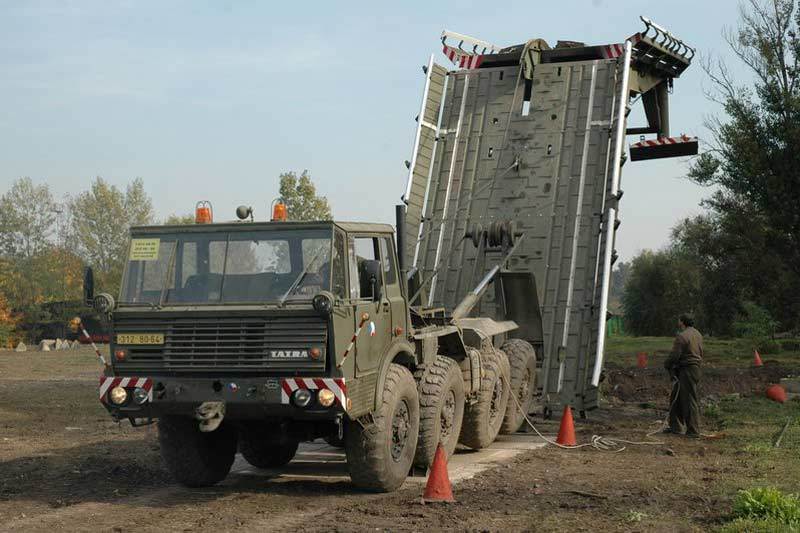 Therefore, the Sternberg-based company Excalibur Army developed the AM-50 EX vehicle, which uses a new Tatra Force chassis and has also received other changes, but the basic principle of the bridge's operation has remained basically unchanged. The bridge complies with the MLC 50 alliance standard, which means that it can provide for the movement of a vehicle weighing 50 "short tons", i.e. about 45 metric tons. This is sufficient for all tracked vehicles of the Soviet design school used in the Czech Army and should also be sufficient by a large margin for the prospective CV90 Mk IV infantry fighting vehicles, whose maximum weight should not exceed 37 tons.
However, the currently delivered Leopard 2 tanks in the 2A4 variant weigh much more, around 55 tonnes, so the bridge corresponding to the MLC 50 standard is no longer sufficient for their movements. It is because of the fact that modern Western tanks are significantly heavier than the types of the Soviet design school that Sternberg developed a completely new bridge laying vehicle, the AM-70 EX. In terms of design, it is a direct successor to the AM-50, and thus the scissor concept of the bridge deck is retained, but as the designation suggests, the load capacity has been significantly increased and corresponds to the Allied standard MLC 70. The bridge deck can therefore carry a vehicle weighing up to 70 'short' tonnes, or around 63.5 metric tonnes. With a large margin, it is sufficient for Leopard 2A4 tanks and should also suit more modern versions, which are expected to be introduced into the Czech Army, because, for example, Leopard 2A7 weighs about 63 tons. Similarly to the AM-50 type, there is a possibility of connecting up to eight bridge decks, so that an obstacle with a maximum width of 106 m can be bridged. The AM-70 EX bridge laying vehicle is of course built on a Tatra Force chassis, which gives it excellent mobility even in difficult terrain.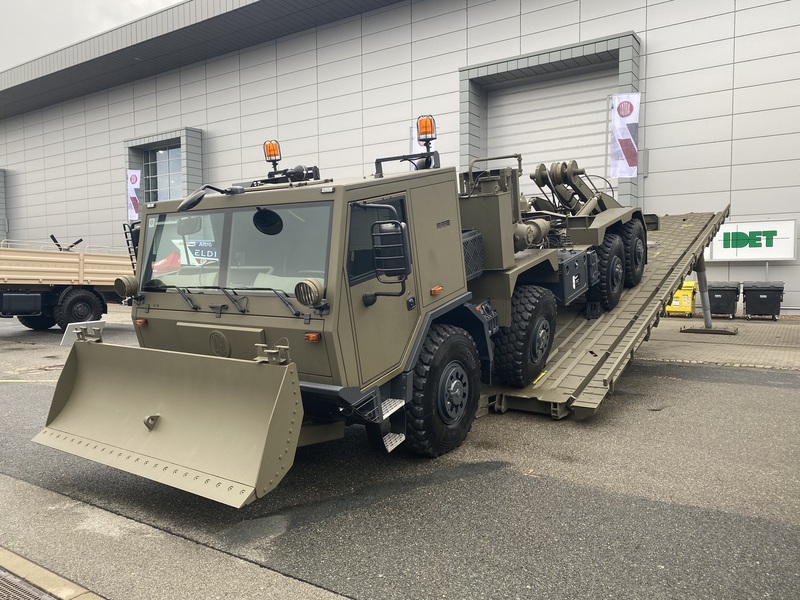 The AM-50 EX and AM-70 EX bridge laying vehicles can also be equipped with a bulldozer plough, allowing them to carry out smaller earthworks. However, for more extensive landscaping, special equipment is of course required, an example of which is the UDS-214 universal finishing machine. Its original version, which was developed in the 1990s, is based on a Tatra 815 chassis, but an upgraded version is currently being produced on a Tatra Force chassis. Essentially, it is a mobile excavator with a swivelling superstructure on which is a telescopic boom with a horizontal reach of 10.5 m, with an attached extension of up to 14.5 m. The boom usually carries an excavator bucket, but a wide range of other tools can also be used, including specialised shovels, a hydraulic hammer, a dredger or an asphalt cutter. The boom can handle a maximum load of 7000 kg, 2600 kg at full extension. In addition to the standard UDS-214 version on a six-wheel chassis, the range also includes the ŽS-214, which uses an eight-wheel chassis and armoured cab and is therefore a highly specialised machine specifically for army engineers.
Another example of modern auxiliary equipment that follows the proven models of the past is the recovery vehicles. The standard salvage vehicle of the former Czechoslovak People's Army was the AV-15 type, still in use today, which is built on an eight-wheel Tatra 815 chassis and whose designation indicates that its crane can handle a load of 15 tonnes. The AV-15 is equipped with a crane boom with a reach of 11.4 m and the vehicle can also pull a trailer weighing 65 tonnes. However, it lacks the ability to tow the vehicle at half-boom, a method commonly used to move multi-axle armoured vehicles. However, this capability is offered by the Excalibur Army's TREVA-15 (Tactical Recovery and Evacuation Vehicle), which is already equipped with the capability to move up to 30 tonnes in this mode. With the help of a tow bar, it can tow a vehicle weighing 40 tonnes and, like the AV-15, it also has a standard crane boom with a capacity of 15 tonnes.
An even greater capability is provided by the TREVA-30 recovery and recovery vehicle, also from the Sternberg company, which was publicly unveiled in 2022. Similar to the TREVA-15, it uses an eight-wheel Tatra Force chassis but is fitted with a Puma armoured cab. It provides ballistic and mine protection according to NATO STANAG 4569 Level 2 and includes systems that make it possible to conduct operations in contaminated environments. As the name suggests, the TREVA-30 has a 30 tonne capacity crane. The crane was designed in cooperation with ČKD Mobile Cranes, offers a horizontal reach of 12 m and is equipped with two winches, each generating a pulling force of 80 kN, for a total of 160 kN. When using pulleys, this force can be doubled to 320 kN. The vehicle also carries two recovery winches from the German brand Rotzler, namely a main winch capable of producing a direct pulling force of 250 kN and fitted with a 100 m long rope, and an auxiliary winch with a pulling force of 6 kN and a 220 m long rope.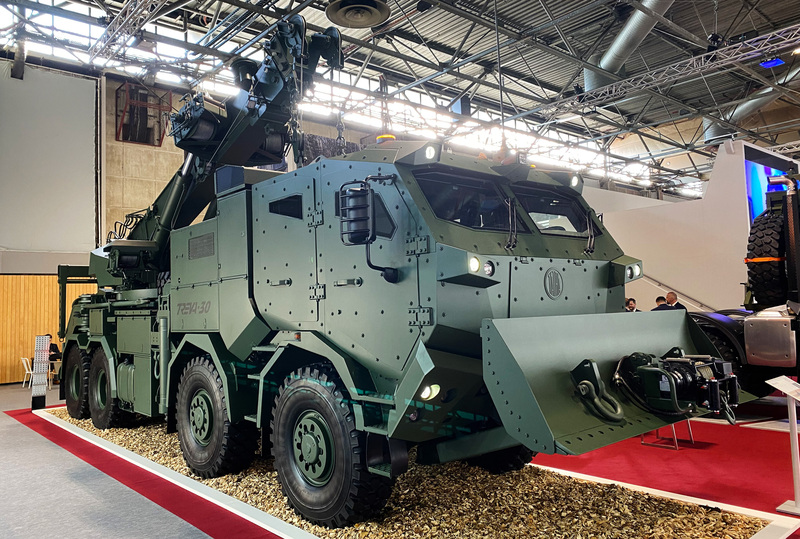 Of course, the winches can also be used in combination with pulleys, so there is also the possibility to obtain a pulling force of 500 kN with the main winch and up to 750 kN with the double pulley. At the rear of the TREVA-30, a lifting fork with a capacity of 12 tonnes is installed, which is mainly used for towing multi-axle vehicles in the half-up mode as described in NATO STANAG 4478. The TREVA-30 can tow a vehicle weighing up to 50 tonnes in the conventional manner. The vehicle is equipped with four massive hydraulic supports that extend to ensure stability during lifting or recovery. A dozer blade is standard equipment, which is used for smaller earthmoving jobs and can also be used to carry an additional 80 kN auxiliary winch with a 30 m rope. It can be added that the TREVA-30 has also already received its first export success, as the delivery of these vehicles forms part of a contract for a total of 200 Tatra vehicles for the United Arab Emirates.
Also worthy of mention is the DECON decontamination vehicle, which is used to decontaminate terrain, people and equipment in situations of chemical, radiation or other contamination. It can handle different pressures and temperatures of water and steam and has tanks for a total of 2,400 litres of water or cleaning mixture. Also from Excalibur Army, this system also uses a Tatra Force chassis, with the movable work platform offering a height range of 12 m and a horizontal range of 7 m. As with the previous vehicle types, it is worth noting that the potential use of this vehicle goes well beyond the military sphere, as it may very well be used by fire and rescue units, for which a special version of the DECON ER has been developed.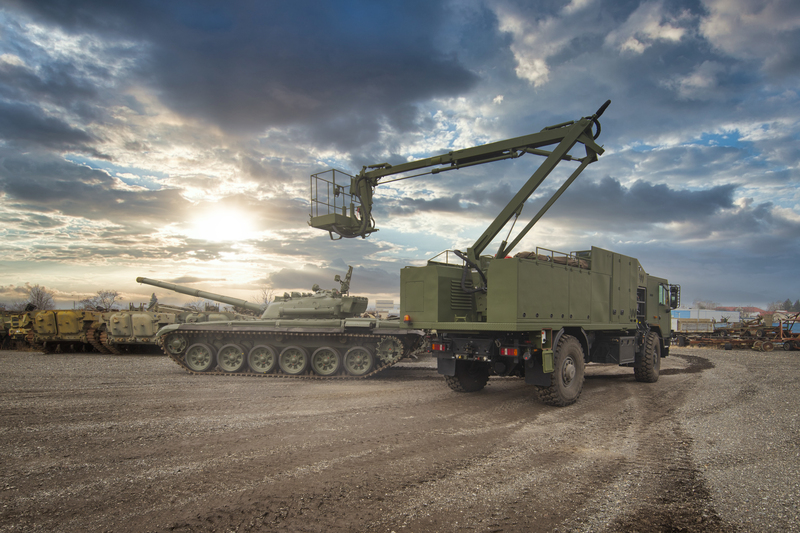 Of course, powerful bridge, engineer and recovery equipment can also find wide application in the integrated rescue system. While these are primarily vehicles to support combined military operations, which can therefore contribute to the military defence of the Czech Republic, they can also become highly effective tools for protecting the civilian population.