The Warrant Officer School continues to develop international cooperation
One year has come and gone and the Warrant Officer School in Vyškov once again welcomed National Guard members from the NCO Academy in Nebraska. A three-member delegation of Nebraska National Guard NCO Academy representatives, led by acting school commander 1SG Andrew Siemek, visited the Warrant Officer School last week.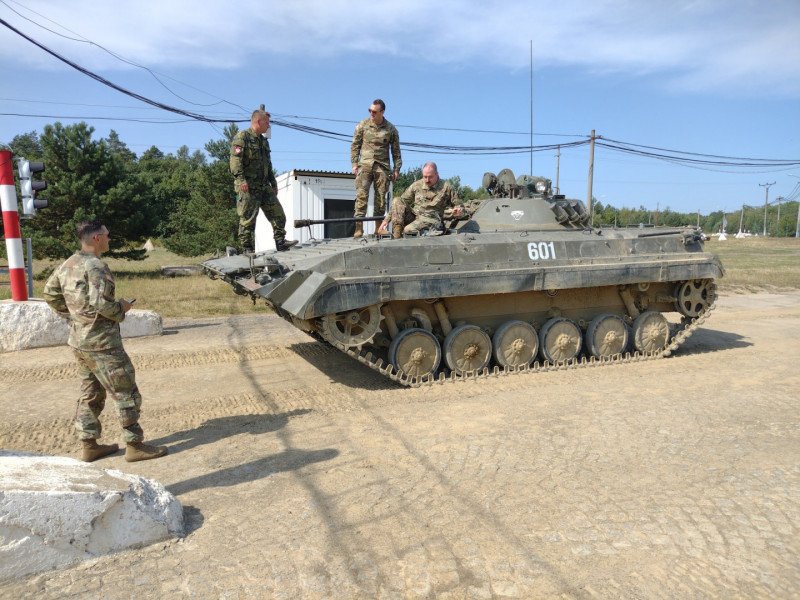 Picture: The Warrant Officer School in Vyškov once again welcomed National Guardsmen from the NCO Academy in Nebraska | VeV-VA
The official meeting was opened by its Chief, Chief Warrant Officer Martin Zaorálek, and the program continued with an introduction of the Military Academy, as well as the education system of the Army National Guard, to the mission of the Enlisted School itself. "The content of these meetings traditionally includes information about our structure, tasks and, last but not least, an exchange of current experiences in the process of training the NCO and Warrant Officer Corps," explains Chief Warrant Officer Zaorálek, adding that the talks also addressed potential visions for expanding mutual cooperation. "One of the points of discussion was the possibility of a visit to the NCO School in Nebraska, or the possibility of instructor courses and exchange visits of instructors from both units," Zaorálek said.
The programme also included visits and demonstrations of the various training facilities and training conducted at the Military Academy, including the basic training. And the visit included not only official meetings, but also exploring the region of Vyškov, such as the important battlefield near Slavkov near Brno.
Warrand Officer School
The Warrant Officer School is an institution that is the first of its kind where warrant officers are responsible for the entrusted area of career education of the members of the so-called Silver Corps with an impact on the entire Czech Armed Forces. The school has a wide range of individual courses, such as the Non-Commissioned Officer Course, Basic Warrant Officer Course and last but not least the Higher Warrant Officer Course, as the culmination of career training. At the same time there are professional or special courses such as the course for senior warrant officers, as well as the instructor course and a whole block of courses for reserve officers. The school's scope of activity extends beyond the borders of our Army, for example, in that it continues the established cooperation in the NATO DEEP programme (NATO Defence Education Enhancement Programme), which deals with mentoring in the field of training of members of ensign corps not only of allied armies, but also of armies that want to cooperate with NATO.