Tomas Kopečný: Ukraine's reconstruction must start now
More than 500 days have passed since Russia launched its war of aggression against Ukraine. The Czech Republic was among the first countries to not only express support for Ukraine, but also to launch massive aid to the invaded country. In the first phase, assistance to the invaded country was mainly in the form of supplies of military material, followed by humanitarian and other material assistance to civilian infrastructure. The new Government Commissioner for the Reconstruction of Ukraine, Tomas Kopečný, has begun to focus intensively on this issue, building on his previous work as Deputy for the Management of the Industrial Cooperation Section of the Ministry of Defence. Tomáš Kopečný was also involved in various civic collections that were used to purchase additional aid for Ukraine. In the near future, Tomáš Kopečný will be accompanied by thirty Czech businessmen on his first official visit to Ukraine. The theme is clear: the post-war reconstruction of a hard-pressed country. We talked about all of the above with Tomáš Kopečný in the next episode of our discussion programme CZ DIALOGY.
Video: Interview with Government Commissioner for Ukraine Reconstruction Tomas Kopečný / CZ DEFENCE
Russia has begun to focus on non-military objectives. Civilian infrastructure and populations outside the eastern front line are being attacked, as happened, for example, in one of the latest missile attacks on Lviv. "Russia is no longer primarily targeting military targets because the Russian leadership has understood that it will not succeed there. It is focusing more and more on small military tactical targets and then, of course, on the overall destruction of Ukraine, their energy and medical sectors. In short, on everything that can hurt Ukrainians the most," says Tomas Kopečný in the interview, who also believes that the reaction of the international community has changed. "When the first conference on Ukraine's reconstruction was held, it was more about political declarations. Last week I returned from London, where not only were specific tens of billions of euros already being dedicated, but above all it was already evident that basically all the big financial institutions and governments had abandoned any doubts that the reconstruction of Ukraine must start now and not wait for the end of the conflict," Kopečný adds.
The change in perception of the war in Ukraine also has geopolitical implications. Countries such as Japan and South Korea have become involved in military aid, and there has also been a significant shift in the perception of the war by Germany, for whom it was a break from decades of foreign policy concepts. It is now also an undisputed fact that the Czech Republic and its reaction were behind this change in the attitudes not only of the world powers, but also of other key European states. "I am convinced that if anything was our historic role in this conflict, it was that we were the first to decide to go all out in military support for Ukraine. We were the first country to supply tanks, infantry fighting vehicles, howitzers, but also heavy salvo rocket launchers. We were the positive example for the great powers of the Western world, especially the United States, and also for France and Germany. We have shown that all Russian threats are just bubbles that burst as soon as the wind hits them," confirms Agent Kopečný, adding that Czech courage has shown that it can be done and that nuclear and other types of Russian threats are just threats.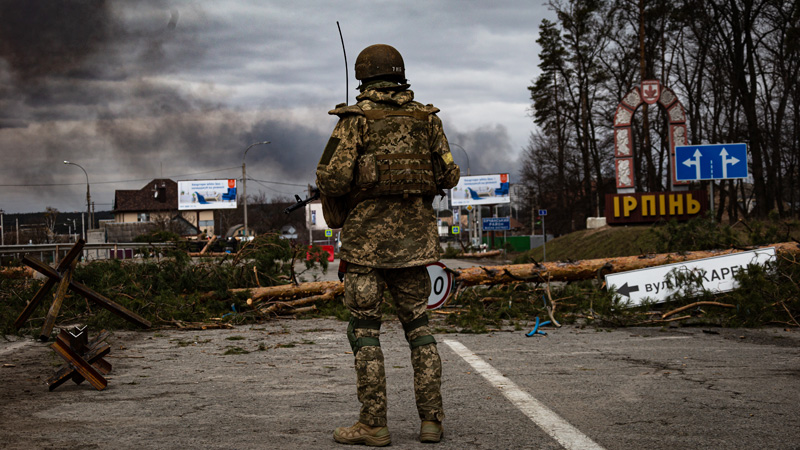 Picture: Russia has begun to focus on non-military targets. Civilian infrastructure and populations outside the eastern front line are being attacked, such as in one of the latest missile attacks on Lviv. (illustration photo) | Shutterstock
It was also mentioned in the interview that the aid provided by the Czech Republic also strengthens Czech security and economy. "It should be underlined that, for example, in the arms sector, the vast majority of what we have supplied to Ukraine and helped to stop Russian aggressors is on a commercial basis. These are supplies that have brought billions, if not tens of billions of crowns in taxes and social contributions of employees to the Czech state budget. These are the supplies that have increased the number of employees of our arms companies by hundreds and the supplies that have increased production capacity several times over," Kopečný calculates. The situation is similar for aid in the health, energy and environmental sectors. The reconstruction money earmarked for development cooperation is used to buy goods from Czech companies, which the Czech Republic will deliver directly to partners in the Ukrainian region. At the same time, this company usually prepares a case study and a feasibility study for the delivery, so that when a large contract is announced under international subsidies, it can bid for the contract straight away, as it already has previous demonstrable experience. "It's what we call 'seed money' or seeds that we are planting there. For example, in the hospital, two operating theatres out of twelve will be equipped by Czech companies, which is the case in Lviv – so it is assumed that the Ukrainians will want to keep that type of equipment for the rest of the hospital, which will no longer be paid for by us, but can be covered by contributions from an international organisation," plans Tomas Kopečný.
This raises the question: "The European Union coordinates the accession protocols and talks. In total, there are 32 big chapters on what Ukraine has to fulfil legislatively and practically in order to become a member of the EU. It has already achieved a lot, but in some chapters it still has a lot to prove. One of the key chapters is clearly the independence of the judiciary, the independence of the prosecutor's office and the police, something that has always been very problematic in the context of Ukraine and, in particular, Russian influence. It was the European Union that made it possible for Ukraine to function financially as a military state. This year, along with the United States, it was the European Union that provided what is known as fiscal or budgetary support. On behalf of the EU, to the tune of EUR 15 billion. It has made it possible, for example, for soldiers or teachers to receive their salaries. In short, to make the state work. Every month, a proportional part goes out, and it only goes out if Ukraine fulfils some of those chapters. This means that it adopts appropriate legislation," Kopečný explained.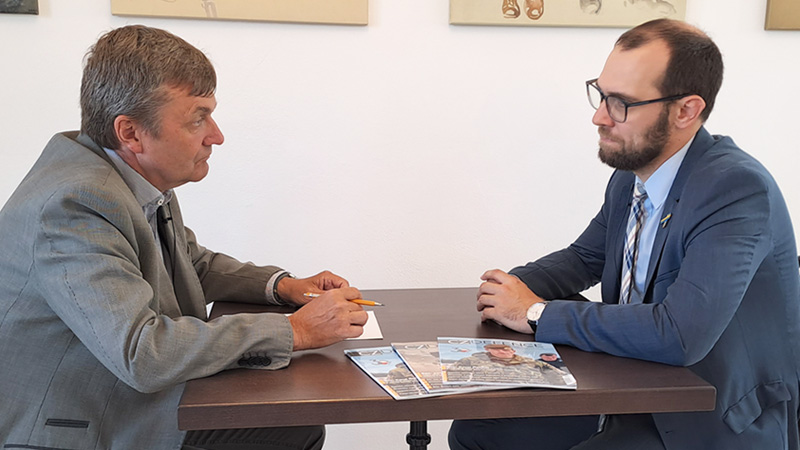 Picture: In this episode of our discussion show CZ DIALOGY, we talked to the government's commissioner for the reconstruction of Ukraine, Tomas Kopečný | Jan Juřica / CZ DEFENCE
So, one could say that it is about conducting EU accession talks on the fly. "The agreement at the moment is that for the next three to four years it will be a total of fifty billion euros, where of course there will be a combination of fiscal support and so-called programme support. This means that programs will be created to finance specific projects for the reconstruction of Ukraine. For example, this will be used to finance projects for the reconstruction of hospitals or transport infrastructure," adds Government Commissioner Tomáš Kopečný. This is therefore a shift towards the standard EU subsidy policy, as we know it here.
Now it is a question of ensuring that not only the initial but also further and ever wider Czech support does not disappear in the massive EU funding. So that we do not fall by the wayside. The Czech Republic is therefore focusing on projects in which Czech entities can succeed as much as possible. Another possible approach is to involve Czech companies in larger projects and then later to join EU subsidy projects. Knowing what is and will be needed and working with those who need help to develop project documentation, which we will then send via Kiev to the European Development Bank, the World Bank, UNDP (United Nations Development Programme) and other organisations," Kopečný says.
If you want to learn more about industrial cooperation, the work on Ukraine's post-war reconstruction, or what Tomas Kopečný thinks about the evolving mood of support for Ukraine, listen to the full interview at the top of this article.