Tommy Gustafsson-Rask: I'm still optimistic, the Czech Republic knows that not only its Army needs new IFV, but also its industry
BAE Systems is among three companies that have submitted bids to supply armoured infantry vehicles to the Czech Army in 2021. In the meantime, all the bids that did not meet all the requirements have been eliminated, according to the Ministry of Defence, there has been a change in the post of Minister of Defence, and a decision is pending on how, if at all, the contract will go ahead. Nevertheless, BAE Systems CEO Tommy Gustafsson-Rask remains confident that the Czech Army will complete the process and select the winning vehicle for Czech soldiers.
Are you still optimistic that the process will be completed and the Ministry of Defence will announce the winner?
Sometimes it is very difficult to keep track of all the news and information that comes our way. But I believe that it is in the interest of the Czech Republic, the Czech Army and Czech soldiers that they no longer drive fifty-year-old, inadequate equipment, but that they have modern and safe vehicles that belong to this century. I am therefore optimistic that the selection will eventually be completed.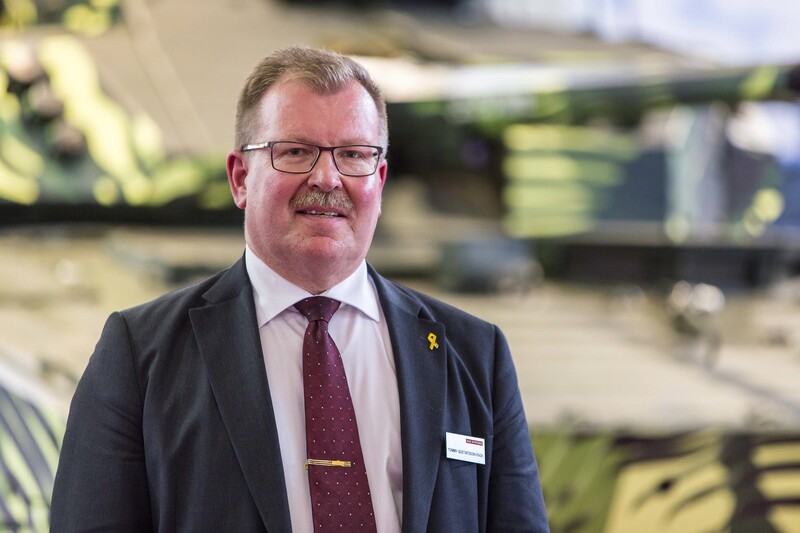 Picture: Tommy Gustafsson-Rask, CEO BAE Systems Hägglunds | BAE Systems
Yet it seems that the whole thing will not move forward for some time. At least in the words of Minister Černochová.
I understand the Minister in that she wants to get to know the whole matter thoroughly before making a major decision. I even sympathise with her decision to obtain a legal opinion on the way forward. However, I think it is a great shame to waste time. It was, and still is, to analyse on the one hand and not to delay and to ask all the bidders to submit an updated bid on the other. In the event of a negative opinion from the lawyers, it is always possible to stop the process, but in the event of a positive opinion, there will be no time to make up for the lost time and literally every day will be missed.
So is BAE Systems ready to deliver a new bid to the Ministry? Will it correct the things that led to its bid being excluded in the last round?
First of all, we fundamentally disagree with the assertion that our bid was submitted in a condition that made it impossible to evaluate it. We were and still are convinced that our bid met all the required parameters and could be 'scored' and subsequently evaluated. But we are of course - despite this perceived injustice - prepared to send an updated bid. However, we need to be mindful of time.
Is there really a need to be in such a hurry? On the contrary, would it not be better to agree a wider timeframe with the Ministry of Defence that would allow any discrepancies in both the process and the bids to be resolved?
The timeframe is entirely in the hands of the MoD. It is not a matter for us to determine or influence. But it must be said that the quotations submitted by all the bidders are valid till the end of June this year. I am afraid that if the deadlines are stretched more substantially and new bids are submitted, this may be reflected in the prices of the vehicles. It should be remembered that all entry prices have risen substantially since the time of the bid. And our suppliers, including the Czech ones, will no longer be able to keep the same prices. This, too, must be taken into account when making decisions.
Aren't you embarrassed by the whole selection process? Can it be compared with others in which you have been involved in recent years?
I would not be so critical at all. The whole tender was prepared and conducted very professionally. From our point of view, even compared to other tenders we have been involved in recently, the Czech Republic did well and the project team had everything well prepared. We might have had a different view on certain details at some points, but that is always the case and it does not mean that there was anything wrong from our point of view.
Nevertheless, a winner has not been chosen, and maybe it will not be.
But I wouldn't put that on the project team. If I may say so, it was mainly politics that intervened. I am convinced that the decision could have been made earlier. But the political will was lacking. Of course, the elections and the change in political representation did not help the choice at all. In such a situation, things always come to a standstill for a while, or are fundamentally slowed down. This is logical and we know it from other tenders. There are simply several things that have come together.
Nevertheless, if we look at Slovakia, where you have also recently submitted a bid, they are much faster in the whole process.
Yes, the Slovak Republic has chosen a different model for the acquisition and it seems that the decision will be made already this year. But it should be noted that the process is very fast. I believe that Slovakia has shared information with the Czech Republic and has therefore been able to take advantage of the work that has been done here before. Slovakia also did not work with a large number of requirements. So comparing the timeline in both cases is not entirely accurate.
BAE Systems has done very well in recent months. You have successively announced orders in Europe worth in excess of 1.5 billion EURO. And you have repeatedly made it clear that you are looking for strategic partners to execute them, including in the Czech Republic. What will happen now that they are still not selected?
We have a very successful period behind us and we have contracted work for many years ahead. It is a confirmation of the quality of our vehicles. The CV90 is simply an extremely high-quality and successful vehicle on a global scale, and it has also been through the rigours of combat where it has proven itself. In addition, these orders will support the further development of the CV90. We are sincerely very happy for the trust of our clients. And we are also pleased that it means further partnerships in working together across Europe. There are already many Czech companies among our partners, and we believe that more will appear on the list. Our offer included a very sophisticated form of cooperation with Czech industry. We would be very happy to fulfil it.
Does this mean that you will fulfil the required 40% of direct industrial cooperation in the Czech Republic?
Our offer was more accommodating in this respect and exceeded the required 40%. But I think it's not just about the numbers. Our concept was based on the fact that Czech industry will play a crucial role in the whole contract, it will not be just an "assembly plant", but will have a real added value. Vehicles will be built here. Their further development and evolution will also be here, we will help with the competence to support and develop them in the Czech Republic. We wanted to help the Czech defence industry breathe again. In fact, to close that imaginary circle that connects us.
I confess that I do not fully understand this. The circle that connects the Czech Republic and Sweden?
The circle that connects BAE Hägglunds and the Czech Republic. It is little known that the production of our infantry fighting vehicles is based on the Czech tank. The story is more than 70 years old, and tells of the cooperation between the two countries. And also about the cooperation between our factory and Czech production. And actually started our industrial production in this segment. So the return of IFV production to the Czech Republic would be a symbolic coming full circle. We are already cooperating with the academic community - for example with the Czech Technical University in the field of cyber protection of vehicles. And we have many other concrete opportunities lined up. We truly believe that just as the Czech tank once helped to kick-start production here, we can now help to re-establish the entire cycle of research, development, production and administration in the Czech Republic. And not only for the Czech Republic, but also for other markets. The door is very wide open through us.
Let me go back to my first question. Even after all this, do you remain optimistic that the Czech Republic will soon have new Infantry Fighting Vehicles?
After all this, after all this process, it would be a great pity if it were otherwise. The worst thing that could happen to the Czech Republic would be to end the whole process now. That would not send a good message for any future projects. It would not send a good message to the Czech Army or to allies, to NATO and to the commitments to which the Czech Republic has committed itself. It would send an extremely unpleasant message to the Czech defence industry, because the contract affects thousands of jobs in dozens of companies. For many, its implementation is a question of continued survival and development. And many, especially in today's turbulent times, cannot afford to wait another few years to see how it all plays out. But it would also send an unfortunate message to Czech professionals, academics and engineers who see opportunities in the project's implementation. We have a huge interest in our concept of the Global Battle Lab, which we would like to implement in the Czech Republic. For all this, I think I am still an optimist not only for myself, but especially for many of our Czech friends. Because for them in particular this is a crucial issue.