Women belong in the Army, says Brigadier General Lenka Šmerdová
Women are nowadays an inseparable part of the Czech Army, they are no rarity and serve in all ranks and specialties, both at home and in foreign operations. Girls study at military high school, as professional soldiers at university, serve in almost all military units, but they are also represented in the Active Reserve and volunteer for military exercises. How she sees the position of women in the Czech Armed Forces today, what her own beginnings in the army were like, how her military career progressed and how she herself perceived her position as a woman in a purely male environment at that time, was expressed in the following interview by the Advisor to the Chief of the General Staff, Brigadier General Lenka Šmerdová. The interview was published in an unabridged form in the monthly magazine of the Ministry of Defence A Report.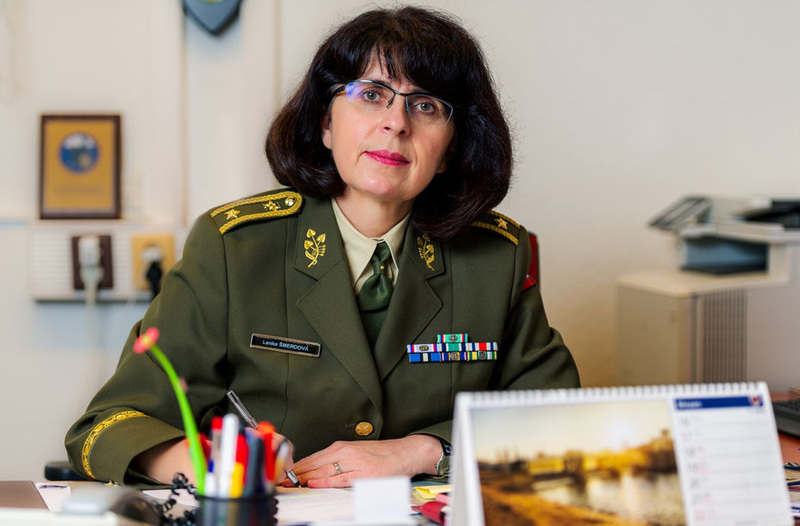 Picture: Brigadier General Lenka Šmerdová | Ministry of Defence of the Czech Republic
General, you have been in the Army for decades. How do you remember your beginnings?
In the beginning it wasn't quite easy, I couldn't imagine what I was getting into. When I joined the Army, I presented a draft order instead of a ticket on the train, and that activated all the conductors on the train who couldn't believe their eyes. I also remember the moment when I folded the civilian in a paper bag to send him home. And I also cannot forget joining the 17th State Air Defence Communications Regiment in Stará Boleslav, when I moved almost permanently from the Moravian-Slovak border to Bohemia. From the beginning of my military career I was lucky with both my commanders and my colleagues. They were my role models, they encouraged me and I learned a lot from them. I started out as an air defence spoiler, but a certain sequence of events steered me into personnel. I'm glad I did, because working with people is fulfilling. Memories are important, but the present is far more important. Even though times are hectic, they are full of challenges. Even at my age, I'm very happy to be experiencing something for the first time, not only in civilian life but also in military life. And being surrounded by great people is a great bonus that I appreciate very much.
How has the military changed from when you joined the Communications Regiment to now?
A lot has fundamentally changed since I put on the military uniform in the 1980s. The Czech Republic became part of the North Atlantic Alliance, we are a member of the European Union, which implies allied obligations within the framework of collective defence (NATO) or the Common Security and Defence Policy (EU). The big change came in 2005, when the Czech Army became fully professional. It became commonplace that soldiers are regularly deployed in foreign operations under the banner of NATO, the UN or the OSCE. They gain a wealth of experience during joint exercises, training activities and also in projects with foreign partners, both at home and abroad. It has become a matter of course that soldiers are deployed in emergencies and crisis situations within the framework of the IRS. The Army's assistance during the pandemic or in the aftermath of the devastating tornado in Moravia are proof of this. The role and position of the Army have changed completely. Young people who want to work for themselves come into the Army voluntarily. And if I pause for women, the Army is now completely open to them.
You became the first female colonel in the Army. What was it like being a pioneer in an otherwise predominantly male environment?
Pioneering women don't have it easy, to be honest. With higher rank comes a greater level of responsibility. On the other hand, I believe that my promotion may motivate women in the military to try to do the same - they can go where we usually see only men even today. Well, and the men have begun to get used to these changes as well. I'll add one funny story that illustrates a time long past: on one visit to a combat unit, I left my major's rank boat in the restroom. It was found by a cleaning lady who took it to the commander and complained that men were using the ladies' room.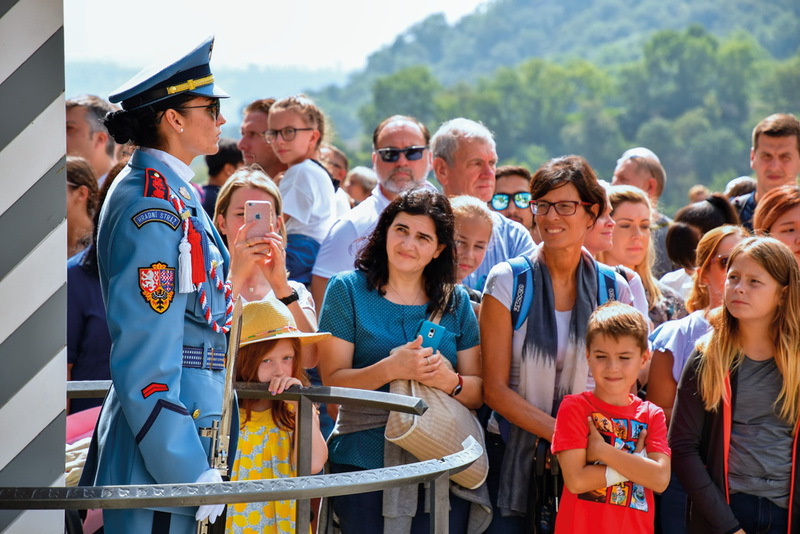 Picture: The interest of women is still high in recent years. Last year, for example, nearly 1,400 women applied to join the Army, about 1,200 women were selected and 264 of them were finally accepted. | Jiří Havel / Ministry of Defence of the Czech Republic
And ten years later, you became the first female general...
I've never worked with the goal of achieving a rank, and the same goes for the general's rank. I worked and believed that my work was worthwhile. I was even more surprised when I was nominated and got the general's star along with my confidence. I accepted the rank of general with humility. Not only as an appreciation of my work, which I love and enjoy, but also as an appreciation of the work of the team of people with whom I have worked closely and on whom I have always been able to rely. You are currently the Advisor to the Chief of the General Staff of the Army for Recruitment and Gender.
What does your job entail?
The Army needs quality and trained personnel, the work of building an attractive employer brand never ends. During the week I attend various business meetings and meetings with military and civilian entities. I am dedicated to working to meet the recruiting goal that is set before the Army each year. My involvement extends beyond recruiting, meeting with soldiers, veterans, and even military retirees and trying to help solve their problems as well. Last but not least, I also focus intensively on working for the Military Solidarity Fund.
Do you think there are enough women in the Army or do you see reserves?
There are currently 3,700 women serving in the entire Ministry of Defence, which is 13.7%. This is an amazing number for our Army. With this number, we rank 11th among the Member States. Women represent a significant recruitment source and I think that increasing the proportion of women in the Czech Armed Forces to 15% would be optimal.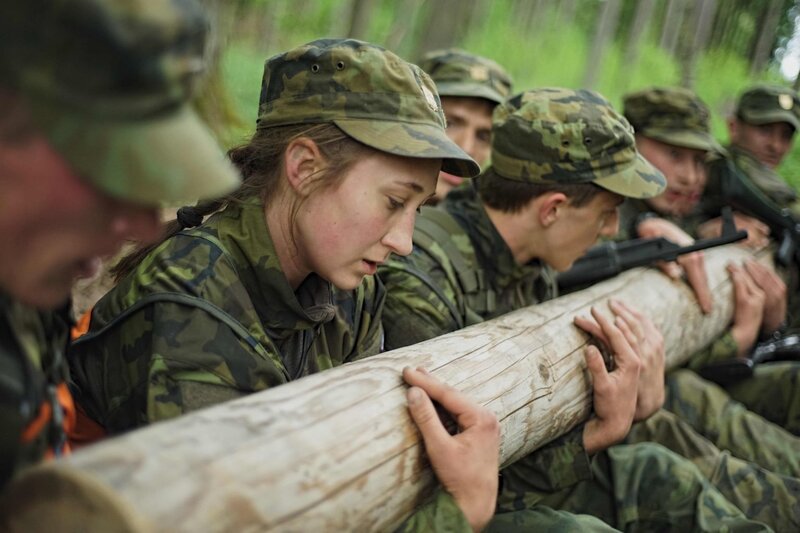 Picture: Women's interest has remained high in recent years. Last year, for example, nearly 1,400 women applied to join the army, about 1,200 women were selected and 264 of them were finally accepted. | 43rd Airborne Regiment / Ministry of Defence of the Czech Republic
Is there an increasing tendency on the part of women to join the Armed Forces?
The interest of women is still high in recent years. Last year, for example, almost 1 400 women applied to join the army, about 1 200 women were selected and 264 of them were finally accepted. At the moment, the army needs to replenish drivers with Group C driving licences in general, and there is a shortage of mechanical engineers, electrical engineers and IT specialists. But there are still plenty of women in schools outside the defence ministry with these technical specialisations. What is positive, albeit still in small numbers, is that women are holding positions that until recently were occupied only by men. We have female drivers of heavy equipment, female pilots, female mechanics and also, for example, a female commander of an equipment repair squad.
What attracts them to a career in green? The same as you did when you started in the military, or do you hear different reasons?
Women want to be part of the military, to apply their education and skills. Often it's also that they want to try something new, to change their lives, but that applies to men as well. The army is actually a new start for them and a kind of life challenge. It is true that sometimes we have to put in more effort than men to prove that we are up to it. Sometimes it hurts, sometimes it takes a lot of strength, but in the end the collective takes you in.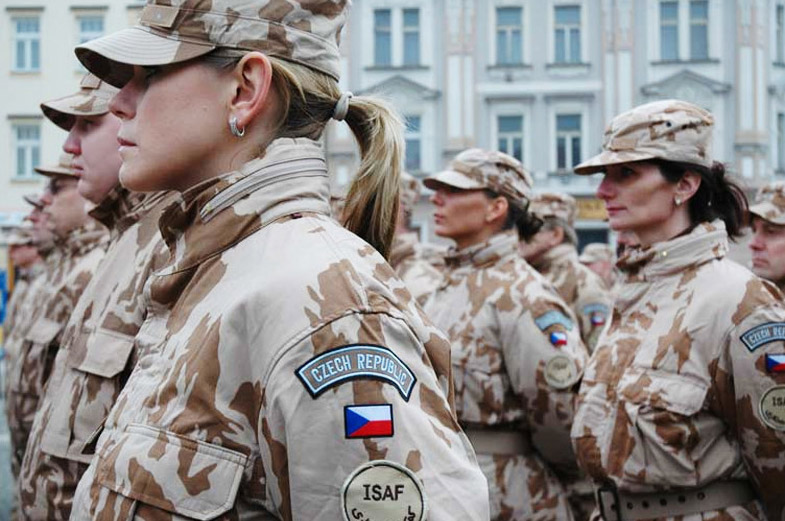 Picture: Women want to become part of the army and apply their education and skills. Often it is also the case that they want to try something new, to change their lives, but this also applies to men. | Ministry of Defence of the Czech Republic
Recruiting centers have reported an unprecedented interest in serving their country, especially since the outbreak of the war in Ukraine. Which professions are currently lacking in the Army?
Interest in serving in the Army is consistently high. However, since 24 February we have seen a significant increase in both men and women. Traffic to our website kariera.army.cz has increased by 200% and interest in active reserve service and participation in voluntary military exercises was ten times greater than before that date. I have already mentioned that the army is most interested in Group C drivers, CE, electricians and IT specialists. It also needs to fill paratrooper positions with the 43rd Airborne Regiment in Chrudim. Priority is given to filling vacancies for anti-aircraft gunners in Strakonice, artillerymen in Jince, logisticians in Rakovník and engineers in Bechyně. We also have a wide range of vacancies for those interested in active reserve service. We are currently recruiting for the August and November 2022 start dates. Interested parties can find out about all the positions being filled on our website kariera.army.cz.
Is the Army an attractive employer compared to civilian life?
The Army is definitely an attractive, responsible and stable employer today. It has been the most trusted institution in the eyes of the public for some time and interest in serving in it is growing. In these uncertain times, it is an institution where social security can be found, and in the context of the coronavirus crisis, more has been heard about soldiers, as well as medics, firefighters and police officers. Last year, according to the evaluation of graduates of civilian universities, the army was ranked 1st and awarded the title of "TOP employer" in the field of public administration.