Czechoslovak Group participates in the sale of Qatari Mirage 2000-5 aircraft to the Indonesian Air Force
Indonesia is acquiring twelve Dassault Mirage 2000-5 fighters from the Qatari Air Force's arsenal in a deal worth $793 million brokered by Excalibur International, a holding company of Czechoslovak Group. The aircraft, nine of which are single-seaters and three two-seaters, are expected to arrive in Indonesia by January 2025. They are intended to help bridge the time before modern French Rafale aircraft are delivered. Excalibur International will also provide training, transportation and logistical support for the operation of the aircraft.
The Indonesian government defends its decision to buy the 12 Mirage fighters from Qatar, saying it needs them to bolster the air force's capabilities in the face of a shortage of combat-capable aircraft. The defence ministry says many of the army's existing older fighters, especially the F-16, are reaching the end of their service life. The Mirage 2000-5 is a multi-role fighter aircraft that can perform air-to-air and air-to-ground missions. It has a maximum speed of Mach 2.2 and a range of approximately 1,500 kilometres.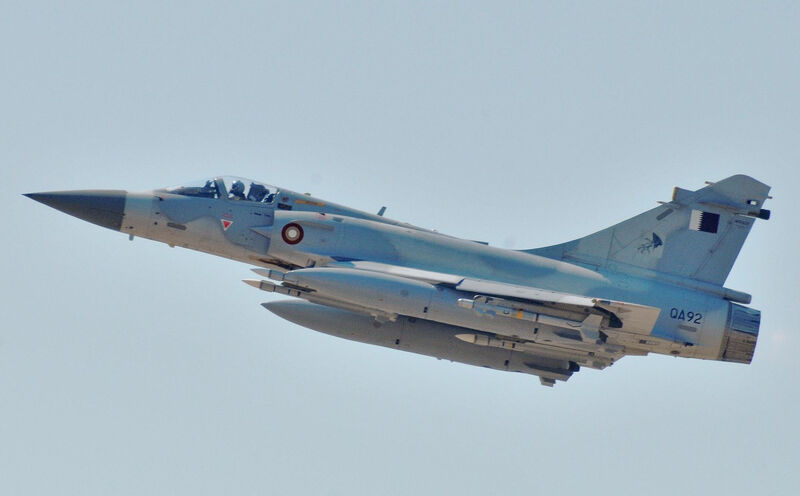 Picture: Dassault Mirage 2000-5 in Qatar Air Force colours | Wikimedia Commons / Public domain
According to available data, Qatar has just twelve Mirage 2000-5 aircraft. There has been speculation that they will be sold to Bulgaria or provided to Ukraine. Eventually Excalibur International will broker their sale to Indonesia. The French government has agreed to this deal. CSG spokesman Andrei Chirtek said only: "We do not comment on projects under negotiation." According to information available, the contract includes, in addition to the delivery of the aircraft, comprehensive logistics support, including training of flight and ground personnel, supply of weapons systems, construction and upgrading of airport infrastructure, ensuring the operation of the aircraft for three years, and the delivery of additional air support machines to the Indonesian Air Force.
The Indonesian Air Force currently operates a total of 79 combat aircraft. Its force is based on 25 Lockheed Martin F-16A/C aircraft, some of which have undergone airframe and avionics upgrades. However, the average age of Indonesian F-16s is nearly 40 years. The other types represented are of Russian origin: five Sukhoi Su-27s and eleven Su-30MK2s. The rest of the fighter fleet is used for ground force support tasks and includes 23 BAE Systems Hawk 209s and 15 Embraer EMB-314 Super Tucano turboprops.
In February 2022, Jakarta ordered 42 French Dassault Rafale aircraft to begin deliveries in 2026, and the current deal for Mirage aircraft, funded by foreign loans, is to fill the gap until they are delivered. They are expected to be delivered 24 months after the contract takes effect, and the aircraft will be based at Pontianak Air Base in West Kalimantan.
Indonesia could also receive Boeing F-15IDs, the local designation for the F-15EX aircraft. In February 2022, shortly after Jakarta announced the Rafale contract, the US government approved the possible sale of 36 F-15IDs to Indonesia for $13.9 billion. In November 2022, Indonesia was also visited by US Secretary of Defense Lloyd Austin. This move can also be seen in the context of Indonesia's initial interest in Russian Su-35s, which in the current situation would mean a significant deterioration in relations with the United States and risk sanctions. Another type that Indonesia is considering is the Korea Aerospace Industries KF-21/I-FX. As a partner country in the programme, Indonesia is interested in up to 50 aircraft of this South Korean type.
Some members of Indonesia's parliamentary defence affairs committee are concerned that the maintenance of used Mirage fighters will be too costly: "It could be difficult to get spare parts. The original manufacturer might have different reasons to withhold the parts we need, we have been against buying such fighters second-hand from the beginning considering the requirements and maintenance costs," media quoted a Sukamtu MP as saying. The defence ministry, however, said in a statement that the order includes not only aircraft but also engines, spare parts, support services, training of pilots and technicians, infrastructure and armament. Much of these services will be provided by Excalibur International.
Indonesia is undertaking a significant modernisation and upgrade of its armed forces arsenal. Spending priorities include strengthening the domestic defence industry, communications, intelligence, border protection, as well as guided munitions and air defence systems. Czechoslovak Group companies have an excellent reputation in Indonesia thanks to major projects such as the supply of RM-70 Vampire rocket launchers, Pandur II wheeled infantry fighting vehicles, air defence systems and ballistic vests.