Forum & Exhibition Future Forces 2024
The 15th edition of the international forum and exhibition of defence and security technologies Future Forces will take place from 16 to 18 October 2024 at the PVA EXPO PRAGUE exhibition centre.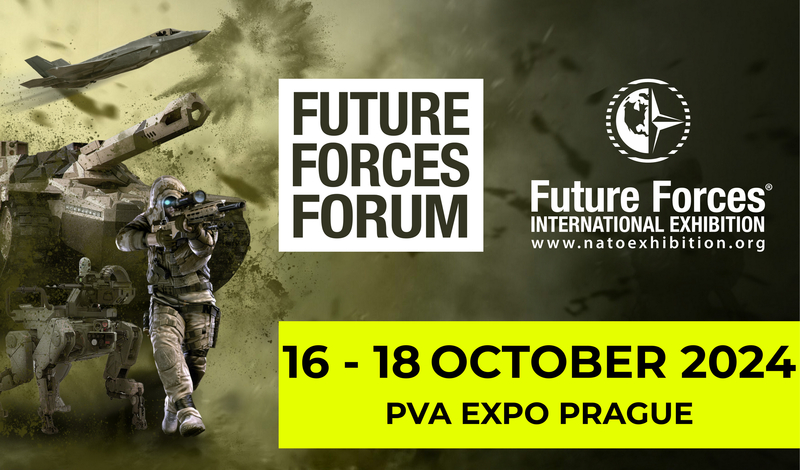 Future Forces Forum & Exhibition is a highly recognized and widely endorsed international platform for defence & security information exchange and for promotion of the allied and partner countries objectives within national and global security. The primary objective is to develop security and defence cooperation within NATO, EU and other partner countries, military and civil authorities.
The Forum addresses the latest trends and needs in defence and security area and helps to achieve the much sought-after interoperability within Joint All-Domain and Multi-Domain Operations environment.

It is as an excellent opportunity to exchange views on the identified areas of priority, while providing in parallel the opportunity to discuss and present a range of important issues of mutual interest with all stakeholders and partners (governmental representatives, international organizations, users, industry, and academia) involved in defence and security field.
INTERNATIONAL EXHIBITION
Over 200 exhibitors will present their products and services. The latest simulation and training technologies, aerial and ground equipment, unmanned and autonomous systems, small arms and heavy weapons, personal protective equipment and tactical gear, communications equipment, cyber security solutions, special forces equipment and much more will be presented. The Czech Armed forces, Police, Fire and Rescue Service and Prison Service will also present the latest weapons, equipment and gear.
The interactive programme will include presentations and live demonstrations, UTM shooting range and a Live Hacking Zone.
EXPERT PANELS
The expert panels, conferences and workshops will focus on cyber defence and security, critical infrastructure protection, homeland security and resilience, use of artificial intelligence, communications and command and control systems (C5ISTAR), disruptive technologies and innovations, pilot training, land forces development, air force development, military and crisis medicine, CBRN, and modelling and simulations for autonomous systems.
NATO WORKING GROUPS
The FFF programme also includes official sessions of NATO Working Groups, whose members actively participate in the exhibition and expert panels. The focus of the working groups corresponds to the FFF topics. In particular, they cover the areas of dismounted soldier systems, military medicine, CBRN and non-lethal weapons. Participants and exhibitors have a unique opportunity to obtain information on current and future needs of the Alliance Armed Forces, as well as to present the technologies offered or under development to the members of the working groups, who determine the tactical and technical requirements for the deployed assets and technologies.
NETWORKING
Traditionally, the FFF project is attended by leading representatives of the Government and Parliament of the Czech Republic, representatives of state and local governments, international organisations, armed and security forces, R&D centres, universities, industry and business. Foreign participants and official delegates come from more than 60 countries.
PRELIMINARY PROGRAMME FFF 2024
Future Forces Exhibition
Official NATO Working Groups Sessions
Future Forces Conference
Future Air Force Panel
Future Land Forces Panel
Future of Cyber Conference & Live Hacking Zone
CBRN & Medical Conference
Homeland Security Conference
Dismounted Soldier Systems Panel
Disruptive Technologies & Defence Innovation Panel
Defence Interests in Space Panel
C4ISTAR Panel
NATO M&S COE MESAS '24 - Modelling & Simulation for Autonomous Systems Conference
FFF 2022 REVIEW