Forum & Exhibition 2021
The Czech Republic will organize the 14th edition of the biennial defence and security networking, expert panels and exhibition FUTURE FORCES FORUM (FFF) in Prague on 19 - 21 October 2022.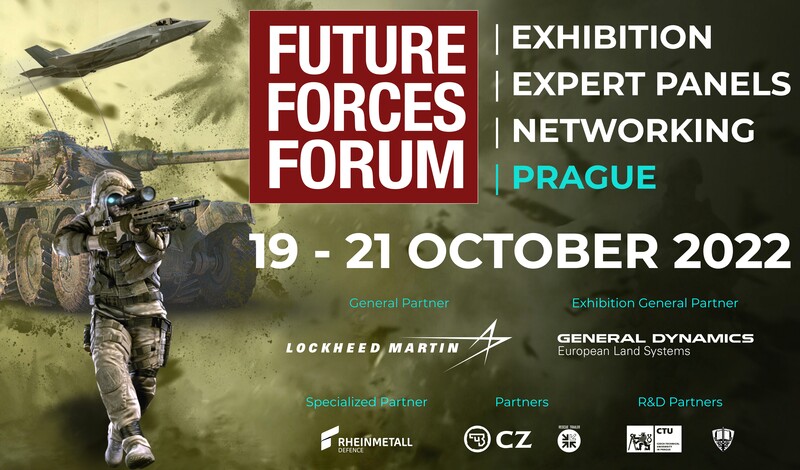 Prague has been a long-time hub for international defence and security community networking within the FFF events. The Forum is organized under the auspices of the Czech President and Government. It is held in close cooperation with armed and security forces, NATO, EDA and other relevant organisations.
Events aimed at professional public will take place from Wednesday 19 to Friday 21 October 2022 at the PVA EXPO PRAHA and consist of international defence and security exhibition, conferences, workshops, round tables, bilateral meetings, or indoor and outdoor live demos. In conjunction with the FFF, the NATO working groups will have their annual meetings in Prague. These groups cover experts in the given areas from the NATO, EU and partner countries who take active part also in the FFF program.
The program addresses the latest trends and needs in defence and security area, industry, R&D and academia, and helps to achieve the much sought-after interoperability in worldwide joint peace operations. Special focus is given to support the Alliance's core tasks, such as addressing the issues relating to capability development of Land Forces and Air Force, soldier equipment & protection, training & simulation, CBRN & medical, counter-terrorism, unmanned systems & robotics, cyber defence, AI, hybrid warfare, and other.
FFF serves as an excellent opportunity to gain information about new trends and identified capability gaps, to network with counterparts and to review the latest developments and products in the defence and security field. It is a perfect tool to facilitate active engagement with partner countries, international organizations, law enforcement and other security forces, private sector, R&D, and academia from across the globe.

FFF 2022 Preliminary Program:
Future Forces Conference
Dismounted Soldier Systems Panel
Future Land Forces Panel
Future Air Force Panel
World CBRN & Medical Congress
C4ISTAR Conference
Multi-domain Advanced Robotic Systems Conference
Official NATO Working Groups' Meetings
Please find more information about the FFF at www.future-forces-forum.org or at the exhibition website www.NATOexhibition.org