Forum & Exhibition 2021
International defence and security exhibition, expert panels and networking within the FUTURE FORCES FORUM 2021 will take place in Prague.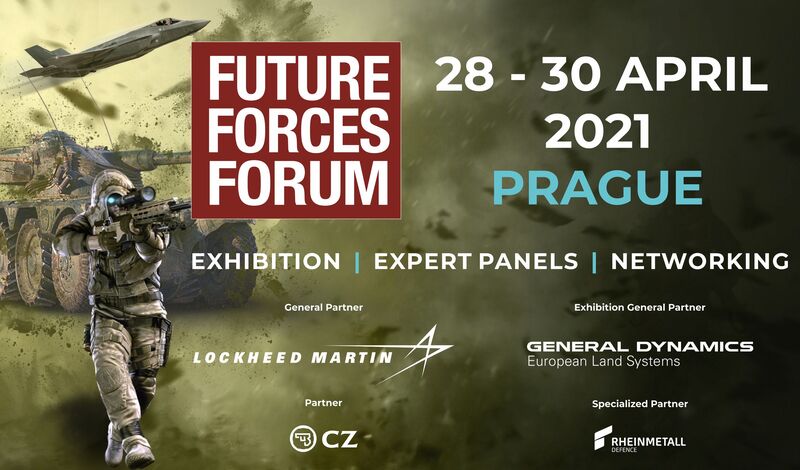 Events aimed at professional public will take place from Wednesday 28 to Friday 30 April 2021 at the PVA EXPO PRAHA and consist of international defence and security exhibition, conferences, workshops, round tables, bilateral meetings, or indoor and outdoor live demos. In conjunction with the FFF, the NATO working groups will have their annual meetings in Prague. These groups cover experts in the given areas from the NATO, EU and partner countries who take active part also in the FFF program.
The event addresses the latest trends and needs in defence and security area, industry, R&D and academia, and helps to achieve the much sought-after interoperability in worldwide joint peace operations. Special focus is given to support the Alliance's core tasks, such as addressing the issues relating to capability development of Land Forces and Air Force, soldier equipment & protection, training & simulation, CBRN & medical, counter-terrorism, unmanned systems & robotics, cyber defence, AI, hybrid warfare, and other. Another important aim is to facilitate active engagement with partner countries, international organizations, law enforcement and other security forces, private sector, academia as well as other relevant stakeholders across the globe.

FFF 2021 Program:
Dismounted Soldier Systems Panel – in cooperation with the Czech Army and NAAG LCGDSS
Future Land Forces Panel – in cooperation with the Czech Armed Forces
Future Air Force Panel – in cooperation with the Czech Armed Forces
World CBRN & Medical Congress – CBRN Conference & Medical Conference in cooperation with the Czech Armed Forces, NATO COMEDS, NAAG JCBRND CDG, NATO JCBRND COE and NATO MILMED COE
C4ISTAR Conference – in cooperation with the Czech Armed Forces and AFCEA
Multi-domain Advanced Robotic Systems Conference – in cooperation with the Czech Armed Forces and University of Defence
NATO STO MSG-SET-183 Specialists' Meeting on Drone Detectability: Modelling the Relevant Signature – in cooperation with the NATO Science & Technology Organization (STO)
Future of Cyber Conference – in cooperation with AFCEA, government, armed and security forces
Crisis Management Panel, Cyber Security Panel, Digital Agenda Panel, Cyber Defence Panel, Artificial Intelligence Panel, Cyber Offence Panel, and Live Hacking Zone
Official NATO Working Groups' Meetings (TBC) – over 400 experts, in cooperation with the NATO Army Armaments Group (NAAG) and Committee of the Chiefs of Military Medical Services in NATO (COMEDS)
NAAG Land Capability Group Dismounted Soldier Systems (LCGDSS)
NAAG Joint CBRN Defence – Capability Development Group (JCBRND-CDG)
NAAG Joint Non-Lethal Weapons Capability Group (JNLWCG)
NAAG Joint Capability Group Ground Based Air Defence (JCGGBAD) & Joint Capability Group Surface Based Air and Missile Defence (JCGSBAMD)
NAAG Joint Capability Group Vertical Lift (JCGVL)
COMEDS CBRN Medical Working Group (CBRNMed WG)
Please find more information about the FFF at www.future-forces-forum.org or at the exhibition website www.NATOexhibition.org