IDEB 2022 showed the importance of linking unmanned vehicles with other weapon systems
From 10 to 12 May, the International Defence Engineering Fair IDEB 2022 took place in Bratislava, attended by Slovak and Czech political and military leaders, as well as Slovak, Czech and other foreign exhibitors. Among Czech politicians, the fair was visited by the Czech Minister of Defence Jana Černochová.
Video: IDEB 2022 showed the importance of linking unmanned vehicles with other weapon systems / YouTube
During the opening ceremony, Slovak Prime Minister Eduard Heger emphasised the apparent willingness of Western governments to invest more in defence in response to Russian aggression in Ukraine. The most important principle he identified as mutual international cooperation in the field of defence industry, which was one of the objectives of this year's fair.
A total of 50 exhibitors showed not only the notorious products that are in the Czech and Slovak armies' sights to strengthen their basic defence capabilities, but also this fair outlined further directions in the development of the digital battlefield with elements of linking all weapon systems into a unified digital information field. Because, as the development of the current war conflict in Ukraine proves, the rapid transfer of digital information and image data and their wide applicability at all levels of command is one of the main tools for effective defence or offensive management. And, of course, this digital support also optimises the equipment of combat units with combat equipment and ultimately saves soldiers' lives.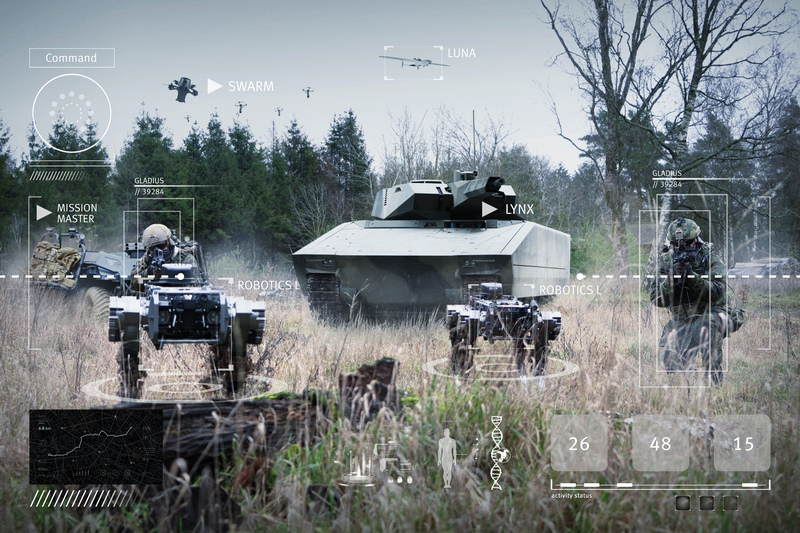 Picture: The importance of linking unmanned vehicles with other weapon systems is evident (illustration photo) | Rheinmetall
Although the Turkish company Baykar has currently come to the attention of the general and professional public in the field of drones thanks to the war in Ukraine, we have approached the Israeli company Elbit Systems, which has more than 30 years of experience in using this technology for the Israeli armed forces, in order to present the use of drones on the battlefield.
The Czech Republic is plagued by a lingering backlog in the purchase of the tracked IFV it desperately needs. In this context, we were interested in how individual companies have tackled the use of drones and other robotic systems in their offerings not only for the Armed Forces.