Is integrity of NATO under threat?
Turkey, a member state already since 1952. The past few years, however, have shown that slowly but surely it becomes not an ally but a possible aggressor, which absolutely doesn't respect common obligations and gentlemen's agreements. Can possible Turkey's departure from the North American Alliance threaten the Czech Republic as well?
The Turkish Armed Forces are generally evaluated as the second biggest armed forces in NATO after the USA Armed Forces, and their estimated force in 2015 was 639,551 soldiers, civil employees and gendarmery. Turkey is one of five NATO members (together with Belgium, German, Italy and Netherlands) practising the policy of the share or nuclear weapons. 90 B61 nuclear bombs are placed in the Incirlik Air Force Base; 40 of them are assigned to the Turkish Air Forces in case of a nuclear conflict, but their use requires consent of NATO. Nevertheless, recent practice has shown that this country is starting to do what it wants and absolutely doesn't puzzle over any, including gentlemen's, agreements.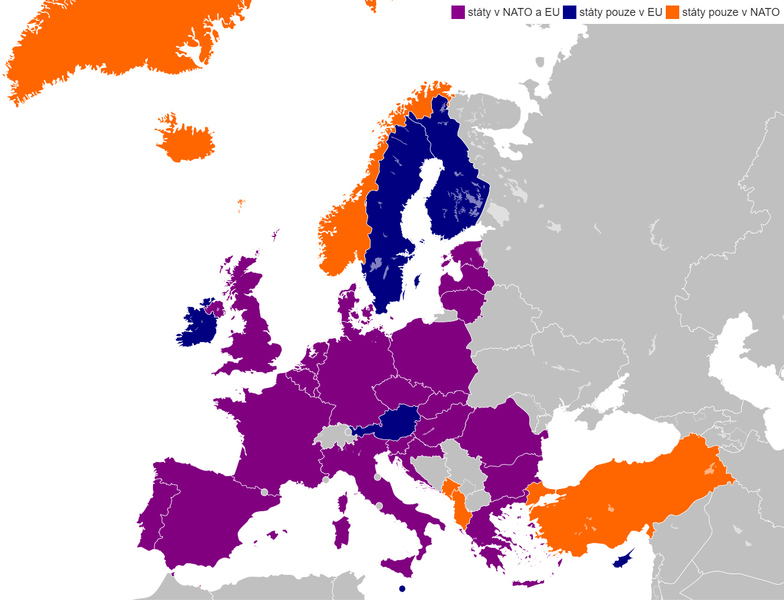 Picture: Review of states that are only EU members (blue), only NATO members (orange) or EU & NATO member (violet) | Wikimedia Commons
When Turkey, about one year ago, notified its intention to buy Russian S-400 anti-aircraft systems, a lot of analysts and experts considered it to be a bad joke. But to date the situation has changed. "The agreement for S-400 is ready, nowadays we are in the phase of delivery, "said the Turkish President Erdoğan. And, unfortunately, in these weeks, first deliveries of these systems have been realizing. What does it mean for Turkey? Due to the purchase of the S-400 systems, the United States has refused to pass the ordered Lockheed Martin F-35 Lightning II fifth generation fighting planes. It meant de-facto termination of cooperation with Turkey and of current training of pilots in USA. And reportedly a loss of one milliard dollars after the termination of the Turkish participation in the F-35 program, too.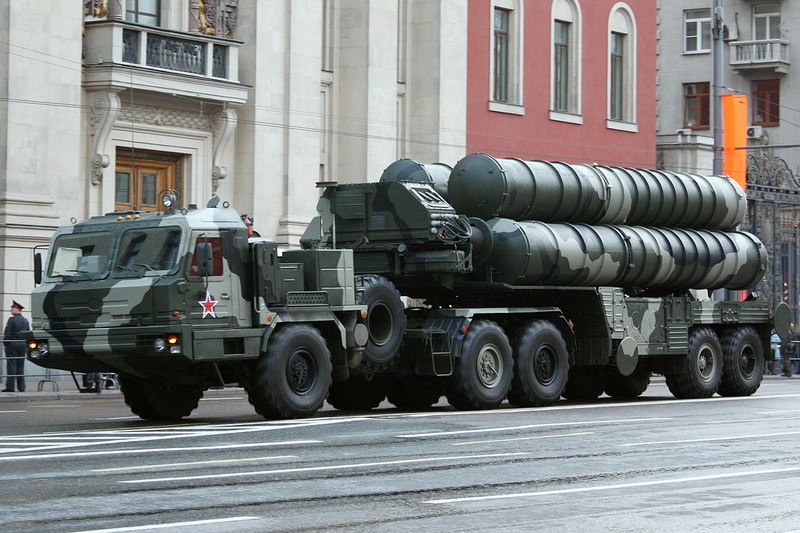 Picture: Russian S-400 anti-aircraft system | Wikimedia Commons
The Turkish Minister of Foreign Affairs explicitly declared which way this country would go in case of non-delivery of F-35. "In case of non-delivery of F-35, I will find myself in a position that I will be obliged to buy necessary aircraft somewhere else." Only the United States are armed with the fifth generation fighter planes, namely F-22 Raptor and F-35 Lightning II, which is released for the sale to the allies. Russia and China have also developed fifth generation planes. Their air forces have already started their testing. Moscow has already tested them in battle conditions in Syria, but it's not clear if they are fully functional and whether the both countries are able to deliver them.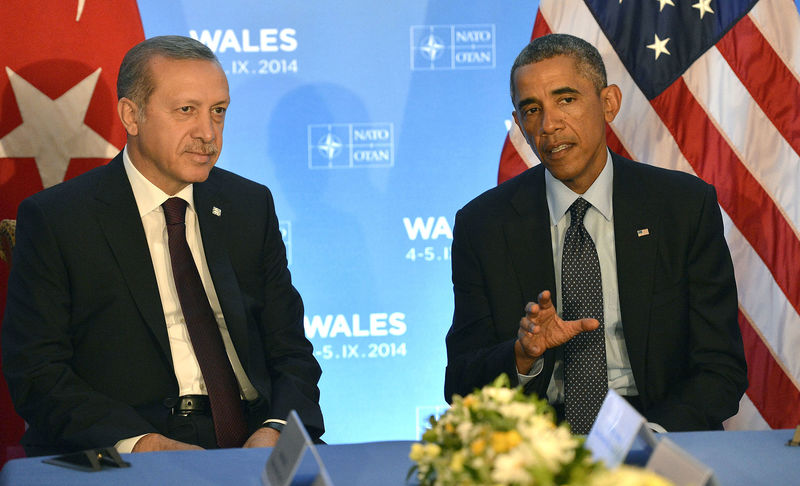 Picture: Erdoğan and the American President Barack Obama on the NATO summit in 2014 | Wikimedia Commons
The early indicated departure of President Erdoğan's son with a so-called Islamic State is also quite bewildering, where – especially earlier – the Turkish borders were daily crossed by hundred cisterns with fuel. The recent Erdoğan's declaration on Cyprus doesn't contribute to peaceful sleeping either. "The Turkish Army will not hesitate to make the same steps as 45 years ago, when it attacked Cyprus, if necessary to ensure life and safety of the Cyprian Turks," said he at the time when a tension round the isle was growing, because Turkey has also been exploring natural gas deposits since May in areas which belong to Republic of Cyprus. It looks a little like one television sitcom, where there was a notice that after making a test well, an abuse of human right was detected…