Lynx KF41: Modular IFV for Full Spectrum of Operations
Recent military operations involving improvised explosive devices, rocket-propelled grenades and other asymmetric threats have exposed the inadequacies of today's ground combat vehicles. In many cases the threat environment is proving too severe for ground combat vehicles currently in service. Legacy vehicles will soon need to be replaced with new and improved ground combat vehicles, providing the required levels of mobility, adaptability, and survivability to fight, survive, and win on the battlefields of today and tomorrow. The Lynx KF41, Rheinmetall's new tracked combat vehicle with revolutionary design principles, will fulfil this need.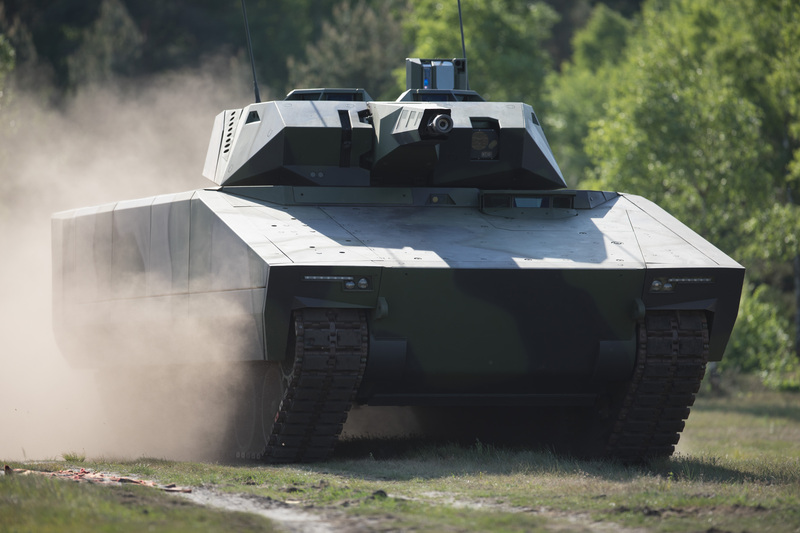 Picture: Lynx KF41 | Rheinmetall
Adaptability. As global conflicts in urban and complex terrain become the norm, armoured fighting vehicles will be required to perform a range of diverse new tasks, from urban patrols to a high intensity combat. Fulfilling such requirements through incremental improvements and adaptations to existing vehicle types has come with many compromises. Design limits have been exceeded, reliability and mobility levels have been downgraded and through-life-support solutions have proven inadequate, to list only a few shortfalls. The full spectrum of future military operations, from peace support to high intensity combat, will demand adaptive, modular and scalable systems.
Video: Lynx KF41: Modular IFV for Full Spectrum of Operations / YouTube
System Overview. With these operational experiences and needs in mind, Rheinmetall set out to develop a new platform with high levels of inherent capability and an unrivalled degree of modularity allowing tailored protection and rapid upgrades. Open electrical, electronic, software and mechanical interfaces were key design drivers for the Lynx across the base platform and all variants. Moreover, Rheinmetall's design team recognised the need for increased payload and electrical power, with modern combat operations demanding ever more materiel and capability. Combined arms capabilities at the vehicle level allow commanders to adapt deployment in the field. The Lynx's high mobility enables tactical flexibility in contact while the platform's combined arms fighting systems enable the crew to conduct operations across the full spectrum of conflict. In addition, the Lynx features a uniquely adaptable vehicle design which can be upgraded and modified in the theatre of conflict.
Key Design Features. The Lynx is based on a number of key unique features: a genuine family of vehicles with a common base platform and a full set of variants (infantry fighting vehicle, armoured personnel carrier, command post and ambulance, repair and recovery variants, among others). The modular design enables the Lynx to change its role from example an infantry fighting vehicle to a command post vehicle in a few hours supported only by field maintenance means. The Lynx also features a modular architecture with inherent growth potential; a high power-to-weight ratio for maximum agility across all terrain types; scalable lethal and non-lethal effects for the full spectrum of operations in open and urban environments; a modular and adaptable survivability system with low visual, thermal, and acoustic signature levels; state-of-the-art commandability with a full suite of situational awareness and battlefield information systems; and significantly improved habitability, with low noise and vibration profiles as well as full air conditioning and a next-generation human-machine interface. In its infantry fighting vehicle configuration, the Lynx features Rheinmetall's Lance two-man turret, equipped with a MK30-2/ABM 30mm, Main Sensor Slaved Armament (MSSA), a 7.62mm coaxial triple-barrel or GFE machine gun, and two mission pods on either side of the turret for dual anti-tank guided missiles (ATGM) or unmanned systems or electronic countermeasures.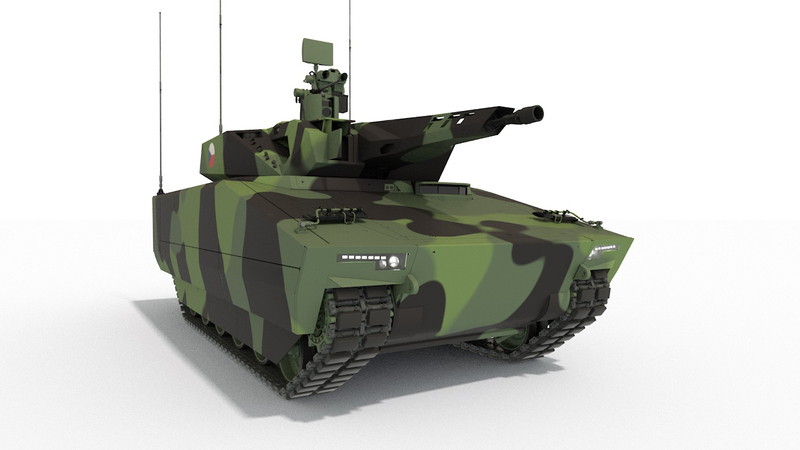 Picture: Lynx KF41 with 30mm automatic cannon | Rheinmetall
As flexibility and fightability are highly important the LANCE turret can be equipped with other canon systems, such as the Wotan 35mm machine cannon or even larger calibre systems from third party suppliers. With an elevation angle of up to 70° the MSSA provides immediate engagement capability for the crew in urban areas or against UAVs alternatively equipped with either 12.7mm machine gun, 40mm automatic grenade launcher or another type of effector. The 50-tonne-capacity drive module can house three crew members and up to eight or even nine dismounts. The modular protection kit can be configured for raise, train and sustain missions during peacetime or for full deployment during combat operations. Active protection, as well as additional mine protection, can also be fitted to the infantry fighting vehicle configuration and other configurations.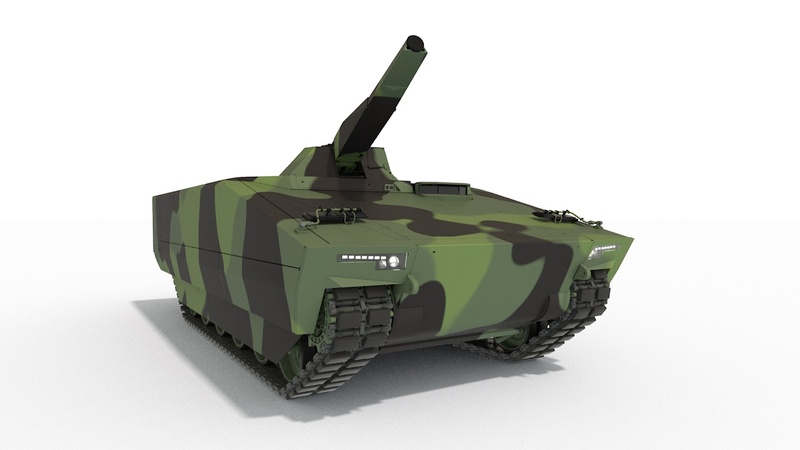 Picture: Lynx KF41 with with 120mm mortar | Rheinmetall
Survivability. The Lynx's drive module hull and turret both feature modular and scalable protection, including passive, active, and signature management solutions for the full spectrum of modern military operations. Unlike other vehicles currently available on the global market, this modular and scalable approach to protection enables mission-specific vehicle configurations of the Lynx that are fully fit for purpose. Amongst others, there are variants specifically designed for peace keeping operations, mobile combat operations, peace support operations, and peace support operations in urban terrain. With the right tools, a base platform can be re-rolled in the theatre of conflict in less than eight hours. Access to a military workshop is not required for performing this task.

Picture: Lynx in engineer configuration | Rheinmetall
Localisation. Over the coming years, a number of NATO and allied armies will replace their legacy tracked platforms. In many cases, local industry participation and extensive workshare agreements will become an integral part of these replacement programmes. With the Lynx, Rheinmetall has added a platform to its global ground combat vehicle portfolio that has been developed with such local workshare requirements in mind. Moreover, Rheinmetall stands ready to work with partner nations and local industries on variant-specific designs, development and production for national replacement programmes. This approach ensures that each customer will receive a family of vehicles that truly incorporate specific national requirements, instead of a generic, one-size-fits-all solution.