Military TATRА's in demanding nighttime training
Icy ground, reduced visibility or total darkness. Drivers of the 71st Mechanized Battalion in Hranice should be prepared for all these difficulties. Our soldiers have passed this special safe-ride training with TATRA 815 8x8 PRAM, with TATRA 810 and 815 and with the UAZ-469 off-road car.
The biggest vehicle, which our military drivers have passed training with, was the TATRA 815 8x8 PRAM special wheeled vehicle, which is designed for transporting (or towing) the PRAM-L anchored trench mortar, model 82, as well as its crew, ammunition and material. It falls into the Military Combat Vehicles - Wheeled Special Vehicle category. It replaces the vehicles with similar conception, such as V3S M1 ZČ and V3S M2 ZČ, operated in Trench Mortar Batteries of the Mechanized Brigade of the 4th Rapid Deployment Brigade and the 7th Mechanized Brigade.
Video: Military TATRA 815 8x8 PRAM special vehicle in action / YouTube
They were purchased and gradually modified after testing the prototype of the Tatra 810 PRAM and discovering some of its insufficiencies (overloading of the front axle, which causes shortening of the service life of some components).
The four-axle Tatra 815-7 PRAM vehicles are equipped with an armoured four-door cabin. The armoured cabins of the new TATRA's provide high ballistic and countermine protection certified according to the NATO norms at Level 2a/b with a possibility of increasing up to Level 3a/b. The armoured cabins are being mounted on the vehicles directly in the Kopřivnice automobile factory and share interior elements with the standard non-armoured cabins of the Force series.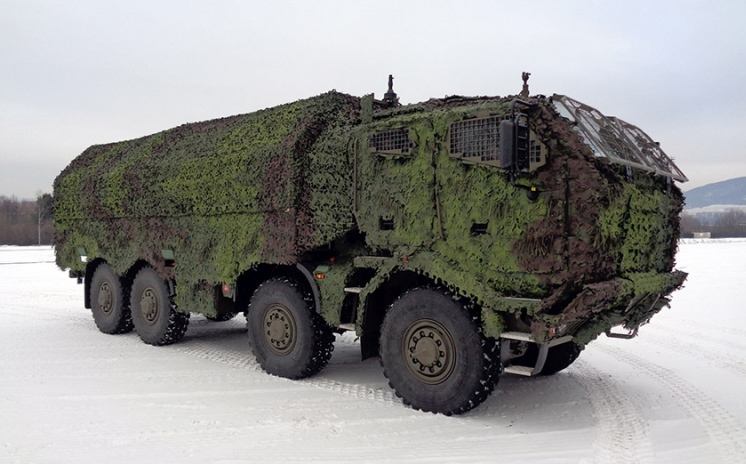 Picture: Tatra 815-7 PRAM | army.cz
The vehicle crew also keeps at disposal special seats, which protect it against effects of explosion under the vehicle. The vehicle roof has a hole with a trap and a gun-carriage designed for installing various fire-arms.
The PRAM-L trench mortar is transported by the new Force series vehicles on the carriage body together with ammunition reserves. A hydraulic ramp, which is situated on the rear of the vehicle, serves for the manipulation with it. The trench mortar, however, can be also dragged behind the vehicle in a special trailer.
Video: Military TATRA's in nighttime training in the field / YouTube
Drivers from the 71st Mechanized Battalion in Hranice have also passed nighttime training in the technical-terrain polygon of the Safe Ride Centre LIBROS Ostrava (see video above). No one might imagine how demanding this training is. In the daytime, we mostly see just sky and ground. But all is absolutely different at night, when we see almost nothing. Our soldiery, however, got it under control.