Patriot II 4x4 – New armoured vehicle on Tatra chassis
vehicles in the Czech Republic. Czech company Excalibur Army unveiled this new vehicle constructed at the unique chassis by Czech car manufacturer Tatra Trucks the first time at IDET 2019.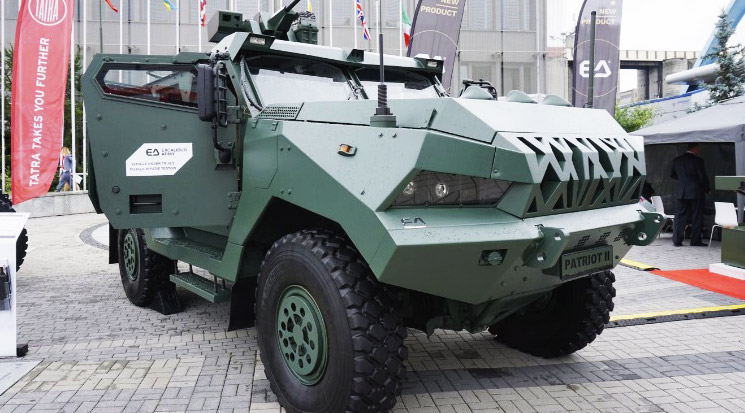 Picture: All-purpose armoured vehicle Patriot II 4x4 | EA
The second generation of Patriot is just as its predecessor Patriot 4x4 the vehicle of modular concept which belongs to 13 - 17ton category vehicles. Thanks to its universality and modularity, Patriot II is the eligible vehicle for combat, patrol or reconnaissance deployment. It constitutes an applicable platform for command, communication, anti-chemical or medical vehicles as well as weapon systems carrier.
Within security forces and civil troops like police, firemen, rescuers, security services and others. The car construction enables mounting of turrets equipped with manually handled weapons up to calibre 14,5 mm or remote operated weapon stations equipped with up to 20mm guns or grenade launchers. Besides that, Patriot II may be equipped with guided missiles or a mortar.

Picture: 1St generation of armoured vehicle Patriot 4x4 | EA
As well as the predecessor, Patriot II uses Tatra chassis with the central backbone tube, swing axle and the four-wheel drive. The extraordinary performance of chassis from Tatra is highlighted by the vehicle´s ability to get over vertical barriers up to height of 0,5m, trenches up to width of 0,9m and a rate of climb of 45 degrees. The instant fording depth is 1,2m. The maximum combat weight increased to 17,5t. In comparison with the preceding version, Patriot II is also larger and higher. The length is 6250 mm, wheelbase 3650mm, the car width 2550mm and the height is 2800mm. Such parameters make Patriot II easily transported via aircraft carriers and landing ships.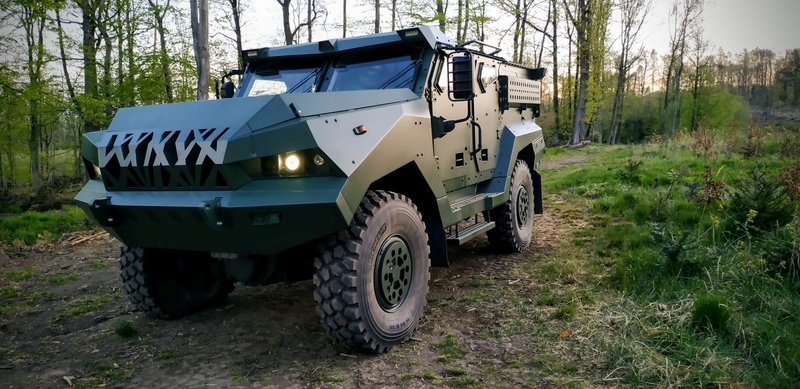 Picture: All-purpose armoured vehicle Patriot II 4x4 | EA
The new vehicle also got more powerful driving units. Together with Tatra chassis they ensure excellent drive abilities for off-road driving as well as at the road. The car may be equipped either with the water-cooled Cummins ISL Euro 3 motor with an output of 270 kW, or the air-cooled Tatra T3C-928-90 Euro 3 motor with an output of 300 kW. They enable Patriot II to drive 110 km top speed on the road and 45 km/h off the road. Even the cruising range of Patriot II is longer. Compared to 500 km of its predecessor it is 700 km now.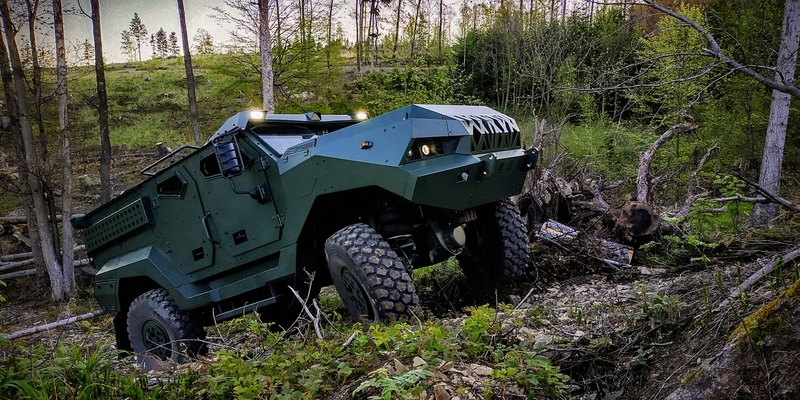 Picture: All-purpose armoured vehicle Patriot II 4x4 | EA
Patriot II is protected against weapons of mass destruction (WMD) with an effective ventilation filter device including air condition. The fittings ensure a trouble-free operation in large range of minus and plus temperatures. There were also changes in car endurance. Patriot II may provide ballistic protection level 2 - 4, anti-mine protection level from 2a/2b to 3a/3b in compliance with STANAG 4569. The anti-explosion seats are mounted in the cab with more space for the crew, the vehicle floor is designed to protect against eventual explosion under the car as much as possible. Patriot II is also equipped with an automated fire protection system for the cabin and the engine.