Peter Smik – New blood in the Silver Corps
The Army of the Czech Republic is apparently starting to change. Since 1st July, a new Senior Warrant Officer is going to take office. It is a young warrior who got his experience among others in Afghanistan. Despite his young age (32), which ranks him among so called Generation Y, he has a lot to offer.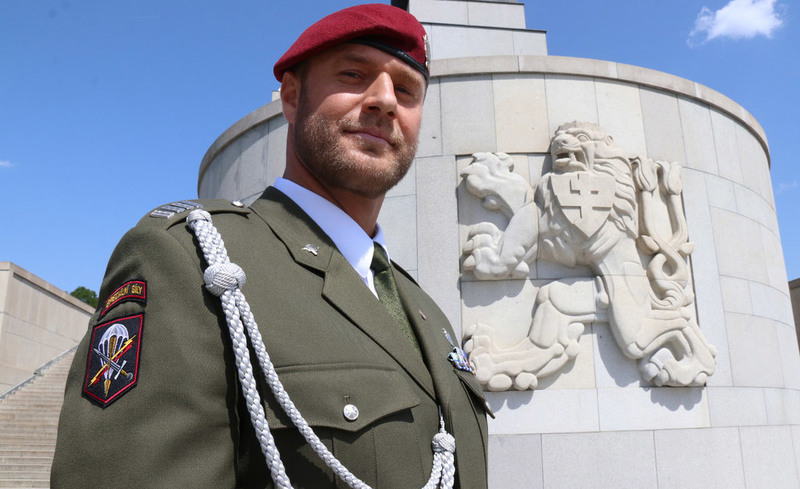 Picture: Peter Smik treads in family's steps | Jana Deckerová, army.cz
Peter Smik treads in family's steps. His farther, also Peter, is a long-term army pilot, who currently flies PZL-Sokol helicopters mostly for the emergency rescue services in Plzeň-Líně, although he has wide experience from flying Mi-8 to Mi-24. His colleagues say he belongs to the best army pilots at all. After all, the Smik generation has military skills in the blood.
Otto Smik
Presently already legendary and respectable holder of this name was Otto Smik. He became one of about 250 Slovaks, who after 1939 entered the Royal Air Force (RAF) services and was included into a fighter squadron (312 Czechoslovak fighter squadron of the RAF). He died when he was 22. During his military service, he shot down 9 aircraft, other 2 in cooperation, and probably also 1 more aircraft. He also shot three V-1 flying bombs and was a holder of the Distinguished Flying Cross.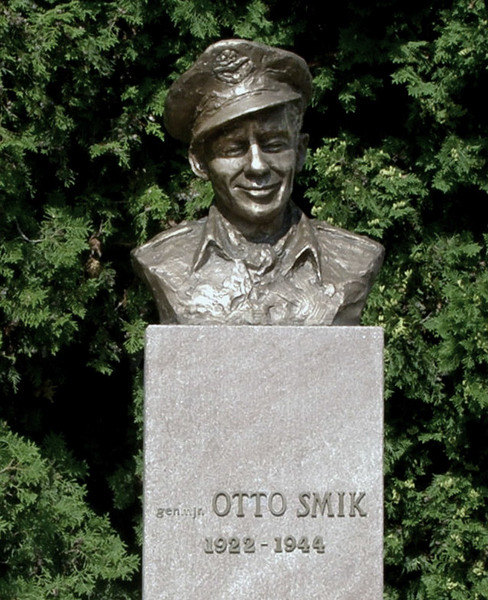 Picture: A monument to Otto Smik, who died during World War II when he was 22 Commons
Silver general
Peter Smik keeps the great name, which however places high responsibility on his shoulders. The Army, no matter how much is presented in a good light, has its deficiencies and problems. A series of problems annoy soldiers, warrant-officer and non-commissioned corps from equipment to different logistic and material assurance. Equipment, ballistic protection, helmets and so on are missing. Although Smik's age has been often discussed, it is precisely what can help him to handle situation firmly and grapple with it. What is important is that he isn't burnt out and understands needs of his contemporaries.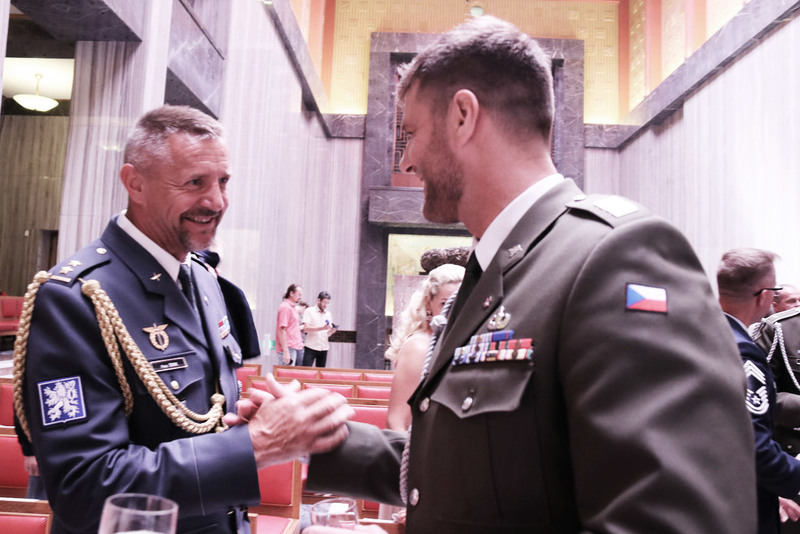 Picture: Father with son | Jana Deckerová, army.cz
"My priorities are people and all troops to the last soldier. I'm used to fight and work hardly. My work in the Special Forces taught me how to overcome obstacles and find constructive solutions. I am proud of my red beret and I am also proud that I always could learn from the very best. They taught me that teamwork, confidence between commanders and inferiors, as well as direct communication are a base of successful, "said Chief Warrant Officer Smik in Vítkov while taking office from his ancestor.
Essential matter is how this Silver General will struggle with the Czech Army management, how he will be able to promote changes and how he will listen to his sheep. In the oncoming years the biggest investments in modernization in modern history will be realized. The objective of Smik is not to let itself be mollified and not to forget needs of his inferiors.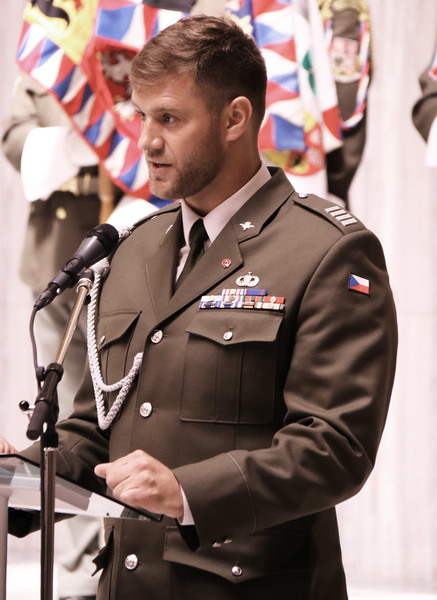 Picture: Peter Smik | Jana Deckerová, army.cz
History of Senior Warrant Officers of the Czech Armed Forces
As the historically first Senior Warrant Officer of the Czech Armed Forces, on 1st September 2003 Staff Warrant Officer Luděk Kolesa was assigned. In May 2007, after his departure to Senior Enlisted Leader position in the NATO Headquarters for the transformation in Norfolk, the office was taken by Chief Warrant Officer Miroslav Švadlena. Chief Warrant Officer Petr Seifert took office after him in September 2011. His successor from 1st July will be Chief Warrant Officer Peter Smik.