Precision guided missiles and their importance
06. 07. 2023
category: Topic
An often overlooked aspect of the war in Ukraine is the use of long-range missiles. Russia uses these weapons primarily to strike critical infrastructure and ammunition and fuel depots of the Ukrainian army. Long-range missiles will also play a significant role in other potential conflicts, so it is worth addressing this topic.
According to an analysis by the think tank Center for Strategic and International Studies (CSIS), Russian armed forces in Ukraine have used over 5 000 precision-guided missiles and drones to strike various targets since the start of the invasion in late February last year. More than 2,700 of those 5,000 missiles are air-launched missiles. Roughly half of these were fired outside Ukrainian airspace.
The Jamestown Foundation think tank then reports that Russia remains capable of producing missiles of all categories despite the sanctions. According to Ukrainian sources, Russia is capable of producing up to 52 missiles of all categories per month. According to production estimates for the period January-April 2023, the Russian armed forces have approximately 800 missiles remaining. According to estimates from Russian sources, the monthly production of all types of Russian missiles ranges between 18-20 pieces. A representative of Ukrainian military intelligence recently stated that Russia is capable of producing up to 60 Kalibr and Ch-101 missiles, two Ch-47M2 Kizhal aero-ballistic missiles and five Iskander-M ballistic missiles per month.
Precision-guided missiles will also play a role in the event of a conflict in the Western Pacific. According to the Mitchell Institute for Aerospace Studies think tank, a conflict with the People's Republic of China could deplete the stockpile of JASSM/JASSM-ER (Joint Air-to-Surface Standoff Missile - Extended Range) and LRASM (Long Range Anti-Ship Missile) missiles, which are expected to reach about 6,500 by fiscal year 2025, in about one week of fighting. However, this is only a situation where only 41 B-52 and B-1 aircraft are deployed to launch these missiles. In a realistic situation, it is likely that other aircraft will also launch the above missiles, which implies that the depletion of their stocks will occur much sooner. Further analysis shows that in the case of the JASSM-ER missiles, production of 10 000 units at an annual production rate of 525 would take a long 19 years.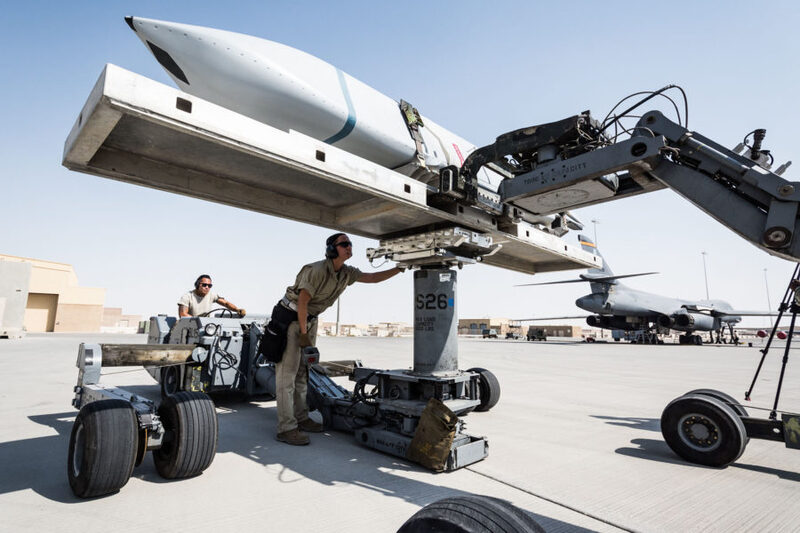 Picture: Precision-guided missiles will also play a role in the event of a conflict in the Western Pacific. According to the Mitchell Institute for Aerospace Studies think tank, the JASSM/JASSM-ER and LRASM | Tech may run out of stock in the event of a conflict with the People's Republic of China. Sgt. Ted Nichols / U.S. Air Force
A comprehensive look at the potential consumption of JASSM and LRASM missiles is provided by a recent simulation analysis by the Center for Strategic and International Studies think tank, dealing with simulations of possible scenarios of a Chinese attack on Taiwan. These scenarios suggest that in the event of an open conflict, the United States would exhaust roughly 5,000 JASSM and LRASM missiles in the first three to four weeks. The authors of the analysis suggest that both the Air Force and Navy should focus on acquiring more LRASM missiles, which are produced on the same line as the JASSM and share up to 70 percent of their components. He then cites the number of JASSM missiles procured in fiscal year 2023 as a major disparity, with 585 JASSMs procured while only 88 LRASMs were procured.
An interesting aspect of the JASSM and LRASM missiles is that Lockheed Martin recently opened a second production line for them with a goal of producing 1,000 per year. The company is also looking very seriously at the possibility of launching the LRASM from the HIMARS missile launcher and is also continuing its integration into the F-35 aircraft armament.
The above information shows that precision-guided missiles, especially long-range missiles, are a very important tool in Ukraine, and not only from the Russian side. Let us recall the recent use of Storm Shadow missiles by the Ukrainian army or the ongoing discussion about the possible provision of ATACMS (Army Tactical Missile System) ballistic missiles to Ukraine. Estimates and simulations conducted in the United States, particularly in the context of a possible conflict with China and the shift of US attention and capabilities to the Western Pacific, indicate that the United States will rely on these missiles in the event of a conflict with China.
For European states, the above information has two implications. First, given the importance of this category of weapons, consideration should be given to their massive introduction across European air forces, including smaller ones such as the Czech and Slovak air forces. Secondly, given the priority of the United States at the moment, which is China and its deterrence of the use of force against Taiwan, it must be reckoned with in Europe that if European states decide to purchase weapons in these categories, they will have to reckon with uncertain supplies from the United States, as the United States will focus primarily on its own needs.