Rheinmetall expands its Central European industrial network in Hungary and plans a new factory in neighbouring Slovakia
Rheinmetall recently inaugurated the first part of its new engineering and production plant in Zalaegerszeg in western Hungary. The new facility offers production, research, development and testing capabilities and will bring hundreds of new skilled jobs to the region.
Construction started more than a year ago and when completed will be Hungary's largest defence systems plant. The ceremony took place in the presence of Viktor Orbán, Prime Minister of the Hungarian government, and Armin Papperger, CEO of Rheinmetall.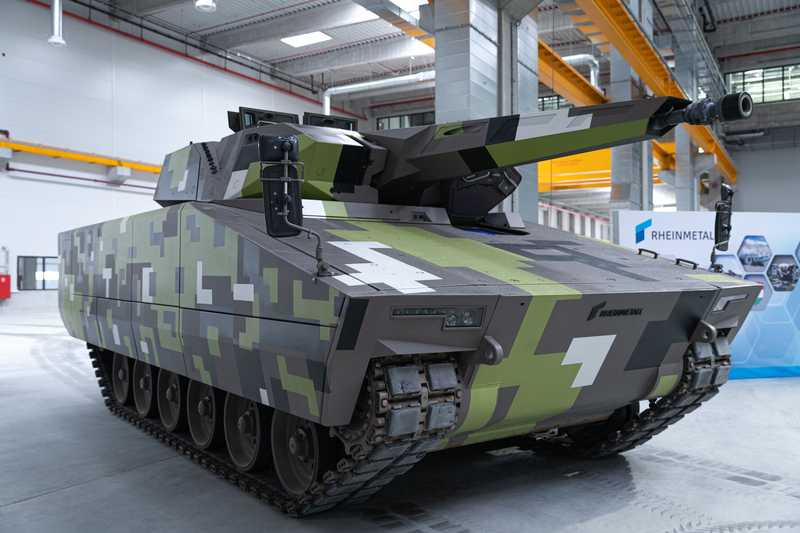 Picture: Rheinmetall inaugurated the first part of its new engineering and manufacturing plant in Zalaegerszeg, western Hungary, on Saturday 26 March. | Rheinmetall
Local production of the KF41 Lynx infantry fighting vehicle
The new factory will produce 172 armoured personnel carriers out of a total of 218 Lynx KF 41 combat vehicles ordered by the Hungarian Ministry of Defence in 2020, an order worth more than €2 billion. In line with Rheinmetall's strategy for the Central European region, a significant portion of the total value of this order will be reinvested back into the domestic Hungarian economy, both in the form of direct investment in the Zalaegerszeg plant and in the form of further contracts with Rheinmetall's industrial partners in Hungary, Germany or with regional partners in Slovakia and the Czech Republic.
Technology transfer and training of Hungarian employees who will be directly involved in research, development and production at the new plant is already underway. At the moment, nearly 50 colleagues from Hungary are in Unterlüss, Germany, where they are being inducted and trained.
Prime Minister welcomes partnership with Rheinmetall
Prime Minister Viktor Orbán warmly welcomed the Rheinmetall factory in Zalaegerszeg and stressed the importance of the strategic partnership with the German leader in defence technology.
In his speech, Armin Papperger, CEO of the Rheinmetall technology group, which has a turnover of 9 billion euros, mentioned that the successful arms cooperation with Hungary is a significant shift in Rheinmetall's vision for the Central European arms and defence industry. Armin Papperger was also very pleased with the speed with which the construction took place. In his opinion, the investment will be of great economic benefit to the region, as international export orders will be placed not only for Lynx armoured vehicles but also for other highly advanced products from Rheinmetall's portfolio. These will be developed and produced here directly.
The vision of a Central European defence alliance takes concrete form
At the ceremony, Rheinmetall representatives also mentioned further planned investments in the upcoming munitions production plant in Varpalota. Rheinmetall is negotiating a joint venture to create a world-class development and production centre to meet the needs of military customers across Europe and beyond.
Paul Walf, Head of Corporate Coordination Central Europe at Rheinmetall, said that it is the Zalaegerszeg plant that convincingly demonstrates that Rheinmetall's strategy for a cooperative and independent Central European arms and defence industry is beginning to come to fruition, adding, "A few weeks ago we unveiled our plans for a new plant in neighbouring Slovakia - in Moldova nad Bodvou. This is a €30 million investment in pursuit of our Central European vision for the defence industry." He continued, "This means that hundreds of new jobs, investments of millions of euros, tens of millions in contracts with our industrial partners and significant international export orders are on the horizon. All this at a time when security is high on the agenda of almost every country."
In connection with the above event, we put some questions to Oliver Mittelsdorf, Rheinmetall's Vice President Sales:
Will the Hungarian plant focus only on the production of the Lynx tracked armoured vehicle or will it also include the production of other equipment?
The new factory will primarily focus on the production of most of the Lynx KF41 armoured vehicles ordered by the Hungarian Ministry of Defence. In addition to the fact that the production plant includes R&D and testing facilities, there are also flexible production lines, which can of course be used to produce other Lynx vehicles and other systems. It has always been our intention that, as part of our expanding production capabilities in the defence industry in Central Europe, the Zalaegerszeg plant should play a significant and full role in the production of Rheinmetall's current and future products.
Will Rheinmetall make any use of Czech companies in the operation of the new Zalaegerszeg plant?
I think so. This is definitely another big topic for further discussion and negotiation, but not in the public domain as things stand. However, in this context, I would like to mention our long-standing efforts in industrial cooperation and localisation. Rheinmetall has been committed to this for many years; of the more than 130 international plants, I would like to single out, for example, the newly opened production facilities in Zalaegerszeg, Hungary, or our Australian plant in Brisbane.
We take cooperation with local industrial partners very seriously. Czech companies are already involved in the production of the Lynx in Australia and Hungary, so there is undoubtedly a good chance that they will also be involved in the Slovak programme.
Rheinmetall recently announced the construction of a similar plant in Slovakia - in Moldova nad Bodvou. Will the two plants cooperate in any way, e.g. in terms of production focus or division of labour, etc.?
It would make sense, both from a regional and a process point of view. It is clear that the primary purpose of the Zalaegerszeg plant is to supply Lynx armoured vehicles to Hungary, while Moldava nad Bodvou will supply them to Slovakia.
However, it goes without saying that the neighbours are cooperating and helping each other. One of the great advantages of having plants in both countries, and therefore in the Czech Republic and Germany, is the possibility of cooperation in solving problems and satisfying customer requirements, which, as you know, may change and be modified in various ways during the course of the supply contract. In addition, we are at a time when we are directly involved in significant and dramatic changes in the current geopolitical order, so flexibility, cooperation and integration are absolutely essential prerequisites for success.
Does Rheinmetall have plans to build more plants, for example in the Czech Republic?
That depends on many factors. One of them is undoubtedly the progress of the Czech tender for new armoured vehicles. As part of our activities in Europe, we have been considering cooperation between neighbouring countries from the beginning. An important factor that will now matter a lot is the timing of production, integration and testing in Hungary and hopefully very soon in the Czech and Slovak Republics. This could be an interesting model for Central European cooperation.