Situational awareness system gives LYNX crew freedom to fight
Rheinmetall's LYNX KF41 Infantry Fighting Vehicle is drawing attention around the world for its modularity, survivability and lethality. A key part of its innovative capability set is a situational awareness system giving greater fighting capabilities to operators. By helping crew members focus on their own fighting tasks, Rheinmetall recognises that the most valuable part of any fighting vehicle is the crew that commands it.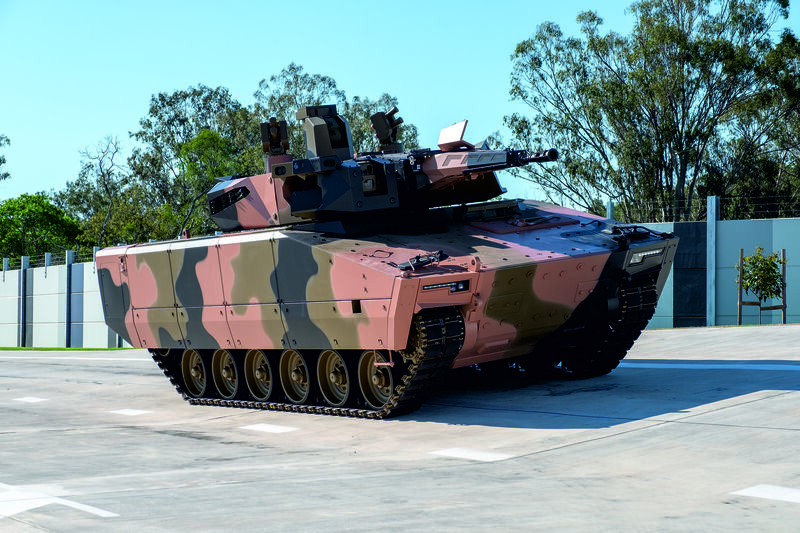 Picture: Rheinmetall recently unveiled first Australian Lynx KF41 IFV | Rheinmetall / CC BY-NC-SA
Saving energy for enemy engagement
Battlefields are dense, complex environments, with potential threats difficult to locate within natural or urban terrain types. Modern battlefields present more information for IFV crew to process than ever before, and this is a significant problem for older systems. IFV operators – and their superiors – have to be able to respond to the rapid, dynamic nature of modern warfare resulting from ever-greater systems automation.
Without help, the need to respond to machine-speed opponents can push IFV crew members beyond their metabolic stress limits. The sheer number of sensors to be analysed and evaluated leads to a level of tension and exhaustion which is the single most severe danger to IFV operational readiness.
Rheinmetall's Situational Awareness System (SAS) assumes the entire burden of gathering, processing, interpreting, and presenting information for decision-making purposes. The 360-degree video surveillance system and attendant sensor units is the industry gold-standard for combat vehicles, as well as land combat systems.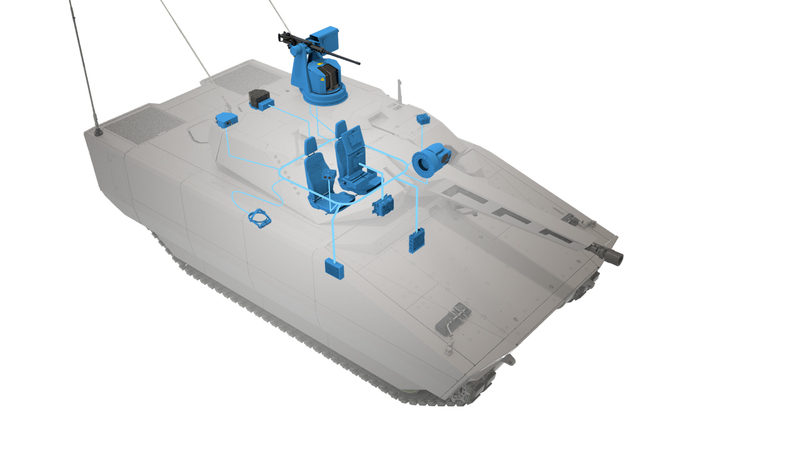 Picture: Rheinmetall's Situational Awareness System (SAS) assumes the entire burden of gathering, processing, interpreting, and presenting information for decision-making purposes. | Rheinmetall / CC BY-NC-SA
"Locating enemies in the battlefield is like searching for a needle in a haystack," says Oliver Mittelsdorf, Senior Vice President Sales at Rheinmetall Defence. "They're out there somewhere, but the searching can go on and on for hours. It is difficult to imagine the mental strain experienced by IFV operators who don't have powerful surveillance systems at their disposal. Rheinmetall has perfected its Situational Awareness System to alleviate crew fatigue, ensure rapid response, and safeguard the LYNX's operational readiness at all times."
Gathering, processing and interpreting information
The foundation for the LYNX's full-circle surveillance system is Rheinmetall's SCM 60 camera module, six of which are located around the Lance 2.0 turret to provide full 360-degree visual coverage. Infrared and daylight cameras enable operators to see beyond the limits of human vision at both day and night. A Laser Warning System (LWS) complements the cameras, sending an instantaneous alarm to the main system when laser radiation is detected.
Acoustic signals are meanwhile monitored by the LYNX's SAS system. Projectiles up to 40mm in diameter are picked up by the Acoustic Shooter Localisation System (ASLS), which operates automatically without any user interaction. ASLS uses an array of microphones picking up the supersonic bang of passing projectiles to triangulate shooter location by distance, direction and elevation.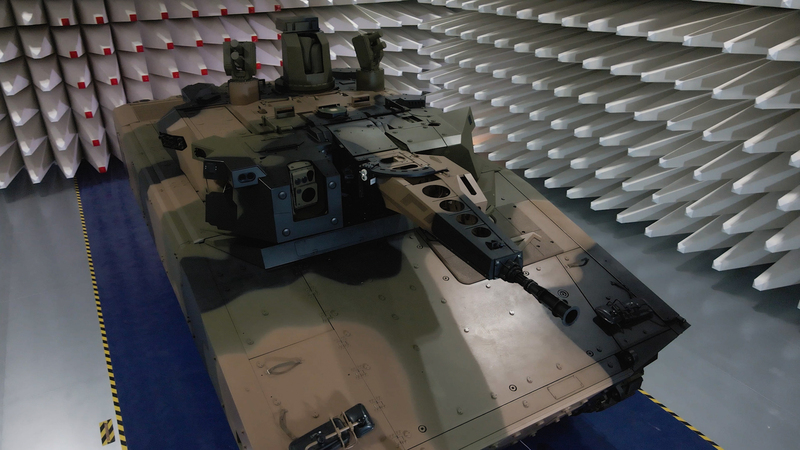 Picture: The LYNX KF41 is equipped with state of the art situational awareness systems | Rheinmetall / CC BY-NC-SA
With a multitude of signals being picked up by the LYNX's various sensors, the next task is to process and integrate them to create a clear picture for operators. Signals from the six turret cameras are automatically fused to integrate the most valuable information, creating a battlefield image with extremely high information density. Rheinmetall's unique "Panotech" algorithm meanwhile combines the images from the six cameras to provide a 360-degree panoramic view. Potential threats are then located within the panorama to help direct manoeuvres and firing responses.
The final stage of SAS processing involves identifying which of the potential threats are real threats requiring a response from LYNX operators. The Multi-Target Tracker (MMT) and Aided Target Recognition and tracking systems (ATR) allow a flexible choice of target tracking modes. LYNX operators can track the size, position and motion of threats identified by the system, facilitating pre-emptive strikes and rapid response.
A clear battlefield picture
For the copious levels of real-time battlefield information gathered by the LYNX's SAS to be of use to operators in the heat of conflict, clear and responsive presentation methods are required. The commander and gunner benefit from a screen presenting both the full panoramic battlefield view and the high-density view of the main area of interest. These screens also depict small arms fire, laser emissions and threat movements.
Infantry crew members can meanwhile access these information through several crew terminals. They can use the touch screens to scan the battlefield panorama, making them as prepared for disembarkation as possible. Based on their perception of the battlefield, they can also indicate areas of interest to the crew terminal, instantly appearing on the commander and gunner displays. Even when disembarked, information from the SAS can be relayed to dismounted troops and vice versa to enhance their situational awareness and enabling an unprecedented effectiveness on the battlefield.
The SAS in combination with Rheinmetall's stabilized electro-optical sensor system (SEOSS) builds up to one of the most sophisticated sensor suites for IFV on the market. The deep integration of all sensor and effectors does not just improve the situational awareness but also significantly improves the tactical response time (time from first appearance to identification) and provides a highly effective hunter killer capability.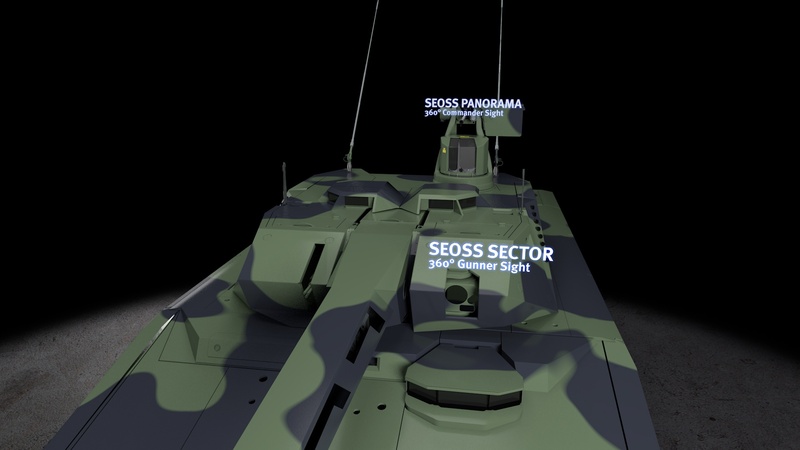 Picture: The SAS in combination with Rheinmetall's stabilized electro-optical sensor system (SEOSS) builds up to one of the most sophisticated sensor suites for IFV on the market. | Rheinmetall / CC BY-NC-SA
"No other IFV integrates technology as thoroughly as the LYNX," says Oliver Mittelsdorf. "This integration has two main aims: increasing battlefield survivability and lethality, and protecting crew members. Situational awareness is yet another compelling reason for the Czech Armed Forces to select the LYNX for its IFV renewal programme. The LYNX's systems ensure operational readiness for the battlefields of today, while its Generic Vehicle Architecture provides the possibility to integrate as-yet undeveloped future sensor systems, ensuring readiness for decades to come."