The Army is requesting an expert opinion on the SPYDER anti-aircraft system
The subject of the recently announced public contract is the preparation of an expert opinion for the purchase of a modern anti-aircraft system, four SPYDER type anti-aircraft missile batteries short and medium range for detection, identification and elimination of aircraft, drones, helicopters and cruise missiles, guided air ammunition and airdrops. At the same time, the supplier is required to ensure a 20-year life cycle through the service contract.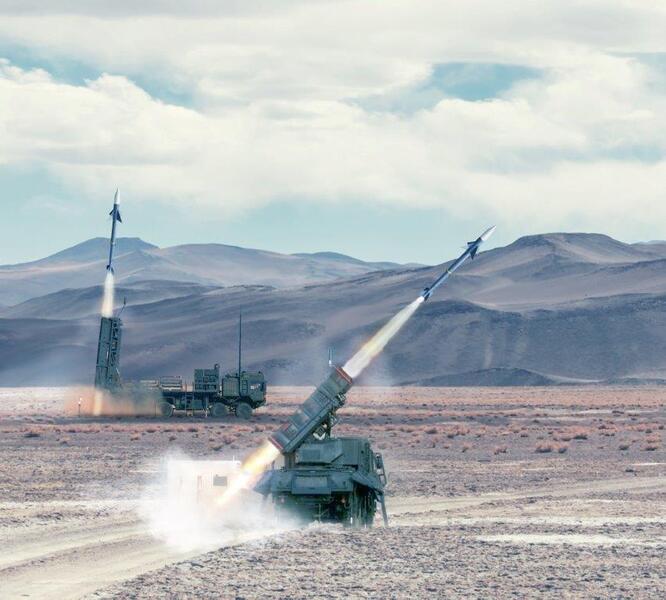 Picture: SPYDER - Short and medium range anti - aircraft missile kit (SHORAD) | Ministry of Defense of the Czech Republic
The system is manufactured by the Israeli (state-owned) Rafael Advanced Defense Systems Ltd. company. The reason for the acquisition of the SHORAD anti-aircraft set is to meet the requirements to ensure the inviolability of the Czech airspace, protection of designated objects important for state defense (eg civil, industrial and military centers, power plants, hospitals, etc.) within the Czech Republic's national Air Defense system, support of the other Czech Army's forces (task forces of the brigade or battalion type), Allied forces (NATO Response Forces) and defense of air bases. It is planned to enter into a contractual relationship with the Government of the State of Israel.
Specifications of the SPYDER type anti-aircraft missile batteries SHORAD:
total number of anti-aircraft missile batteries (aambat): 4

number of FCC (fire control centers) in aambat: 1

number of LD (launching devices) in aambat: 4

number of 3D radars in aambat: 1

number of guided missiles per missile launcher: at least 4

number of spare missiles carriers per battery: 2

number of service vehicles per battery: 1

Initial training of specialists, maintenance and logistic systems, sets of spare parts and units
Firing capabilities
SHORAD (MSAM) category capabilities met concerning the engagement range and intercept altitude;
Radar guided air defence missiles;
Doppler speed of engaged targets -400 to 700 m/s;
At least 5 simultaneously engaged targets;
Against aircraft, helicopters, guided cruise missiles, UAV (Radar Cross Section, RCS, up to 0.1m2)
Target destruction probability within the effective coverage at least 0.8.
Endurance
Climatic endurance according to STANAG 2895 A1 (Extreme hot dry), A2 (Hot dry), A3 (Intermediate), C1 (Intermediate cold);
Operation 24/7
Survivability
Ballistic protection of the containers and cabines of the vehicles according to STANAG 4569 Level 2;
Mobile masking and camouflage paint required;
Active and passive EMC jamming resistance;
INS navigation system;
Filter and ventilation system;
Automatic fire suppression system.
Maneuver capabilities
Chassis Tatra 815-7 8x8;
Rail and Air transporability (C-130, C17, A400M) required;
Operation modularity of the FDC and missile launcher on/without chassis.
Other requirements
Czech industry involvement in the acquisition process;
Lifetime of 20 years;
Required confidentiality - NATO SECRET.
Determination of the price at a given time and place, usual and non-speculative, or the prices found are required when planning the "Anti-aircraft set SHORAD" contract, the subject of which is the acquisition of:
4 pieces of SPYDER anti-aircraft system batteries, which will be placed on a TATRA wheeled chassis with the 6x6 and 8x8 axle (hereinafter referred to as "SPYDER") with accessories
4 means of command and fire control unit ("CCU"; command and control unit) located in the ISO container
4 pcs of mobile 3D radar MADR type
4 pieces of mobile medium-range rocket launchers (mounted on the TATRA chassis)
12 pieces of mobile short-range missile launchers (mounted on the TATRA chassis)
Basic load of anti-aircraft missiles (combination of missiles of "I-Derby" and "Python 5" types)
4 mobile loading vehicles (mounted on the TATRA chassis)
Training and education of instructors, technical staff and users of the SPYDER system
Integrated logistics support
Documentation and catalogs
Teaching and training materials. Resources for training and service training, maintenance and logistics resources
Set of spare parts and spare units
The expert opinion will include an assessment of the offer price at the usual and non-speculative place and time, or prices found, within the scope of the offer of the potential contractor of the public contract, both for individual items of the offer and in relation to the total offer price. The expert opinion will also include recommendations for further action.
Bids will be evaluated according to a single criterion, namely according to the lowest total bid price in CZK without VAT. The deadline for submission of tenders is 28 July 2021.
Source: nen.nipez.cz