The Slovak MSM Group is also developing the almost 700-year long tradition of ammunition production in Spain
28. 08. 2022
category: Topic
MSM Group is one of the major employers in the defence industry in Slovakia. The group's portfolio includes several companies specialising in the development of various types of munitions, their modernisation and repair, as well as the production of special containers and mobile air traffic control towers. MSM Group is not only developing its activities in Slovakia, but also in Spain, where it owns the company Fábrica de Municiones de Granada (FMG) since 2020.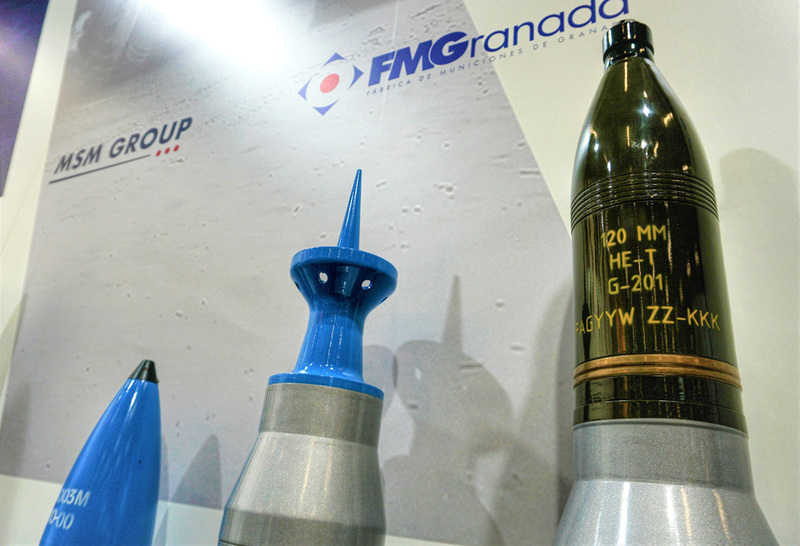 Picture: MSM Group is one of the major employers in the defence industry in Slovakia | MSM Group
MSM Group, which is part of the Czechoslovak Group holding, employs hundreds of skilled workers in its companies across Slovakia and is rightly ranked among the most important companies in the Slovak defence industry. The main areas of MSM Group's business include production, development, modernisation, repair and disposal of munitions, production of special containers for military and civil purposes, as well as production of mobile air traffic control towers. From 2020 onwards, MSM Group can be considered not only a Slovak but also an international group, as it became the official owner of the Spanish company Fábrica de Municiones de Granada (FMG) in 2020.
FMG is based in the Spanish city of Granada, in the suburb of El Fargue. It currently carries on a nearly 700-year tradition of manufacturing gunpowder and ammunition in the city of Granada and the surrounding region. The first mention of gunpowder produced in Granada dates back to the Sultanate of Granada. According to historical sources, gunpowder was used in 1324 during the siege of Huéscar by Ismail I of Granada, ruler of the Sultanate of Granada of the House of Nasr. Historical sources also indicate that from the 17th century onwards, ammunition and gunpowder were produced in El Fargue, where FMG is still active today and continues to produce ammunition.
It officially became part of the MSM Group holding company in May 2020 by signing an agreement with the original owner, Santa Barbara Sistemas. The MSM Group has been able to successfully integrate FMG into its structures in a short timeframe. FMG has already seen an improvement in its financial results in 2021, with revenues of around 14.8 million euros. In total, the FMG factory currently employs around 130 people, of which 65 are permanent employees of the company. FMG regularly presents its products and services at major international defence and military technology fairs and exhibitions. This year alone, FMG, together with other companies within the MSM Group, has already managed to present itself at the World Defence Show in Saudi Arabia, the DSA 2022 exhibition in Malaysia and also at Eurosatory, one of the most important trade fairs in the defence industry, in Paris.
FMG mainly produces tank and artillery ammunition of NATO standards, which are the most widely used in the world. FMG's portfolio thus includes tank ammunition of 105 and 120 mm calibre, while in the case of artillery ammunition the company produces ammunition of 105, 106 and 155 mm calibre. In the case of tank ammunition, it is interesting to note that FMG is the only company in Spain that produces 120 mm tank ammunition. This is also supplied for the Spanish Leopard 2 tanks. In addition to artillery and tank ammunition, it also includes the production of 60, 81 and 120 millimetre mortar ammunition. Thanks to a licence from an Israeli manufacturer, the company produces components for Spike anti-tank missiles, which have been in service with the Slovak Armed Forces since this year. At the same time, the Granada-based company also produces components for Mistral and Meteor missiles, high-performance single-component powders for medium-calibre ammunition, single- and double-component powders for small-calibre ammunition and pyrotechnic equipment for security and police forces.
FMG also has significant procurement successes to its credit. Immediately after its incorporation into the MSM Group structures in 2020, the company became involved, together with ZVS Holding, ZVS IMPEX and MSM Nováky, in the supply of 155 mm calibre ammunition to the United Arab Emirates. In November last year, the Spanish Army awarded FMG a contract to supply special equipment for the disposal of unexploded large calibre munitions and underground mines. The total value of the contract for the supply of this equipment amounted to €2.7 million. Since 2021, FMG has also been involved in the supply of large calibre munitions in a joint project with ZVS Dubnica. In June this year, FMG signed an important contract with one of its major suppliers, the French company EURENCO, for the supply of components for 120 mm calibre tank ammunition. FMG's major customers include the NATO Purchasing Agency (NSPA) and countries in South America.