War dilemmas and the defence industry
26. 10. 2022
category: Topic
The West has provided large supplies of weapons and weapons systems to Ukraine, which is facing a Russian invasion. Without this, the Ukrainians would have had a very difficult position against the Russians. Available statistics show that the US has allocated more than $17.5 billion (about CZK 434 billion) for arms and equipment for Ukraine. Estonia has provided Ukraine with the equivalent of one-third of its defence budget, Norway has sent Ukraine more than 45 per cent of its howitzer stockpile, Slovenia almost 40 per cent of its tanks. Some NATO members formerly part of the Warsaw Pact have already provided all of their Soviet-era reserve weapons.
The Czech Republic provided 5 billion crowns in arms aid in the first half of the year. The army's so-called untouchable stocks included T-72 tanks, IFVs, helicopters, ammunition and small arms. According to unofficial information published in the Czech media, Czech arms companies also supplied tanks, IFVs, howitzers and rocket launchers to Ukraine. The government has also approved further aid - deliveries of heavy equipment. However, the specific specifications of the aid are classified for security reasons.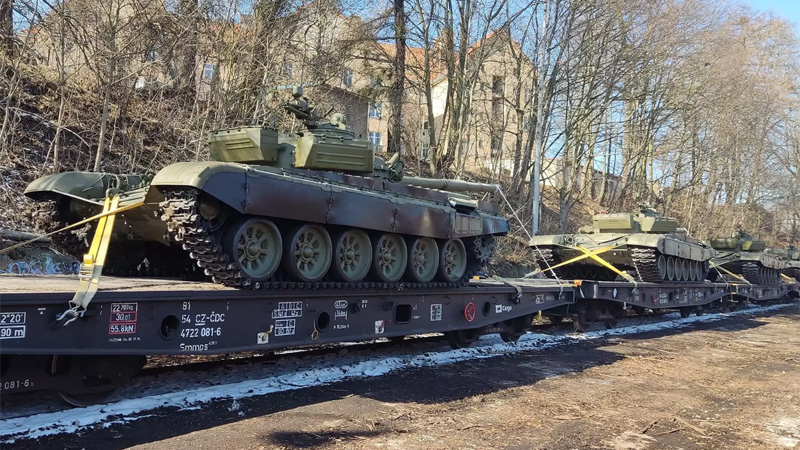 Picture: The Czech Republic provided CZK 5 billion in arms aid in the first half of the year. Of the army's so-called untouchable stocks, these included T-72 tanks, IFVs, helicopters, ammunition and small arms. | Open Source Intelligence Monitor
However, the AP has recently pointed out that the scale of arms aid is causing not only smaller but also some larger NATO countries to experience a weapons shortage. There are concerns in some countries that missing weapons in domestic stockpiles could increase their vulnerability.
This is also the case for the strongest country in the Alliance, the United States. According to the Wall Street Journal, there was a serious warning from the US military leadership, "Ukraine's demand for ammunition is growing, and the depletion of its stockpiles in US warehouses is alarming." The Chairman of the Joint Chiefs of Staff, General Milley, has ordered monthly monitoring of the status of US weaponry. The goal is to keep the weapons stockpile below a critical threshold. Illustratively, the U.S. military, for example, has provided Ukraine with one million 155mm artillery shells, which is considered a heavy burden. More than a third of the Stinger anti-aircraft missiles and Javelin anti-tank missiles have also been sent to Ukraine. And if the war continues, it could be as much as half that. But the Stinger missile maker, Raytheon, has announced that it may not resume Stinger production until next year, even though it has been given a $634 million contract to do so.
NATO member governments are urging the arms industry to increase production, both for supplies to Ukraine and to replenish its own stocks. But it is not easy. It may be difficult for some countries to replenish stocks quickly because they no longer have a strong defence sector that can produce replacements quickly, and many rely on the dominant US defence industry, which has squeezed out some competitors. Moreover, after the end of the Cold War, a 'peace dividend' was collected in many European countries, which of course had a negative effect on the defence industry. Its effects are still felt today. How can we expand production after decades of 'piece orders' when even the most essential thing, skilled labour, is lacking today?
According to Tom Waldwyn of the International Institute for Strategic Studies, rebuilding inventories and production capacity will be a long process. For some countries, he says, it may mean more significant investment in infrastructure. It certainly won't come cheap, as inflation, volatile supply chains and rising raw material prices drive up costs.
At the same time, arms production depends on a continuous supply of raw materials, which is threatened by, among other things, the failure of the Russian and Ukrainian markets. The dependence on China, which controls the extraction of raw materials in Africa and the production of a number of key components, is again a crisis situation. In addition, it has 85 per cent of the world's reserves of precious metals for modern technology. Achieving raw material strategic autonomy is thus a huge challenge for NATO and the EU.
However, the biggest challenge at the moment is the energy crisis. The drastic rise in energy prices is having an impact on the production of some basic raw materials that arms factories cannot do without. We are talking in particular about nitric acid, without which it is impossible to produce any kind of gunpowder, both for small arms and for artillery and tank ammunition. And in the Czech Republic, such a situation is looming: Lovochemie in Ústí nad Labem, the largest Czech producer of nitric acid, has not ruled out a complete shutdown of production.
The above shows the difficult terrain the defence industry has to navigate today. However, eight months into the war, it has become abundantly clear that this industry is one of the key components in ensuring the nation's defence capability. The war is more than proving this. After all, "the volume of material supplied by Czech armaments companies to Ukraine is an order of magnitude higher than the aid from the Czech government", said DSIA President Jiri Hynek. And other supplies worth tens of billions of crowns have been contracted by defence industry companies - for example, Ukraine has been granted arms licences for the next 3-4 years worth 31 billion crowns.
The biggest interest is in ammunition, spare parts for already delivered military equipment or other military equipment. Weapons servicing and repairs must also be secured. In this respect, it is an undoubted advantage if there is a manufacturer that is able to provide a wide range of production and services. The Czech Republic has one in the form of the Czechoslovak Group holding, which is an indisputable competitive advantage even within the European arms market.