Army Carpenters: Can Make Practically Anything Anywhere in the World
They are not often talked about, but the results of their work can be found everywhere. Engineers – carpenters are able to make almost anything from wood. From pickaxe handles to a bridge.
One of the tasks of engineers is to ensure the protection of troops. "Wood is a type of material that is available everywhere in our conditions. It is very easy to work with, so it makes sense that it is used in the field, for example, to timber trenches, emergency shelters or command posts. That is why it is necessary for the engineer army to have experts trained in and skilled at working with wood," said the commander of the 15th Engineer Regiment, Colonel Jiří Tršo, explaining the importance of carpenters in the Czech Army.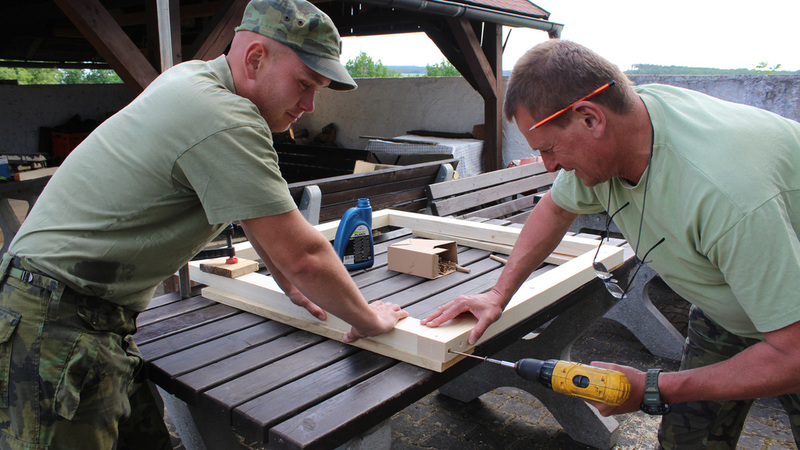 Picture: Sergeants Vít Lid and Roman Hejl during repairs of outdoor equipment | army.cz
In peacetime, military carpenters are in charge of maintaining training areas, supporting troops in training and repairing indoor and outdoor equipment. At the same time, however, they also prepare for possible assistance to the Integrated Rescue System during crisis situations. "During floods, our specialists are able to build a temporary bridge or strengthen buildings with disturbed statics. They were also involved during the covid crisis, when they made directional signs to regulate people at sampling points and pads under tables for Prague and Brno," added Tršo.
Mobile workshop for carpentry anywhere in the world
The carpenters' workshop is a container equipped with a mobile workplace for wood processing (MPZD) on the Tatra 815 chassis. While it has been used in the Bechyně crew since 2007 and is the only one of its kind, in Olomouc they already have a newer type from 2018.
"MPZD is a very sophisticated mobile workplace. Its use can be quite diverse and can be used in deployment in any part of the world. It has its own power plant and a mobile tent, which can be used as a temporary mobile workplace. For example, it has a mobile log band saw, a light balloon and many other means and professional tools for building wooden structures in the field. Thanks to these, it is possible to make practically anything," said senior engineer, a specialist from Olomouc, Sergeant Zdeněk Mondek, who was already as a civilian trained as a carpenter for wooden structures.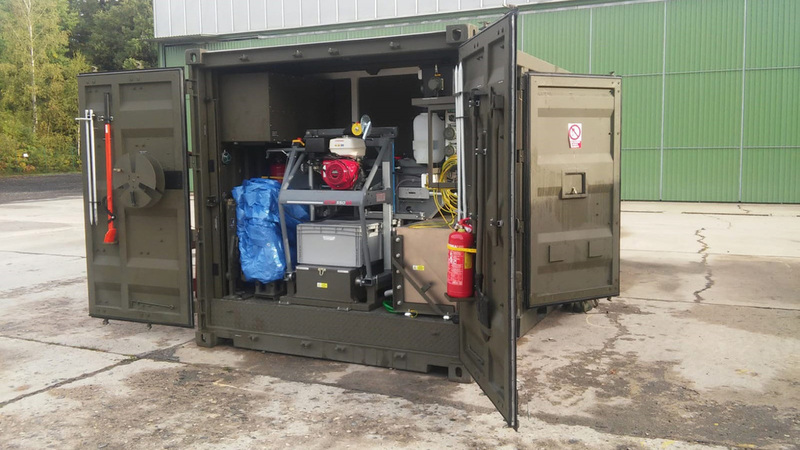 Picture: Mobile workplace for wood processing (MPZD) | army.cz
Army carpenters agree that their work is more diverse than that of civilians, and it requires versatility and the ability to improvise: "Every situation is specific, you have to approach it differently each time. We can make more or less any wooden structures, from low-water bridges to a 55 cm structure to the construction of planed structures such as lookouts, watchtowers, furniture or even railings," said Sergeant Vít Lid.
We can find the work of engineer carpenters abroad as well. In Iraq in 2017, for example, they helped build the LSA base for Czech pilots in the Iraqi Ballad. All the wooden equipment, reinforcements and the whole fortification was their work.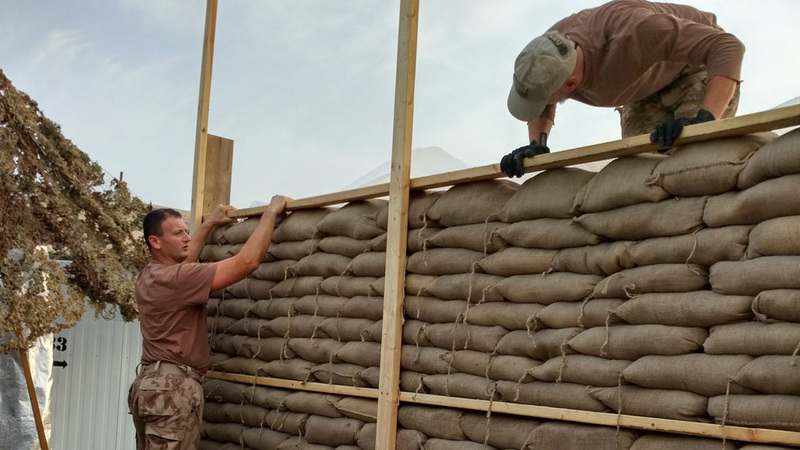 Picture: Sergeants Zdeněk Mondek and Miloš Horčica create a load-bearing structure of a fire wall between the kitchen and rest block, LSA (Life Support Area) Iraq 2017 | army.cz