John Cockerill Defense and RayService sign a global cooperation agreement
John Cockerill Defense (formerly CMI Defence) and RayService a.s. signed at IDET (Brno, Czech Republic) an agreement outlining their mutual engagement to cooperate on a global basis. RayService is thus recognized as a value added partner in their design and development as well as a global member of the supply chain.
Bear Midkiff, Vice President Sales and Marketing for Central and Eastern Europe for John Cockerill Defense, states: "RayService was identified early on as one of the key suppliers within the Czech Republic for high quality defense products. Today's signature goes beyond a normal supply chain agreement. The foundation we are putting in place gives us the ability to function as true partners. Instead of just supplying build to print products, RayService will grow into a real part of the John Cockerill team, providing design and engineering and advising on materials and specifications. The agreement is not conditional on any one program in the Czech Republic and is global in nature."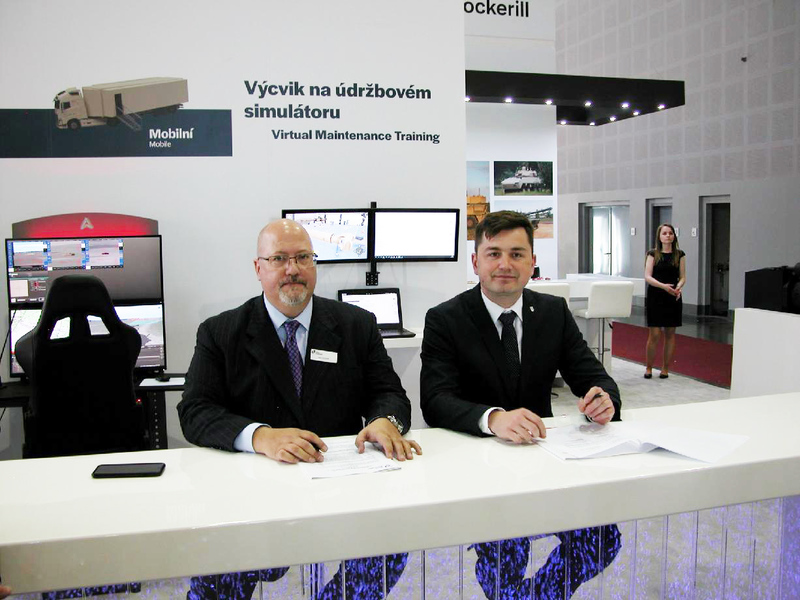 Picture: Jakub Gabriel of Ray Service and Bear Midkiff of JCD at signing the agreement
Pavel Trubačík, Head of Marketing at RayService, added: "Our company runs strategic partnerships with the world's leading defense industry companies, and aims at localizing top goods production to the Czech Republic. Our activities create added value for Czech economy and, in the case of Czech armed forces defense projects, a dependence on foreign supplies has decreased. We are proud of becoming a partner for such an important and reputable company as John Cockerill Defence."
As a renowned European player in the field of combat turrets, John Cockerill Defense is positioning itself as a partner of the Czech Army, either for the IFV program currently under way or the future Pandur II upgrade program. Cockerill® Weapon Systems are modular in nature and designed to be able to adapt to the changing needs of armed forces over their 30-50 year lifecycle. "Through modularity", Midkiff states, "we can provide a turret to increase the combat effectiveness of the Pandur II, while supplying the same turret to the IFV program, and then provide our Cockerill® 105mm gun based on the same turret for a future Medium Tank program. Partnering with John Cockerill Defense, the Czech Army could thus have one turret that supports three very different vehicles, and still have the ability to change the main weapon in 20 years to deal with future threats."
Apart from this cooperation agreement on the Czech market, John Cockerill is also celebrating in IDET its new name and unveiling its new corporate identity. The 202 years experienced Belgian company was previously known as Cockerill Maintenance & Ingénierie or CMI for short. As of 16th May 2019, CMI is now John Cockerill. "The name change is reflective of the pride, quality, innovation and entrepreneurial traditions that have been the foundation of the company since 1817", explained the company's Vice President.
About John Cockerill Defense
For 200 years, John Cockerill has been putting its expertise and its visionary spirit to the service of defense and the security of citizens. Thanks to a unique combination of skills in software engineering, ballistics and mechatronics, we conceive and develop complete and innovative solutions in the domain of weapons systems, including:
• Modular Cockerill® gun turrets from 25 to 120 mm caliber, combining high firepower and light weight for high mobility armored vehicles and guaranteeing performance and protection for the crew;
• Technical and tactical training on Cockerill® systems with theoretical and practical courses, real firing and training on Agueris® simulators;
• Virtual immersive or on-board Agueris® simulators (fixed or mobile);
• Lifecycle management for Cockerill® weapons systems from modernization to documentation and including spare parts and tooling;
• The development of new functionalities destined to constantly improve the capacities of Cockerill® systems;
John Cockerill Defense has installations in Belgium, France, Spain, the United States, Saudi Arabia, Brazil, Poland, the United Arab Emirates and Singapore. www.johncockerill.com/defense
About RayService
Ray Service, a.s. is a Czech innovative manufacturing and trading company providing outstanding solutions in cable harnesses, electromechanical assemblies, electronic equipment and cable components for a wide range of aviation and defense customers. More than twenty years of experience and intensive development have resulted in a strong, modern enterprise, a reliable and sought-after partner on an international level. Located in Uherske Hradiste, with multiple affiliates around the globe, RayService is a leading company in the defense industry of the Czech Republic.