Presentation of Czech companies at the MSPO 2023 International Defence Industry Exhibition
This year's 31st International Defence Industry Exhibition MSPO in Kielce, Poland, which took place from 5 to 8 September, was extraordinary in many respects. Visitors could see a huge amount of military equipment, including many novelties, presented by over 600 exhibitors from 39 countries on a total area of 30,000 square metres. Seven large exhibition halls and adjacent outdoor areas showcased ground wheeled and tracked equipment, helicopters, unmanned aerial vehicles, air defence systems, communications technology, optoelectronics, munitions and a host of other military equipment, weapons and gear.
Video: Presentation of Czech companies at MSPO 2023 / CZ DEFENCE
Also this year, the Polish army, which has recently undergone a massive modernisation, acquiring a large amount of new equipment, had a spectacular presentation at the exhibition. For example, the new South Korean K2 PL tank or the American M1A1 Abrams tank intended for the Polish army were on display. Poland is only the second NATO member to incorporate Abrams tanks into its arsenal. One entire pavilion and a large outdoor area have been dedicated to the Polish army. The Polish arms manufacturer PGZ (Polska Grupa Zbrojeniowa) also had a large presentation of its products.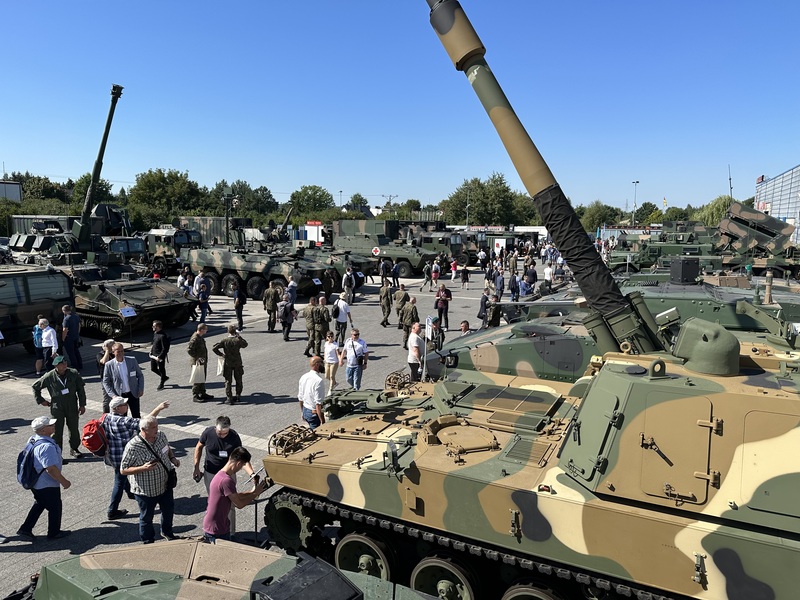 The Czech Republic was also represented at MSPO by its traditional exhibitor, Czechoslovak Group (CSG), which this year brought to Kielce, for example, a modern recovery and removal vehicle Treva-30 on the proven Tatra Force 8x8 chassis.
Video: MSPO Kielce 2023: TREVA-30 special vehicle / CZ DEFENCE / DEFENSE MAGAZINE
This vehicle is designed for recovery and handling of stranded equipment and other objects, removal of damaged equipment, evacuation and rescue work, crane work, engineering terrain modifications and removal of obstacles for the purpose of recovery and rescue. Visitors were also able to see a Tatra Force 8x8 heavy-duty truck in a barge and canvas design, powered by a liquid-cooled Cummins six-cylinder engine, or the MR-2 Viktor light combat vehicle on a Toyota Land Cruiser chassis designed for protection against unmanned aerial vehicles and low-flying aerial targets.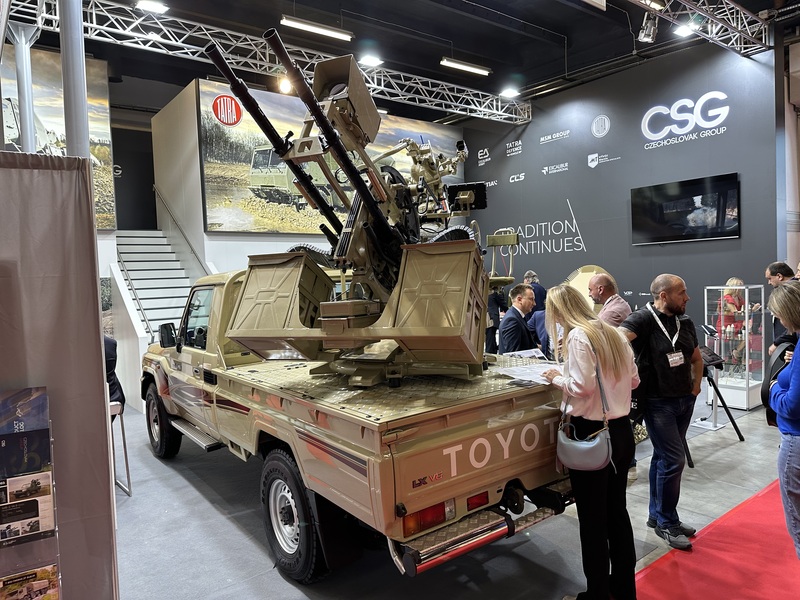 CSG's display also included products from Retia in the form of the new ReCas anti-drone system or the ReTwis 5 small portable radar with the ability to detect live targets behind walls or other non-metallic obstacles.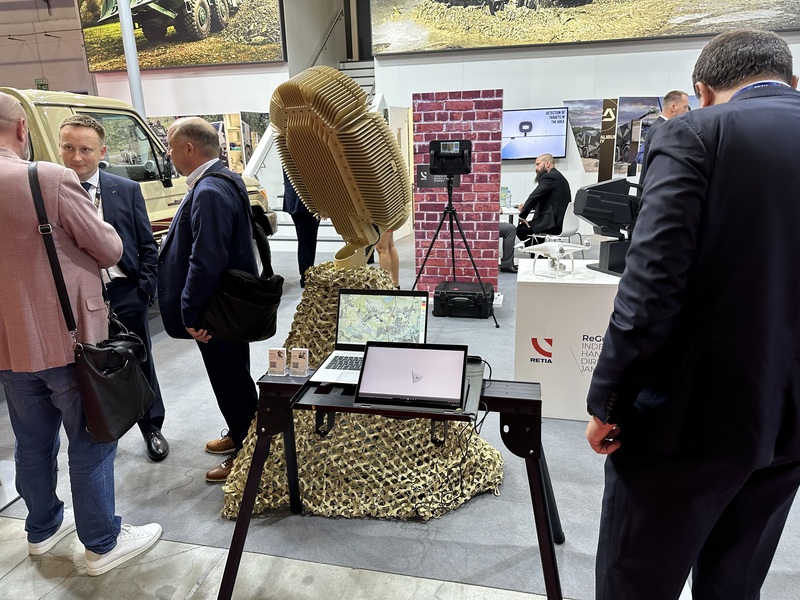 Other Czech companies presenting their products at this year's fair included Czech Armaments, Colt CZ Group with its wide portfolio of short and long firearms, and ERA, which offers solutions for passive surveillance of air, land and sea targets in the form of unique VERA-NG and PLESS surveillance and identification systems. We also stopped by EVPU, which was at the show to showcase its Turra 30 remote-controlled turret, Gladius weapon station with 12.7mm machine gun and Solid-State Frequency Converter 300kVA containerized converter.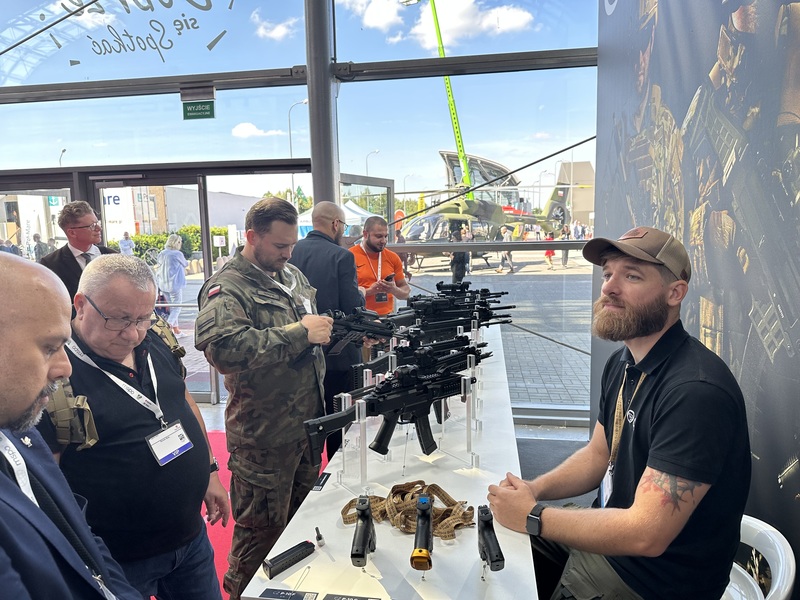 In terms of foreign exhibitors, we stopped by the Finnish company Patria, who presented their Patria AMV (Armoured Modular Vehicle) amphibious wheeled armoured personnel carrier in APC version. However, various cannon or mortar weapons can also be mounted on the Patria AMV platform.
At the booth of Israeli company Rafael Advanced Defense Systems, we learned more about the Trophy Active Protection System, which protects a tank or other armoured vehicle from anti-tank guided missiles (ATGMs) and armoured personnel carrier rounds.
We were also interested in the South Korean K2 PL tank, which the Polish army has newly in its arsenal. We asked a few questions about this machine directly to the chief research engineer of Hyundai Rotem, which manufactures the K2 tank.
We will bring you interviews with representatives of the above mentioned foreign manufacturers in the next report.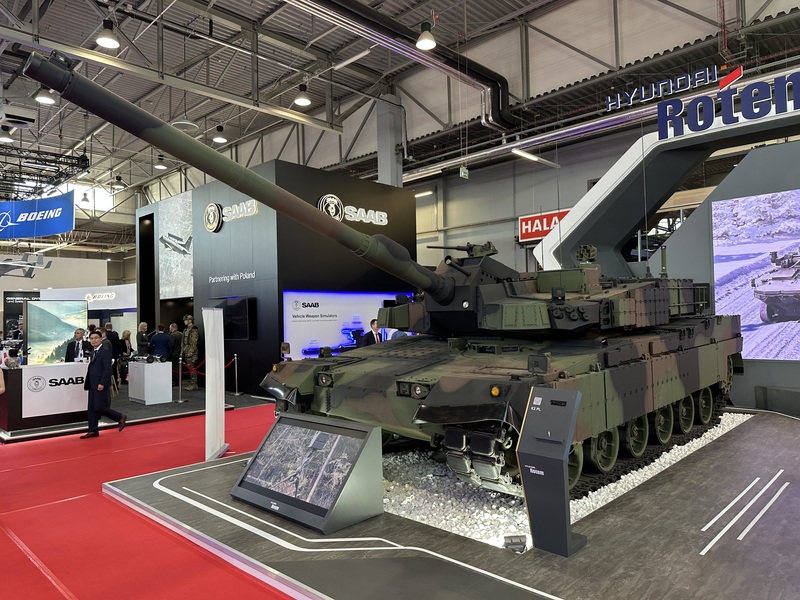 The MSPO International Defence Industry Exhibition in Kielce, Poland, was not only a comprehensive presentation of military equipment, but it was also the venue for business negotiations and the conclusion of memoranda of understanding or contracts between global manufacturers and defence sector authorities. In terms of size and prestige, MSPO ranks third among all European exhibitions, after the Eurosatory in Paris and the DSEI in London.