Slovak Black Hawks are not only intervening in our country, but recently they also helped in Slovenia
Slovakia has had nine UH-60M Black Hawk helicopters at its disposal for two years now, which not only have a decent transport capacity, but are also a versatile platform that can, when needed, for example, help with the liquidation of natural disasters such as forest fires, etc. Thus, they prove that they are a great, practice-proven technique that, in addition to Slovakia, also helps other Alliance member states in the interoperability framework.
A week ago, the Slovak soldiers helped with fighting a large fire in Slovenia, where for four days they deployed military personnel including a UH 60M Black Hawk helicopter with a firefighting module – a bambi bag from the 51st Prešov Wing. The Ministry of the Interior of the Slovak Republic also sent its forces to help with the fire, providing a tanker and three vehicles with six members of the Fire and Rescue Service as part of the international assistance.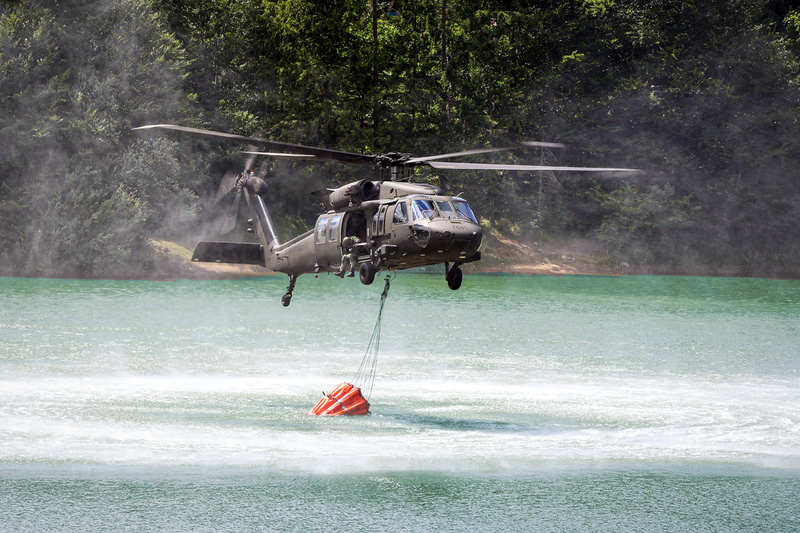 Picture: Slovak Black Hawks intervene not only in our country, but also in Slovenia | Ministry of Defence of the Slovak Republic
"I was informed of this serious situation by Slovenian Defence Minister Marjan Šarec, who travelled to the site. They have already had to evacuate several villages because of the forest fire that has spread from Italy to the western region of Slovenia. In this situation, it really is a matter of minutes – that is why I very much appreciate the flexibility of our forces," Slovak Defence Minister Jaroslav Naď said on 21 July. He added that the Slovak Armed Forces are well prepared to assist in crisis management, including abroad on behalf of allies.
And his words were indeed confirmed a week later when 30 members of the Slovak Armed Forces were sent to help extinguish a fire in Czech Switzerland, together with a UH-60M Black Hawk helicopter, a firefighting module and other relevant wheeled equipment. "I announced the assistance to the Czech Republic as soon as the protocols that were necessary after the deployment of our troops and equipment in Slovenia were followed. At the same time, I thank the professionals of the Armed Forces for their readiness and commitment to help wherever it is needed," said Slovak Defence Minister Jaroslav Naď after the Cabinet meeting on 28 July 2022.
Slovakia ordered the legendary Black Hawks in 2015 as part of the U.S. government's Foreign Military Sales program for $261 million, with the package including initial logistical support, including the delivery of ground equipment, spare parts, consumables and training for crews and technical personnel. The initial package also included the transfer of spare parts for nine helicopters for approximately two years, tools, instrumentation and mobile workstations for service specialists. The Slovak Black Hawks are not (yet) armed, so their current purpose is training, supporting ground operations and assisting in natural disaster relief.